matthew savoca
I enjoyed Matthew Savoca's long poem, Long Love Poem With Descriptive Title, and for Malone and Savoca Week, I interviewed him about it and some novels he's written. Our talk is almost 3400 words long (edited from ~6,000) and requires no preamble, so let's get to it. Here is the book cover: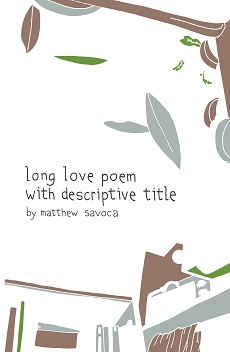 Adam: OK, I want to ask you about Long Love Poem With Descriptive Title. Ready?
Matthew: Yes, let's do it. I'm drinking a beer.
Adam: Okay, nice. First of all, can I call you the speaker?
Matthew: Yes.
Adam: Oh good. I feel like people make that very complicated.
Matthew: I am definitely the speaker, and I'm not trying to hide it.
Adam: Are you crazy?
Matthew: In what way?
Adam: Well, we should talk first about how much you've written.
Matthew: Okay.
Adam: How much have you written? READ MORE >

Today's contestant is Matthew Savoca, who's story "Everybody Painted the Barn that Day," in Kathryn Regina's brilliant childhood photo project at Wunderkammer, struck me as the closest thing to Mark Twain I've ever read on the Internet, as much for the voice as for the quaint story. Hoping that you'll still follow the link to Wunderkammer in order to see the picture that Savoca is responding to, I have pasted the story here:
Everybody painted the barn that day. There was Ma, Paw, Timmy, and Mr. Walsh. We'd been planning to paint it for three or four weeks starting in the beginning of April but didn't actually get started until early May which really messed up my plans because I had decided sometime in February that I was going to leave as soon as Winter broke. I was five years old. Paw couldn't understand why I was so enthusiastic about getting the painting started, which was because I had decided I'd stay and help so as not to upset Ma. Eventually we did it, over two days – Saturday and Sunday. The picture was taken on Saturday that's why it doesn't look like much has been done. I got paint all over my overalls when one of the cans spilled off the ladder Paw was on. It even got in my hair and we spent all night washing and scrubbing it out. Then my overalls were all messed up and Ma got to working on mending an old pair of mine that she'd been meaning to fix up for a long time, so I had to wait even longer before leaving. One thing led right on to another thing happening and I never did run away that summer.
Not much to explain there, Mr. Savoca, but I do want to know: did you run away when you were a boy, and if so, for how long? Matthew Savoca: EXPLAIN YOURSELF! (applause).
(For last week's edition featuring Peter Berghoef, who lost, click here.)
I'm sorry for spamming the site.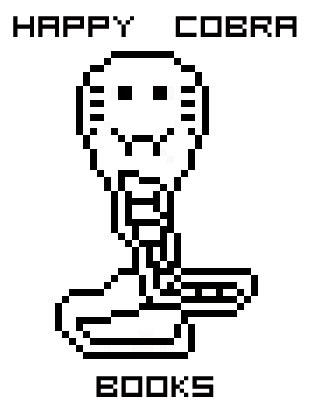 Our own Matthew Simmons' Happy Cobra Books has just released their new website, featuring Matthew Savoca's e-book TOUGH!!! with his poems accompanied by illustrations by Tao Lin, Greg Lytle, Mike Bushnell, Tracy Brannstrom, Gene Morgan, Chelsea Martin, among many others.
Editor's note:
TOUGH! is a book of brief pieces, haiku of the apotheosis of rural American maledom. Very funny. Wonderful illustrations, too.
Downloadable pdfs featuring Chelsea Martin, Catherine Lacey, Ellen Kennedy, Justin Dobbs and Blake Butler coming soon.

Rooms Outlast Us is a new poetry journal run by a couple of people I worked with back when I edited fiction at Phoebe. Earlier today, I emailed/gchatted with one of the editors, Danika Stegeman, about it, and she said the journal is modeled after some of the smaller poetry zines that were out in the 50s, 60s, 70s, like the Evergreen Review, which was originally published by Grove Press (before the journal moved online in the 90s, I guess).
Here's what she said officially:
Rooms Outlast Us will be a small print journal, approximately 40 pages per issue, and will include poetry and poetic criticism. Our emphasis is on showcasing writing from more established poets alongside emerging poets. We are hoping to accommodate writers working on longer works and sequences as well (so the journal will generally favor fewer poets with more pages per poet, rather than many poets with fewer pages). The first issue will be coming out in early January and the journal will be published bi-annually after that.
Rumor has it that they've got Matthew Savoca and Laura Sims to contribute to the first issue.
Submissions should be sent to roomsoutlastus[at]gmail.com.
Editors: Danika Stegeman, Ethan Edwards, and Justin Kielsgard.