HTMLGIANT / Noah Cicero
Guest Posts
Go to Work and Do Your Job. Care for Your Children. Pay Your Bills. Obey the Law. Buy Products.

by Noah Cicero

Lazy Fascist Press, 2013

188 pages / $12.95 buy from

Amazon
1. Still one of the best titles of any novel, ever.
2. This book is in two parts. Part 1 is narrated by a reasonably bland, vaguely liberal character named Michael who starts a job at a 'treatment centre' (for treatment centre read prison) complex called NEOTAP. Part 2 is narrated by NEOTAP IT employee, work colleague and soon to be girlfriend Monica.
3. The whole thing is a mish-mash of different genres, different registers, narrative structures, etc., and is largely concerned with the kind of Orwellian power of the NEOTAP system.
4. The NEOTAP system is, roughly speaking, an analogy for American (Global?) Capitalism and its '5 pillars' (the five pillars of the book's title). I was pleased that it was only a lightly fictionalised dystopia as there is little need to overly fictionalise something that very much seems to me to be the dystopia of contemporary western capitalist reality.
5. I'm pleased young Alt-Lit people/novelists are engaging with these kinds of things. It gives the lie to any notion that Alt-Lit is merely just a narcissistic pose (it is sometimes) but clearly there are more possibilities for it and this should be embraced.
6. With this in mind, I'm going to suggest this book is a great starting point towards reading more about how the advanced capitalist system works. You know how they like to say marijuana is a kind of gateway drug to other 'terrible' drugs, well this book is a gateway drug to the following (see points 7-11).
7. Read this book then read Orwell's 1984 (which is a bit out of date actually and can sometimes become a kind of carnivalesque pressure valve type situation that posits a clichéd 'Orwellian' dystopia that can be re-co-opted by a strand of the entertainment industry who make it so cartoonish that it somehow becomes part of the horror genre and risks missing out on the original points that Orwell was trying to make. The general principles remain sound though).
8. Kafka's The Trial (similar situation to point 7).
9. Some basic Marxism (you might think this is 'old' but a lot of it is more important than ever).
10. Current articles about how 'The Internet of Things' will benefit insurance companies and socially engineer us more than we ever imagined.
Reviews
/
No Comments
August 14th, 2014 / 2:30 pm
A D Jameson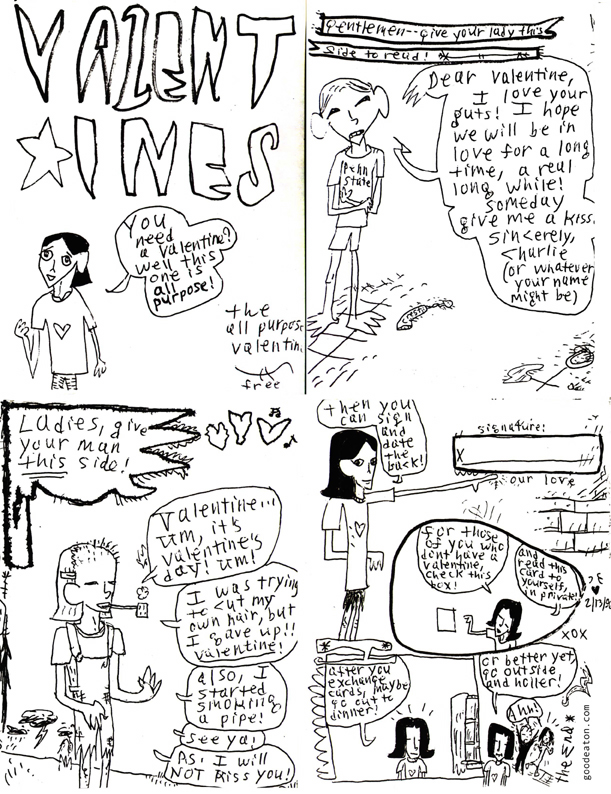 An oldie but goodie. (2/3/96? Sheesh!) Printable/foldable version here (PDF).
Happy Valentine's Day, HG. Someday give me a kiss.
I Like __ A Lot
/
No Comments
February 14th, 2014 / 9:44 am
Janice Lee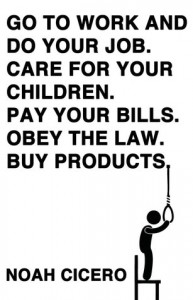 GO TO WORK AND DO YOUR JOB. CARE FOR YOUR CHILDREN. PAY YOUR BILLS. OBEY THE LAW. BUY PRODUCTS.
by Noah Cicero
Lazy Fascist Press, 2013
188 pages / $12.95 Buy from Amazon
Noah Cicero wrote a new book in 2013.
It's called GO TO WORK AND DO YOUR JOB. CARE FOR YOUR CHILDREN. PAY YOUR BILLS. OBEY THE LAW. BUY PRODUCTS.
But I'm going to call it GO TO WORK.
GO TO WORK is a political thriller about a man who gets a job at a prison-treatment-center called NEOTAP (you never find out what this means btw) and, pretty much, wow—after that, things start to get crazy.
It's like: WAITING FOR GODOT meets the second season of the television series LOST meets DAVID LYNCH meets BLAIR WITCH PROJECT meets the book 1984 meets IT'S ALWAYS SUNNY IN PHILADELPHIA meets the movie CUBE meets BRAVE NEW WORLD meets SVU meets ARCHER meets the book ANTHEM meets FIREFLY meets the play NO EXIT by Jean-Paul Sartre meets THE TRIAL by Franz Kafka meets the movie WHITE LIGHTNING meets the book THE POSSESSED meets LOCK UP.
There are two main characters: Michael Scipio and Monica Whitten.
The book is told in the first-person and third-person past tense in two parts: Part One and Part Two.
Part One is Michael. First person.
"I was nervous. I was wearing a nice pair of slacks and a button-down, long-sleeved dress shirt with a tie. The tie looked great. I looked great. Everything seemed wonderful. I was a man interviewing to get a job working for the government, but I was nervous."
Also.
"I called my parents and told them I got the job. They were excited for me. They told me to come over and they could get pizza and cake. My parents were very big into positive reinforcement. When I scored my first goal in soccer when I was seven, they bought me pizza and cake. When I was in the eighth grade talent show, playing guitar very badly, they bought me pizza and cake. When I got straight A's on my report card, I was for sure going to get pizza and cake. Pizza and cake are the ways Americans celebrate triumphs."
Then Part Two. Monica. Third person.
"Monica walked into NEOTAP. She went into the office and said hi to Lawrence and Imad. She didn't know Imad and Lawrence like Mike did. She didn't have to interact with them on a power basis. She would say hi to everyone, have small talk about sports, computers, or random life things. Everyone knew that Monica loved Arby's and would eat Arby's at least three times a week. Sometimes people called her Arby's girl."
And.
"Monica considered herself a troubleshooter. Her life was about fixing problems. Her dad had taught her the joy of solving problems. When something broke, they fixed it together. When the care broke, they fixed it together. When the roof leaked, they fixed it together. When the water heater needed to be replaced, they took it out and replaced it together."
Semi-spoiler alert: After Part One, Michael goes missing—disappears—and Monica becomes the main character because she decides she needs to find out what happened to Michael.
Kind of interesting.
The book is set in 2011 and it's about what it means—what it's like—to live in the real world. In America. The United States. Right now. It's about being young. About needing to find a job. About finding that job. About needing that job so you can have access to healthcare. About falling in love. About betrayal. About deception. Needing healthcare. About following orders. About forgetting what you're supposed to be doing sometimes. About feeling like you need healthcare real bad. About wondering if what you are doing is the right thing. About meeting people's parents for the first time. Healthcare. About doing something crazy because maybe you think you are in love. About taking prescription drugs because they make you feel good. H-E-A-L-T-H-C-A-R-E. And about disappearing too.
It's a lot about disappearing.
In the chapter 'Under a Bed,' a NEOTAP resident, who is Mexican, disappears, and no one seems to care.
"I went to Imad's office and closed the door. I said to Imad, 'Armando disappeared.'

Imad looked at me. He didn't have a facial expression. He listened like I was explaining something that didn't matter to him.

Finally, he said, 'Okay, I'll fix it.'

I left the office. Armando disappeared and no one cared. I saw Imad leave his office and walk to Heidelberg's office. No one rushed around. Everyone moved without purpose, without a sense of urgency. A human had disappeared and no one cared. What kind of job did I have?"
GO TO WORK is a departure, basically, from everything [else] Noah Cicero out there. It's got, like, a  plot. And two main characters.
Remember: this is a political thriller by a guy who is known for writing alt lit!
There are so many beautiful characters and so many different layers to everything and so many cool things that happen; and so much super-philosophical stuff about life—it's everything you love and know about Noah Cicero and the way he writes.
But GO TO WORK is also a very scary book. Or, I guess, if you want to look at it as something that can be scary—it's scary. Noah Cicero discusses several important real-world issues. He looks at how things right now have changed from how they were in the recent past (and the ancient past). How things right now are probably going to become very bad very soon. How things are probably not going in the right direction for the world and the environment and the people in the world. How there are some people, right now, out there in the world, who are willing to do whatever it takes, basically, to change the world. And others, who want to keep the world the way it is, no matter what, at any cost. Noah Cicero also looks at how sometimes, where you work, you may not like where you work. How sometimes, you really don't know what's going to happen in the end. And how really, the world is just a scary place to be.
All these themes are pretty much classic Noah Cicero.
On Facebook, Noah Cicero said it might take 6 hours to read GO TO WORK. I agree. GO TO WORK—you could read all in one sitting. And everything is written in that very-easy-to-follow Noah Cicero prose.
"Criminal Thought #1. I want to get a woman pregnant. I will find the fattest stupidest woman I can find. I don't care what race she is, probably white. If you have been to prison, fat white girls are easy. All you gotta do is show them some prison tats and a fat white trash girl will fuck you. I will get the nastiest woman I can find. A woman I know for sure will not be responsible for the child. She won't even talk to the child, she won't even take the child to the park… she will scam the government out of every dollar she can… I won't pay child support. I will do lots of drugs and never see my kid. It will be really funny."
Reviews
/
No Comments
January 10th, 2014 / 10:00 am
A D Jameson
1. This is a review of the recent film adaptation, not the book, although I'll also say a few things about the book.
2. I saw the film on 14 March at the Logan Theatre in Logan Square, Chicago. It was a special event. About 70 people were in attendance.
3. The director, Pirooz Kalayeh, was there, and I spoke with him before and after the screening. Brad Warner, who plays Tao Lin (or "'Movie' Tao Lin"), was also in attendance.
4. Pirooz gave me a poster and a button and a DVD copy of the film. Thank you, Pirooz!
5. I've read Shoplifting maybe half a dozen times. I've also taught it twice. It's my favorite of Tao's books and I consider it something of a masterpiece.
6. Some people persist in thinking Tao isn't a stylist, but I think he's a brilliant stylist. Although maybe people are nowadays more convinced of this? I don't know.
7. As Tao himself has pointed out (see here for instance), all of his books are written in different styles, something that I think obvious when one really looks at them.
8. I suspect some people really aren't looking at them.
Film
&
Reviews
/
12 Comments
April 15th, 2013 / 8:07 am
Guest Posts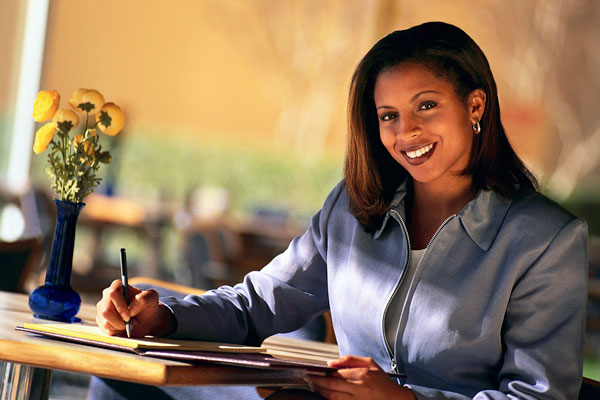 Wrote about Tao Lin for Hobart.
Exchanged emails with Tao about what I wrote.
Tao cut and pasted part I'd written about Zac Zellers and Marie Calloway and wrote beneath it "this seems funny to me."
Replied with a paragraph in which I described Zac Zellers as the "Where's Waldo" of Ann Arbor.
19 mins later got email from Tao saying "you should write something about this and send it to me."
Behind the Scenes
/
99 Comments
January 5th, 2013 / 11:21 am
Guest Posts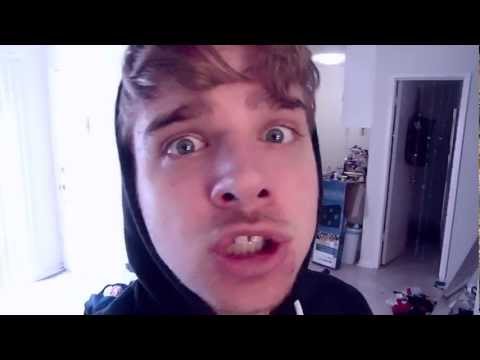 I saw Steve Roggenbuck read at Stephen Dierks house during AWP week he stood on top of something, I can't remember what, he is small, his physical presence not very dominating. But he stood up there and took control of the audience, yelling 666 and Justin Bieber and all kinds of weird shit. The audience stood there, completely enthralled. People were yelling and screaming during the whole reading, people were extremely excited to be at a poetry reading.
According to AD Jameson Steve Roggenbuck would be considered a New Sincerist and the question has been asked, if writing in such a sincere manner can be prolonged over a long career. I think it can, because sincerity is transitory. The writing is Buddhist in that way, an acceptance of endless change, the impermanence. We can be convinced of truth at times/later/that truth becomes false/we forget those beliefs. For three years we read one type of books/then move onto another/then move onto another. We move from the country/to the city/we fall in love/we fall out of love/do it again/we don't have sex for two years/we meet a sado maschocist and get choked/we have kids/watch them grow/we wash diarrhea off her our naked father because he is sick and dying/we become concerned about insurances/it goes/on on on. Roggenbuck's first book I am like October when I'm Dead were short little poems with a tibit of sentimentality. Helvetica was this blitzkrieg of weird ass flarf lines. And Crunk Juice was an intensely designed chapbook with longer poems, using more poetic devices with a higher emphasis on sound. These changes, are not just the changes of a writer, but Steve Roggenbuck changing before us, we are getting older with him. He asks us to join him, on his journey through life, seems a little like reality television, but who wouldn't want a reality television full of really emotional well-read people.
NC: I think what you don't do is one of the reasons you have made such a 'big splash.' Like you didn't go down the depression road when writing, which I think invited a lot more people into the alt-lit scene. Because not everyone is suffering from depression and existential crisis all the time. Did you consciously reject the depression route or just find it not your style? READ MORE >
Author Spotlight
/
79 Comments
June 1st, 2012 / 10:48 am
Blake Butler
xTx has two books published Normally Special and Nobody Trusts a Black Magician.  She has been published at Lamination Colony, Metazen, Word Riot, and a million other places.  I don't actually know if xTx is a human being or a hamster but her book made me have a lot of emotions.  Her stories "Standoff" and "The Mill Pond" show an amazing understanding of the craft of writing but at the same time they don't lose emotion.
NC: Who are some of your favorite authors and describe why you like them?  But also what writers have influenced your style?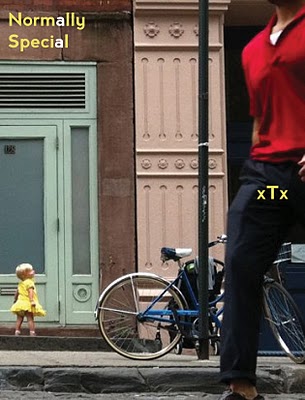 xTx: I always feel like I'm going to take a bullet for admitting this but, whatever. I'm not going to lie so I can fit in with the cool kids.   The mainstream authors that always come to mind when I am asked this question are Stephen King, Chuck Palahniuk and Jonathan Ames.  Stephen King because I started reading him when I was super young and the stories he told blew my mind.  I loved the evil versus good and the ugly and the weird and the scary he always brought.  I love Chuck because that shit is fucked up good, yo; his stories, his characters, the detail, the uniqueness, the strange.  I can never get tired of Chuck.  I like Jonathan Ames because he's so honest, self-deprecating and funny.
But to be honest, after I devoured all of their books, I really haven't read these guys in a handful of years.  Especially since I discovered the online lit scene and started reading all the zines that were out there and finding out there were 'regular' people out there making words that could also blow me away.
The books/authors that have blown me away recently are:  Paula Bomer/Baby & Other Stories, Rachel P. Glaser/Pee On Water, Lindsay Hunter/Daddy's, Danielle Evans/Before You Suffocate Your Own Fool Self, and Alissa Nutting/Unclean Jobs for Women and Girls.  Amazing books…all of them.
I can't really say that any writers have influenced my style, at least consciously.  I mean, maybe years of reading King and then Chuck put me in a place that savors the fucked up, dark and magical.  Or maybe that place was always there and King and Chuck found them.  If anything, being exposed to so much online literature taught me that there are so many ways to write and so many ways to tell a story and that gave me the confidence to trust in how I wanted to write things even if I felt that maybe it was the 'wrong' way.
Author Spotlight
/
25 Comments
April 21st, 2011 / 10:47 am