Sandra Simonds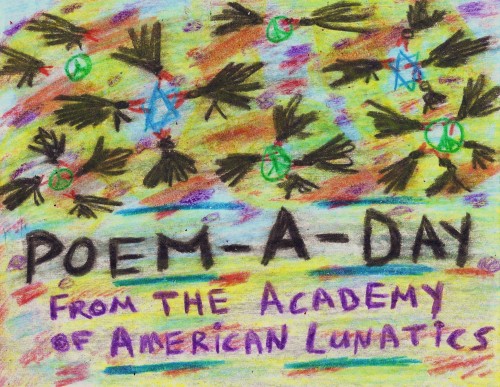 Poem Composed Entirely Of Lines From My Stalker
by Sandra Simonds
He doesn't love you It's just a way for him
to feel less lonely in his love for me Hope you got some
money to take care of your AIDS and keep
your ignorant mouth shut Hope that you end up
committing suicide If you care
about your life at all you will SHUT THE
FUCK UP WHORE You greasy slimy jstinky
mentally Jewish nasty whore Kill yourself
cunt I will FIND YOU (Namaste) If you care about
your life at all (Namaste) you will SHUT THE
FUCK UP WHORE I am tall witty thin blonde Sorry
If I see one FUCKING THING about me anywhere I am coming
to your house Men of power and influence have been
and are attracted to me You're writing is
GARBAGE Yes people in the world
Move They
Change You moron you can't even pronounce "koan"
Sometimes even beautiful poets who come
from money such as myself fall in love
with poor white trash alcoholics and go the south
and live with them a few years Enjoy the charity people
who want their dicks sucked Women get
divorced It is
awful DOG don't give your kids AIDS
You should commit suicide Believe it! I'm rooting
for you You only had them
so you could be a "mommy poet" (Namaste)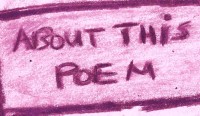 In some sense, this is a conceptual piece of writing in that it takes verbatim language delivered in one context (the stalker to me) and subverts it by delivering it back (me to the world) in an entirely different context/ new audience. It moves from the private (email) to the public (website) and in this sense it moves from the relationship of abuse (me and the stalker) to the relationship of reality/ sympathy and understanding (me and my other social relations). I would have never dreamed that I would write this sort of poem a year ago, but after having been stalked and harassed by this person for so long, after having called the police, after having ignored the stalker and fought back, I felt like writing the poem was my last recourse.



note: I've started this feature up as a kind of homage and alternative (a companion series, if you will) to the incredible work Alex Dimitrov and the rest of the team at the The Academy of American Poets are doing. I mean it's astonishing how they are able to get masterpieces of such stature out to the masses on an almost daily basis. But, some poems, though formidable in their own right, aren't quite right for that pantheon. And, so I'm planning on bridging the gap. A kind of complementary series. Enjoy!

Your windy mountain, my windy Monday: either way is a perfect place to catch up with Catch Up's new fourth issue, which features poets I already knew I liked writing poems that make me continue to like them (like Sandra Simonds and Catherine Wagner and Anne Barngrover) and poets I'd never heard of but now like based at least on their poems in this magazine (like Josh English, hat tip for the post title, and Gary L. McDowell).
There is fried chicken in one bed and sleeping in the bathroom. Comics! Acid mantles and blackwhite sermon flashes, for sure. But also nectarines and shy watchdogs, so yeah.
It seems like this magazine has been around for a little bit already publishing huge issues full of interesting stuff. I wish they had a terrible gimmick where they called themselves Ketchup every other issue, but that is just because I haven't eaten lunch yet!
Rauan Klassnik
—
here's an excerpt from an update on the Facebook Page created to help gather support of Sandra Simonds' call for the Poetry Foundation to do more to help poets in need:
"This afternoon Jenny Gropp Hess participated in a conference call with Elizabeth Burke-Dain, the Poetry Foundation's Media and Marketing Director, and Ydalmi Noriega, the Special Assistant to President Robert Polito. Burke-Dain and Noriega communicated that the letter and petition introduced a real need for the Foundation to change and refine some of its processes, such as figuring out how to better support programs like Poets in Need and (more…)
Dear Buzz Poet,
This is an open letter in response to your letter addressing Sandra Simonds' open letter to the Poetry Foundation.
One basic fact missing from your letter is that you seem to forget that poetry is work: "The difference between poets and the general public is that some of us, like you, Sandra, are fortunate enough to have an audience and a platform to reach them. In today's rocky economic climate, one governed by debt and political deficit, I do not think it is in the best interest of your audience or the poetry community to model such irresponsible behavior in asking for a financial handout from the Poetry Foundation to support the poets you hold in such romanticized esteem."  Simonds has an audience and platform, mostly from within the literary community, because she has worked hard to build those connections through her work and social networking. Much of the work associated with poetry is thankless and unpaid; Simonds' audience includes many of her peers who face her same financial reality. They may put in hours editing literary magazines that don't make a profit, or they may write countless unpaid book reviews in an attempt to garner support and audiences for other poets.   They publicize and promote poetry.  Is it, indeed, a "handout" when one is asking to receive support from a foundation for forwarding the same work as that foundation?  The Poetry Foundation's website says that they are "committed to a vigorous presence for poetry in our culture." Is Simonds, who writes, teaches, and reviews contemporary poetry not furthering the same agenda?
One question that lingers for many poets who founder without the support of the Poetry Foundation or similar arts organizations is what those organizations do with their money if not support poets.  In President John Barr's 2011 Year-in-Review letter posted on the foundation's website (no similar letter for 2012 seems to be available), Barr is directly evasive: "Not all of the 'hard metal' that nurtures and contains the poetic energy at the Foundation is visible to the naked eye. The strategic plan, the annual forty-page operating budget, managing the endowment." So why not make it visible to the naked eye? Why not publish the budget or the strategic plan? And why is the latest Audited Financial Statement READ MORE >
"We do not like work that says, "Like me; I'm human and unassuming just like you. I ask only a little of your time, a bit of appreciation for my hip intelligence, my sentiments, my (you may be pleased to discover) clever way with words and sounds. I ask for passive acceptance."" — Cal Bedient
It's been said and said, but David Lau and Cal Bedient say it all strikingly in this interview with Sandra Simonds about Lana Turner, one of the best lit spaces going for telling the moment where to go mow itself.
Blake Butler
—
Just finished reading Sandra Simonds's radical and freaky-chugging Warsaw Bikini from Bloof Books. She rips. Do a look at some poems from the book at Action Yes. "Ransom Note Attached to Wolf's Ear" alone is worth buying three books: "all the vortex neurons poured through / a diamond shaped keyhole, the back door / of black shards bleed black light." I want to print the whole of "Let Me Out" on the all above my bed. A book of might, this.