Ryan Call
Harper Perennial and Congrats to DearLeader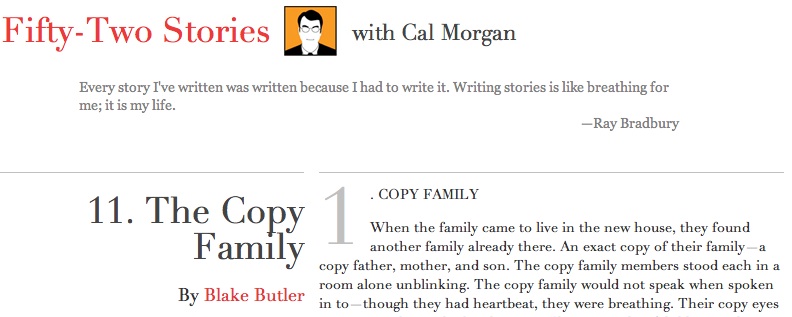 Fifty-Two Stories with Cal Morgan is a 'New Delivery Service' from Harper Perennial intent on publishing a short story a week for an entire year. Of the site, Cal Morgan writes:
This year we're celebrating the thriving art of the story by sharing a new one every week: most of them new, a few of them classics, from authors you know and some you don't, each of them treasurable in its language or wit or human insight.
This week, Morgan has posted 'The Copy Family' by our own Blake Butler.
About the story, Morgan writes:
Here's the first story we've selected from the wide array of submissions from our readers. Blake Butler writes to say that "The Copy Family" is from a book he's just completed, not yet published. It reminded me of some of Poe's comic stories, or of Tom Neely's graphic novel "The Blot." Could I describe exactly what it's about? I'm not sure I could do this odd family story justice. But it will stay with me for a long time.
Click on over to have a read, everyone, and good work, Blake Butler.
Tags: 52 stories, blake butler, Harper Perennial
20 Comments