Amy McDaniel
6 Books: Kevin Sampsell on Nonfiction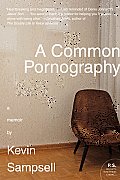 This is Part II of a series where I ask writers I like for 6 book recommendations according to some loose guideline. Part I is here. This week, Kevin Sampsell, editor of Future Tense Books out of Portland, Oregon, doyen of Powell's Books, and author of the wildly excellent memoir, A Common Pornography (Harper Perennial). To give you an idea of the goodness of Kevin's book, I'll confess that the first copy I had didn't make it through my ravenous reading of it and I had to switch to another.
I asked Kevin to recommend 6 nonfiction books, old or new. He obliged, and then some:
Black Box: Cockpit Voice Recorder Accounts of In-Flight Accidents by Malcolm MacPherson
I'm fascinated with this book and the way these transcripts reflect the collected calm of airplane pilots and then their sudden confusion, panic, and tragedy. An eerie and morose reading experience.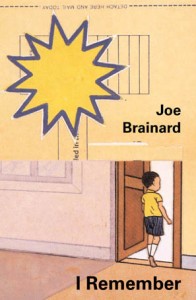 I Remember by Joe Brainard
Whenever I go talk to a writing class about memoir, I always point out this book and read a little from it. Then I have the class write a few of their own "I Remembers." It's such a non-threatening and easy way to access parts of your life that you think are uninteresting and trivial, but turn out to be engaging and universal.
Time Out of Mind by Leonard Michaels
Besides his fiction and his essays, this book is a bit of an oddity because it's more like disjointed journal entries. It took me a few pages to lock into Michaels's groove, but once I did, this book turned into a thing of uncut beauty. I would have to say that Leonard Michaels is the author I've been most obsessed with for the past year since I read his novel, The Men's Club.
Oedipus Wrecked by Kevin Keck
This book is so dirty and hilarious, but also sweetly heartfelt. For fans of Jonathan Ames and other straight-faced pervs.
Answer Me: The First Three by Jim Goad
I had a weird rivalry with Goad for a while (he dated and beat up an ex-girlfriend of mine), but before all of that (and his time in prison) he published a crazy magazine called Answer Me! This book and magazine may be hard to find now, but there's some really funny, scathing, dark, and shocking entries about sensational suicides and deranged murderers in this thing. Plus, Goad wasn't just an angry punk hack. He was actually a good writer who prided himself on never having a typo in his magazine.
Swing Low by Miriam Toews
Another one that might be hard to find now, this Canadian superstar novelist's unusual memoir about her dad (she wrote it from his perspective) is going to finally be released in the states this fall. Toews (pronounced Taves) is a beautiful writer who gives the reader a brave and brilliant look at a loving father and his Mennonite family and how his battles with depression drove him to suicide.
My BONUS 2nd set of six, would be: Another Bullshit Night in Suck City by Nick Flynn, Things the Grandchildren Should Know by Mark Oliver Everett, My Less Than Secret Life by Jonathan Ames, A Chronology of Water by Lidia Yuknavitch, Rent Girl by Michelle Tea, and The Film Club by David Gilmour
Tags: 6 books, Jim Goad, joe brainard, Kevin Keck, kevin sampsell, Leonard Michaels, Malcolm MacPherson, Miriam Toews
20 Comments