Monday, June 2nd, 2014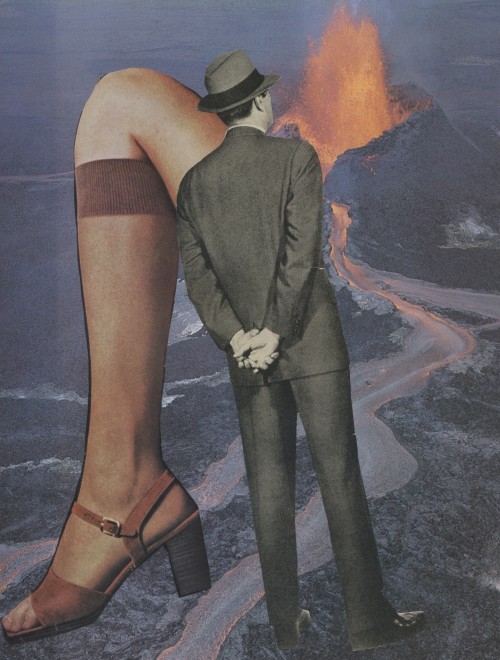 ***
In late April I read with Kevin Sampsell and Jay Ponteri in Nathan Curtis Warner's LYE:WORDS at Pond Gallery.
***
Kevin had a projector set up and interrupted reading from his book to show his Collages. Sometimes they contained text, and sometimes they didn't. Sometimes Kevin read the Collage text. . .Regardless, I was quite taken by them. . .And so I asked Kevin if I could feature some of them here on htmlgiant.
***
What follows, then is a Q & A we did with Kevin's Collages interspersed.
***
And for more Collages check out this
special section
of Kevin Sampsell's website.  And starting June 10th Kevin will be doing a Collage column, called Paper Trumpets,  for The Rumpus!!
****
Rauan: How did you get started doing Collages ??
Kevin: I was inspired by the cut-up experiments of William S. Burroughs and actually started doing word collages, mostly from newspaper headlines, about twenty years ago. I put out a weird little chapbook called Children's Book in 1996 and I've always wanted to make a follow-up book. I've kept this big manila envelope of words ever since then, occasionally pulling it out and making funny cards and pictures with them and giving them to friends.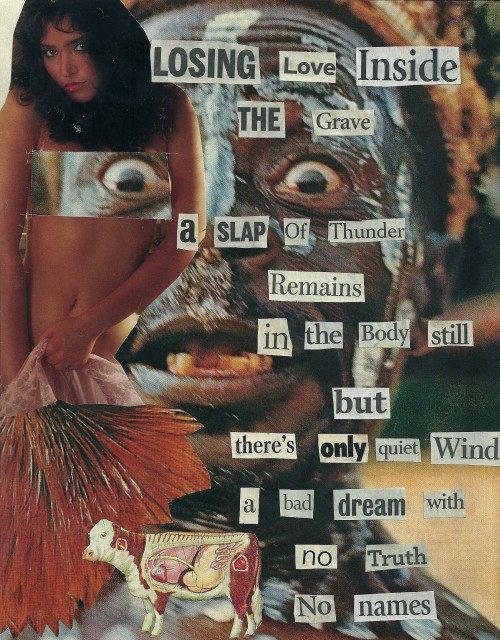 But those were more about wordplay and odd language. At the beginning of this year, I decided I'd pull out that envelope and start making more collages, kind of as a break from writing. I started to look around at other collage stuff on-line and discovered this whole big vibrant world of collage artists and, more importantly, I started to seriously consider the use of altered images to play off the words. I discovered this book called The Age of Collage and it included profiles and work by a bunch of great artists doing amazing work with collage. This page on the publisher's web site included videos of John Stezaker and Linder Sterling and I became hooked. Stezaker's video was especially influential. I started to look at collage every moment that I could and I joined a bunch of collage groups on Facebook too. I started to put more importance on how the images in the collage were presented. Words are still important, but the images are equally so now. Something clicked in my brain and I'm starting to figure out things with images. How to play with them and make them do strange things. Making collages is like creating optical illusions sometimes. Like with writing fiction or poems, pretty much anything can happen.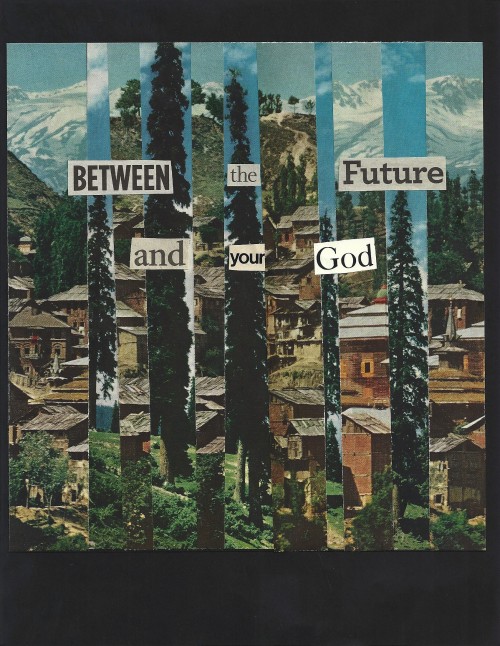 RK: Can you tell us a bit about yr Collage process??
For me, collage is all about seeing, as opposed to writing (more…)