Seth Oelbaum
Announcing the Most Terrifically Tyrannical Poetry Collection of 2012
Early this morning, in the wee wee hours, a group of glamorous/ghastly ghosts (including the first wife of British bard Ted Hughes) convened to determine the Most Terrifically Tyrannical Poetry Collection of 2012. After numerous gulps of grape Juicy Juice and some suicide threats the superstar sprites concluded that Baby Adolf's Nursery Rhymes warranted the wonderful honor.
Congratulations Baby Adolf!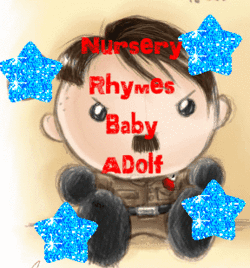 Tags: baby adolf, bambi muse, ghosts, ted hughes, the most terrifically tyrannical poetry collection
One Comment
December 19th, 2012 / 11:14 pm rawbbie—

you're only right because billy collins didn't have a collection come out this year.