ghosts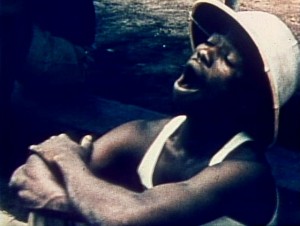 (A scene from Les Maîtres Fous (The Mad Masters), a film by Jean Rouch)
Haunting –
My left eye is fucked. It isn't the first time. I've mentioned its swollen episodes everywhere: in poems, on the phone.
Because I think it's hysterical. Because I really can't get over it.
LOLOLOLOL. A POET. WITH A SENSITIVE. EYEBALL. FUCK ALL THAT.
Lately, there are tiny, irritated dots that have been piling up in the corner. My roommate gives me clay and DMSO, which is HORSE LINIMENT. She dabs it on for me. The eye's anger ebbs and flows.
I like that my own body keeps haunting me from this particular room, always from this left eye, trying to get me to deal with or acknowledge some part / stress deposit of myself that I've neglected / buried. Your own body interrupts you. It unexpectedly cuts you off. I feel more than slightly disembodied when I look at it in the mirror, when I touch it. Ghosts are red.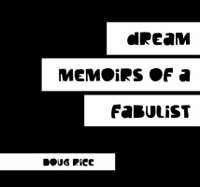 Dream Memoirs of a Fabulist
by Doug Rice
Copilot Press, 2011
$35 (Limited Edition) / Buy from Copilot Press
This book does not start with an I, but a ghostly he that becomes a she, that vanishes and becomes an I. In this body-text, the I perhaps does not exist as the reflection does, in this book that questions the naive categorizations of gender, the dizzying abyss of self-imposed identity, and the gravitational field of language itself, the pronouns textually speaking to one another, dragging memory from one space into another. READ MORE >