Matthew Simmons
Classic Word Spaces 2: Chekhov's Desk

I did a search for Chekhov's desk and the above image was what came up.
There it is, everyone. Chekhov's desk. As we all know, Chekhov was a physician. Thus, Chekhov cared about the health of his wrists. He wanted to be able to write without pain. This explains his use of a tilt-y desk, I'm guessing.
Remember those kneeling chairs everyone bought during the '80s? You might not realize this, but in addition to inventing the modern short story, Chekhov also invented those. That's why so many writers use them. They are good for your back and they also inspire you to write powerfully observed short fiction that limns the human condition in subtle, masterful ways.
Here's a picture of someone using one. It may or may not be author Cynthia Ozick*: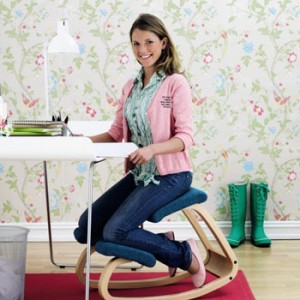 * Disclaimer: This is probably not Cynthia Ozick.
Tags: Chekhov, Chekhov's Desk
9 Comments