Seth Oelbaum
Dress Up with the Contagious Knives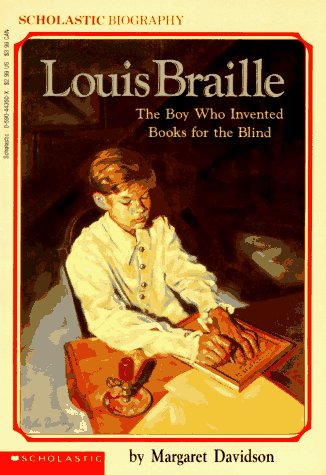 Besides possessing a really pretty first name, Joyelle McSweeney has earned a place as one of the top three poets presently (the other two are Ariana Reines and Chelsey Minnis). Totalitarian, deathy, and melodious, Joyelle has composed a Hunger Games-like novel, an essay about Ronald Regan, and a play, the Contagious Knives, that's rich in rancor and in rhymes.
The Contagious Knives displays the diction of a nimble rapper and the pitch of an impassioned preacher.  As the play's hero, Louis Braille, tells Bradly Manning, "No indian giving, no taking it back, / except when you take it from me, / Indian, Chinaman, Brad-lee."
Obviously, Joyelle needs no help decking her characters. Louis's costume consists of pink panties, a Target t-shirt, a Victorian sailor suit, liquid eyeliner, and more. But what if it was required to dress the Contagious Knives's characters in designer labels for a French Vogue editorial? What would they wear then? Well, maybe they'd trot out on stage in these things:
Boastful, sassy, and violent, Joyelle's Louis Braille is a boy for boys to admire. Some of Louis's first lines are: "I'm a very special cunt. / A very special fucking cunt. That's what daddy always said / (wink wink)." Not humble about inventing his eponymous language for blind boys and girls, Louis likens himself to napalm and hints at an affiliation with Nazis by repeating "Not see!" four times in a row.
Such a bellicose boy should sport this look from Meadham Kirchoff's Spring 14 collection. The spider-like sunnies will shield his eyes (as they've already been through quite a bit). The gold boxer's jacket signifies that Louis is prepared to punch someone or, like Mike Tyson, chew off a chunk of someone's ear. As for the gingham skirt, it's black (which complies with Louis's love of death) and, if he wants to show off his pink panties, then all he has to do is lift it up. Also, the hair is the color of pumpkins, and pumpkins, like Louis, are scary and cute.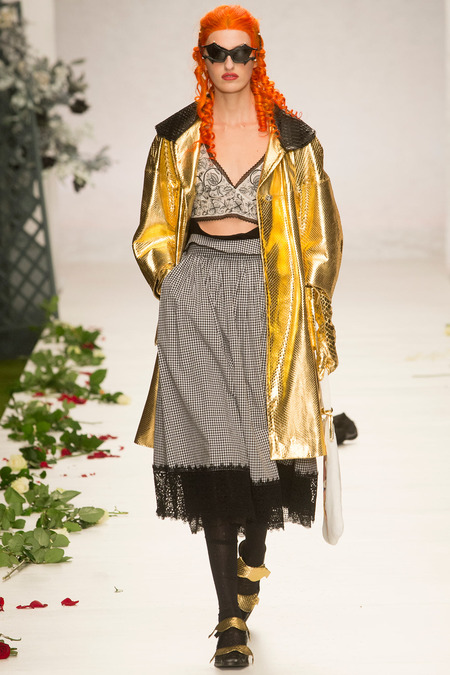 In Joyelle's play, Louis travels to a hell-like arena where he meets a mishmash of characters who are ensnared in some stage of sordidness.
Like almost all fallen women, the Swan is something of an s-l-u-t. In just one stanza, she compares herself to an "aging hustler" and a "rotting flower" before concluding: "Everything is a petroleum product / or will be. Even me." Though seedy, the Swan assures her interlocutor, the Fiend, "I'm still quite a dish." The Fiend affirms the Swan's persevering attraction by confessing that they did have s-e-x one time after the Swan dolled herself up "in the shine off some sailor's belt buckle." A girl as lusty and loose and continuously covetable as the Swan should wear this Burberry Prorsum 2014 coat. It has an understated elegance. But this isn't really applicable to the Swan. What she requires is a garment that's not difficult to dismiss when a boy comes along, and that's what this coat connotes.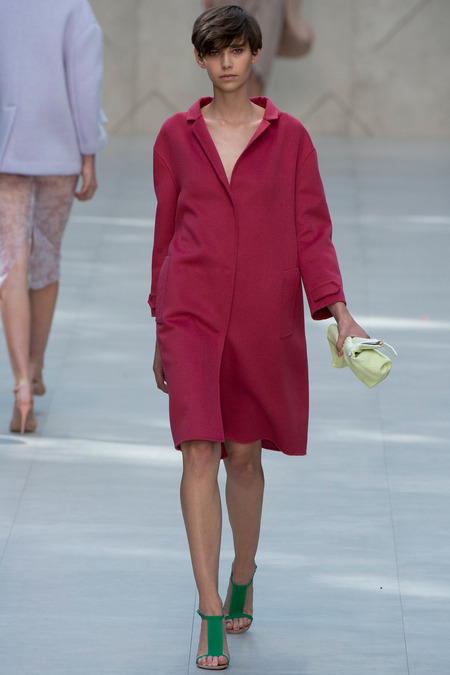 Then there's Narcissus. This boy has been buffeted by quite a few unfortunate events. In addition to being slaughtered on the subway by subway police, Narcissus has a baton banged into his rectum and he's been rained on by all the data and waste paper in and around Times Square. Finally, Narcissus has HIV. What Narcissus needs is strength, and perhaps he'll procure some from this Gareth Pugh Spring 2014 look. The shiny black bodysuit, the crisp grey jacket, and the metallic eyebrows evince a futuristic girl in command of a spaceship. With neat lines and a tight fit, this girl is organized and in control: she's prepared to tackle all types of invaders. Such conviction and courage is what Narcissus should obtain in order to overcome his assortment of ailments.
The final two characters that I'll be clothing are Lynndie England and Bradly Manning. The girl and the boy refer to each other as pockmarked twins. Both find themselves imprisoned. "I hear the digital chime of the opened cell," Lynndie laments. "It spreads its legs for me." As for Bradley: "I'm still in jail / I'm still in hell." These two prisoners should put on these two dresses from Giorgio Armani's Spring 14 collection (Bradly the blue one because he's a boy, and Lynndie the pink because she's a girl). The breathable thin fabric could come in handy, as some American jails provide neither windows, air conditioning, or fresh oxygen.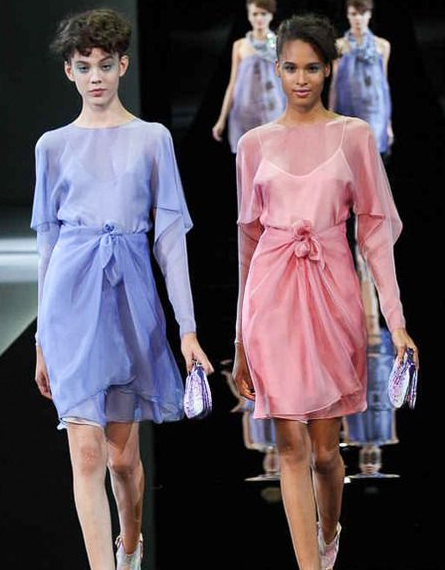 The high-fashion looks that I've supplied only hint at the theatrics in Joyelle's play. To get the total drama, one should cease everything they're doing and read it right now.
Tags: Ariana Reines, burberry prorsum, chelsey minnis, fence books, Gareth Pugh, joyelle mcsweeney, Meadham Kirchoff, Percussion Grenade, target, the contagious knives