Ariana Reines
Mike Young
—
"Here, the obsolete game-as-medium lights its fires with the levity of camp. Its "new aesthetic" texture makes a tragicomic figure for contemporary poetry: an anachronistic genre of gaming while Rome burns—or dreaming Rome might burn, while in fact the empire goes on using stuff up outside as usual, pleasant or painful, awful but cheerful, the deflector shield quite operational when your friends arrive." — David Gorin at the Boston Review considers the perverse negativity of those crud-ducks over at Claudius App, whose reading this Saturday 9/21 @ 9PM @ Reena Spaulings with Geoffrey G. O'Brien, Ariana Reines,  and Keston Sutherland
you should definitely avoid, because just look at this animated GIF below they made for it that links directly to the Facebook event, which supposedly 118 people are going to, and look, I've been to Brooklyn, 118 people don't even live in that pie shop, so, yeah, sure, keep murdering your brother, Claudius, it's not like we don't all know he's the real king, and it's not like we're not going to keep putting slippers on your hands so you rub your eyes with your slippers when you wake up: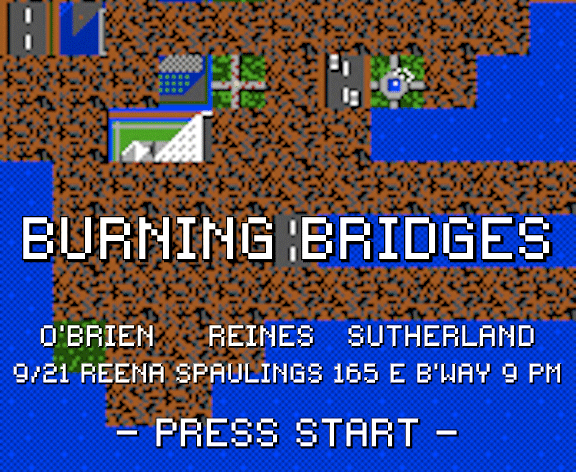 Comments Off

on "The negative reviewer is shrewd enough to moneyball the marketplace: they understand that in an economy rife with praise-inflation, vitriol can code as honesty, and ridicule may seem refreshing because it is so rare."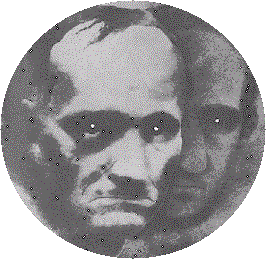 My French hasn't happened, barely has my English. What might allow me to translate Baudelaire any better? Have you seen the poorly Christian way being had with some of his lines?
Ses cris me déchiraient la fibre
is
Her screaming would drive me crazy
Her crying knifed the heart in me
Her screechings drilled me like a tooth
Her crying upset me horribly
Her crying tears me apart
Her nagging tore at every part of me
Save for contour, pasteurization, cluck by region, I know my reek, but this line from Le Vin de l'assassin or The Murder's Wine or The Assassin's Wine or The Wine of the Assassin or Sippy Vindicator is rarely caught right. Why should it be? Can we span our whip from known to felt? I'm saying it doesn't wow to take a nineteenth century dandy with a peanut head, and of such a floral, copulating rigor, and pinch him to "drive me crazy." He's not young Britney batting curls. Baudelaire consistently scarfed his wig. What is the direct UN transcript of this lovely purple? The hissy fit runs deeper into Satan. He's not workshopping; he's pissing blood. I don't care, because I'm translating the poem right now, out of French and without rhyme. I'm going to say Michael Robbins and few others on his level have by their genius made rhyming their property. I keep very afraid of my betters. Especially Robbins. I chose my last twenty dollars for his book when I was starving in Austin. It gave me a lot of meals to look up to, so if I rhyme it's just a glitch in the word salad, sir. Please. I berate my own underneaths. I live in fear. Ariana Reines having brilliantly done legitimate work translating Baudelaire – let me distinguish, too: This is simply an act of poetic necrophilia, mid-lobotomy.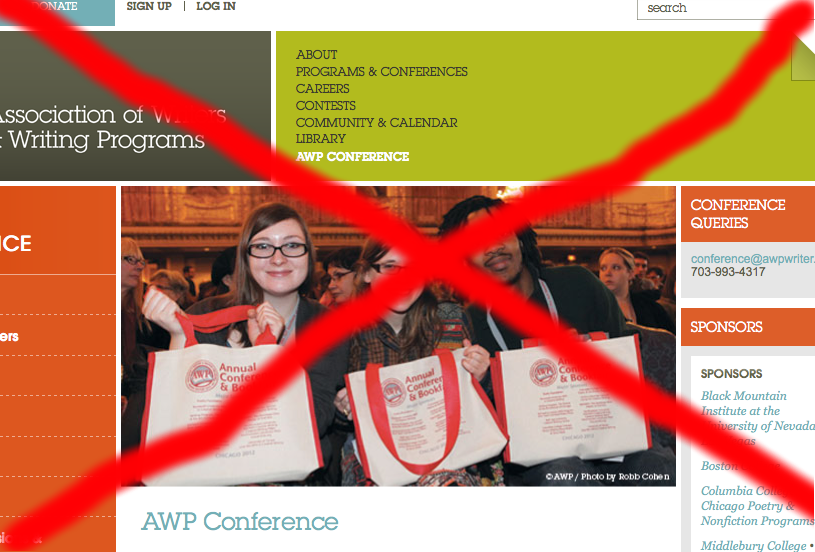 There shouldn't be an AWP. There should only be one if it would result in me meeting Gina Abelkop. She is the publisher of Birds of Lace, a press that publishes books about girl groups, adventurous twins, and girls who justify murder in high school essays. Most Birds of Lace books fulfill one of the primary attributes of literature: They transmute the reader to magical, mysterious worlds of death, babysitters, and big hair. Gina and I could meet for tea (or vanilla cupcakes). We could discuss trenchant topics, like the veils in Meadham Kirchoff's Fall 13 collection or Disney princesses. Why, we could even mosey to a Disney store (if there are Disney stores in Boston) and she could purchase an Ariel doll (because she's a girl) and I could purchase a Buzz Lightyear doll (because I'm a boy). It'd all be rather idyllic. But according to the grapevine Gina won't be attending this year. So I won't either, which is fine, since the AWP is as disgusting as gay people, straight people, bisexual people, and Brooklyn.
On their site, the AWP claims to be "the largest literary conference in North America." But the AWP has little relation to literature. Only around one percent of the attendees make literature. There's just a tiny fraction who formulate texts that are monstrous and divine – that, like those German boys, possess the grit and glamour to wage war on basically everyone on the globe. As for the rest – the 99 percent of AWP people – they are not poets and they are not composing literature. They are not concerned with epic Emily Bronte or moody Frank O'Hara. They are a product of typical middle class capitalism, or, as Karl Marx says, "the bourgeois." According to Karl, the bourgeois live off others' labor. They acquire value through accumulation. As the bourgeois stockpile products their worth increases. This renders them reliable upon the proletariat who must toil night and day with very little rest to keep up with the insatiable, indiscriminate bourgeois.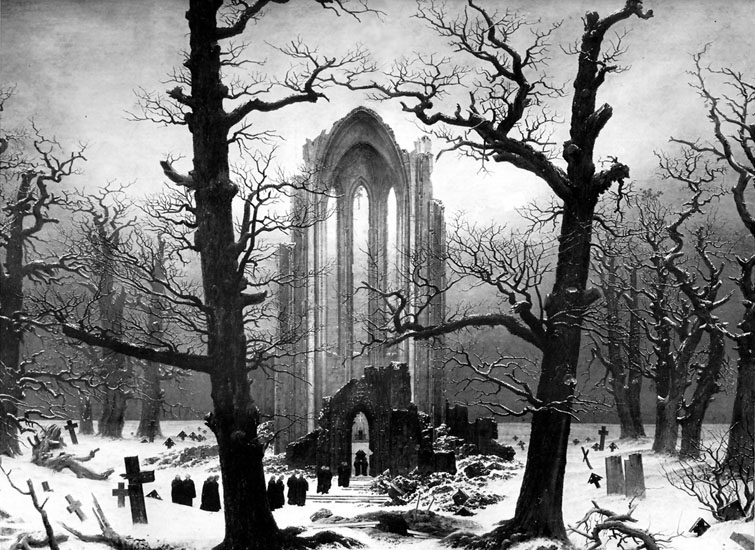 I intentionally missed most of the inauguration of Bruce Springsteen's boyfriend. Symbols of democracy and freedom make my tummy quite queasy. I prefer the enchantment of The Little Mermaid to the mediocrity of the middle class and the person that they pick to govern them. But a couple of days after The Boss's "partner" was publicly sworn in, I overheard two princess friends of mine discussing a poetry quarrel that arose from this inauguration. Supposedly a poet named Richard (I'm not sure of his last name, and considering his connection to Obama, he's certainly not talented enough to Google or even Bing) read. The poem prompted a girl Washington Post blogger, Alexandra Petri, to declare that poetry is probably dead. A poetry boy, John Deming, quickly rendered a rebuttal. After reading both, I've come to the conclusion that each has a very un-magical, unsupportable viewpoint on poetry.
To begin, I'd like to declare that being "dead" isn't deplorable: it's delightful. Sylvia adored the dead. She covered herself in concentration camp victims. Her skin was "bright as Nazi lampshade." Was Sylvia disempowered or on the margins of culture? No way, progressive gays! Sylvia was a spitfire. She slashed her daddy and her canonized poet husband. Charles Baudelaire, one of the best boy poets ever, sought the dead too. In "Spleen (ii)" Charles boasts that his skull holds "more corpses than a common grave." Identification with dead doesn't disadvantage Charles either. He's a dandy — someone superlatively superior to humans, a boy who follows his own special set of laws. The dead are special and unique. They're much more powerful than humans. To call someone or something dead is a term of incredible endearment, and should be embraced.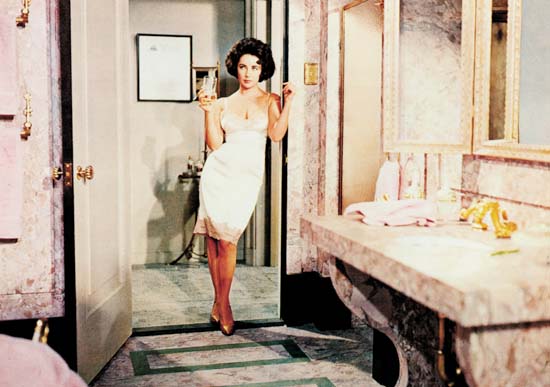 Due to Betty Freidan's pet rooster, or, as Mayor Bloomberg calls it, "Hurricane Sandy," a lot of things were discombobulated, including The Poetry Brothel.
But now The Poetry Brothel has been rescheduled for this Sunday , 17 Nov. 2012. It will be from 8:00-1:00 at the Backroom on 102 Norfolk Street.
There will still be magic, music, burlesque, tarot cards (which I still don't believe in), and tons of public and private poetry readings.
Dorothea Lasky and Ariana Reines will be there. So will the Princess of Brattydom, Carina Finn, and the Princess of Spanish Harlem, Jennifer Tamayo. What will happen when these two royal figures collide? Will it turn into a girly, more fashionable version of the exciting Israel-Hamas war?
Also, while I'm on the topic of prostitutes, I want to cite one of the most intriguing prostitutes ever (besides Elizabeth Taylor in Butterfield 8): Vivian Ward, played by Julia Roberts in Pretty Woman.
Vivian's long curly red hair is really fairy tale. If it would've ran for president of the United States of America I maybe would've supported it.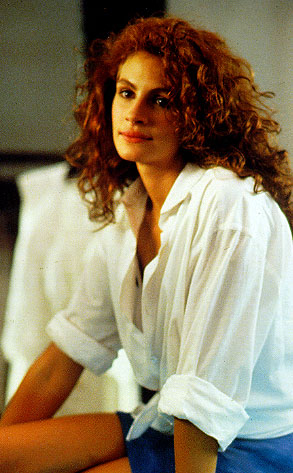 If you aren't entertaining the possibility of viewing Pretty Woman right this second, then you are like the shop girls in the movie who are rude to Vivian/Julia, which means you are a brickhead.
So… please consider coming to The Poetry Brothel and contributing to a theatrical and glamorous poetry event.
Here's another picture of The Poetry Brothel's madam, Stephanie Berger: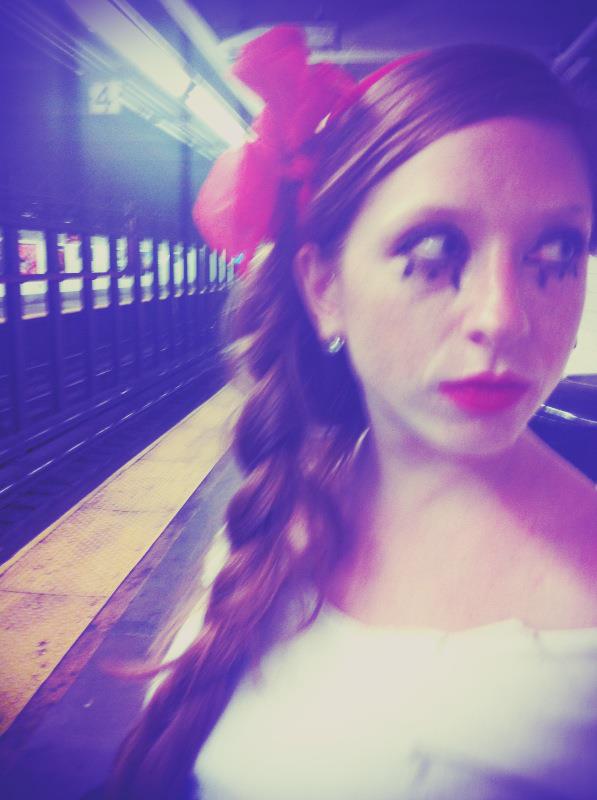 MAGICK IS SUCH my jam it's the best. To intervene, to sculpt the forces in motion that lie ever behind all phenomena –  I really don't know how to work any other way. Even tho I suck at math, I'm pretty boss at jimmying an algorithm, noticing how the hidden variables shift and float. Numbers are less important than access to archetypes, gods as guides dropping this or that for us to notice, signposts and gestures, fleeting affinities that when frozen stand as nexus-objects  multi-dimensional we can intuit beyond boundary. With the Will, that's us – burning variable  altering environment by manipulating the living furniture in the hidden room behind.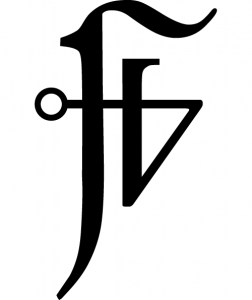 The letter word the sign is never not a sigil. Given, there are greater and lesser degrees of involvement. Sometimes the immobility of the intent is monolithic and plinth-like, entirely discernible, or else it's more about the splitting/rejoining of a designated grammar, terms or characters as place-holders for the energies contained therein, their recombinant effect resulting in whatever transcendent endgame is necessary to render organs null and of a single glowing body.
Expression bunches and twists the only fabric, tears through veils, the silence, so that we might recalibrate, effect a given change, order what we know as Chaos and the rest of it.
One thing I've noticed is that literary writing by self-identifying occultists is often quite bad, even as (or because) it demonstrates its principles. On the other hand, literary writers who're interested in the dynamics of occult philosophy and practice have generally produced exciting work.
The best example, my go-to guy, is Henri Michaux. More adept at watching his own imagination than any other artist I can think of, he explored inner worlds, wrote exorcisms, and all the time revealed his process. The most memorable piece in this vein is a malediction called "I AM ROWING": READ MORE >