Guest Post: Aaron Gilbreath
Kem Nunn's Surf Noir Novels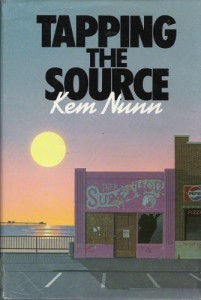 It's the middle of winter. Everything's dormant or dead. It's raining a lot up here in Oregon, as it always does for half the year. I was walking around in my heavy winter coat, grey clouds overhead, and got to thiking about the curative warmth of sunshine, and the golden sexuality of beaches, which left me nostalgic for summer, which got me thinking about the way Nunn's surf novels had carried me through a similarly dark Northwest winter in 2005, and about how it was pretty tragic how few people seemed to know about Nunn's books, which, even carrying the bordering-on-corny "surf novel" tag, are dark and deeply engrossing.
Kem Nunn (short for Kemp) grew up in the Angelean interior town of Pomona, a third-generation Californian. After piddling away his 20s, Nunn studied writing at UC Irvine and in 1984 published Tapping the Source. Centered on a naive teenager swept up in one surf crew's Mafia-ish, pornographic-druggie-biker underbelly, Tapping the Source not only spawned the term "surf noir" for its dark themes and gripping narrative style, but it single-handedly saved what was previously a joke genre. With surf-romance schlock like James Houston's A Native Son of the Golden West and patronizingly formulaic nonfiction like Caught Inside, In Search of Captain Zero, and, of course, Gidget, surf books have always occupied the lowest rung of commercial publishing, somewhere between niche market how-to guides and pure pulp. As the product of a quieter, once rural Southern Cal, Kem saw surfing as a metaphor "for what we had here and what we have lost."
While the title might pass for a pseudo-spiritual, self-help book, Tapping the Source was a National Book Award finalist for first fiction. Robert Stone called it "The all-time great surfing novel…in the same league as the best of Chandler and James Crumley." Some old, now-defunct magazine called the Saturday Review crowed: "What Hemingway's Nick Adams did for fishing, Kem Nunn does for surfing." Other books followed–Unassigned Territory, Pomona Queen, all dark, all fusing the narrative elements of mystery with the careful treatment of literature–but his surf novels were Nunn's high water mark. Following The Dogs of Winter, Kem closed his California surfing trilogy with 2004's Tijuana Straights and began writing episodes for HBO's Deadwood and the quickly-cancelled John from Cincinnati. (I never saw it. I can't afford HBO.)
Walking here in my heavy winter coat, grey clouds overhead, I just got to thinking about all this and wanted to briefly relay the way Nunn transformed the lowly surf novel into high art, and how much I wish it was summer.
***
Aaron Gilbreath has written essays, some forthcoming, for The Gettysburg Review, Cincinnati Review, The Normal School, Maisonneuve, Mississippi Review, Alimentum, PopMatters, and New Ohio Review.
10 Comments