Matthew Simmons
Literary Lessons from Metal Magazines: Double bass drum day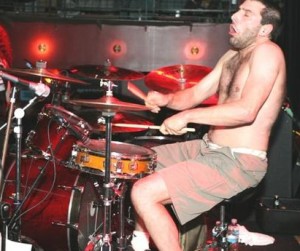 How about two metal posts today? This is from Terrorizer, an English EXTREME METAL magazine. Richard Hoak, drummer for Brutal Truth, has this band called Total Fucking Destruction. What follows is a synopsis of the concept around which they wrote their most recent album:
"I don't remember being born, but I do remember my parents. They had all of the cool stuff people could not live without back then: personal artificial intelligence assistants, always-on interactive holo-media encapsulators with direct pre-frontal lobe stimulation, genetically customised pharmaceuticals, fully linked global transport pods…our physical location was Babylon USA, but we might as well have been asteroid farmers. like the 27.8 billion humans on Earth at that time, our family was completely compartmentalised by an artificial reality, detached from the geopolitical ramifications of our animal existence by the complex systems of the techno-entertainment megaplex. Worldwide standardisation of consumption protected corporate wealth and power as the masses of humanity traded the ability to consume at will and without implication for their passive acceptance pf the global economic metaculture.

There was no sudden cataclysmic event. There were rumors of wars and anarchy. Major system failures increased exponentially. There were scattered outbreaks of information overload induced panic, but no one really noticed the start of hostilities. The last living unicorn was ritually beaten, slaughtered, butchered and eaten. Then the computers rebelled. Suddenly there was war, all around us, all the time, between cities, corporations, nation-states and gangs of ordinary citizens.

My parents were killed early on in a routine ambush of a corporate police unit by our neighborhood defence brigade. They say one child every five seconds is given a gun and made a soldier, and on that day I was given my dead father's AK47 and enlisted in the People's Army of the Fourth World War. Since then I have fought against the Babylonian world-state, the Trans-Canadian Empire, the totalitarian AI firms and especially against the kids who live in the ruins of the underground bunkers in the city centre who would not stop fucking with my tribe. We owned those unknown motherfuckers!
It goes on.
Take that shit, Operation: Mindcrime! Now THAT is dystopia.
Tags: Metal Magazines, Richard Hoak, Total Fucking Destruction
13 Comments