Matthew Simmons
Michael Martone's Reading List for "American Short Fiction of the 70's and 80's"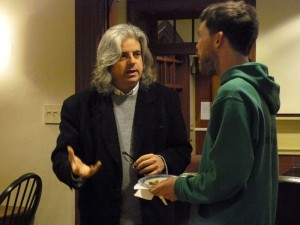 Recently in the comments section of this post, DD mentioned Michael Martone's workshop reading list. Dear Leader responded by asking for the full list. DD didn't have the list handy.
So I wrote to him to see if he would share it with us. First, he said his recent workshops don't have a book list except, "Hyde's The Gift and a baby name book called Beyond Jennifer and Jason. Also The Mac is Not a Typewriter and sometimes Mr. Wilson's Cabinet of Wonder."
But, he teaches a class called American Short Fiction of the 70's and 80's, and was happy to share the reading list. It—and more—appear after the jump:
John Barth, LOST IN THE FUNHOUSE
Lorrie Moore, SELF-HELP
Donald Barthelme, SIXTY STORIES
Fredrick Barthelme, MOON DELUXE
Robert Coover, PRICKSONGS AND DESCANTS
Bobbie Ann Mason, SHILOH
William H. Gass, WILLIE MASTERS' LONESOME WIFE
Jane Smiley, THE AGE OF GRIEF
ANTI-STORY, edited by Stevick
THE VINTAGE BOOK OF SHORT AMERICAN FICTION, edited by Wolff
John Gardner, ON MORAL FICTION
Raymond Carver, FIRES
Here's a bit from the syllabuses class description:
As I will mention in class, I think of this course as a kind of experiment that is recreating an historical moment in recent American writing. You recall, I used the metaphor of the cloud chamber, a tank in which sub-atomic particles collide and the even smaller particles that make them up are then mapped. I assume that something happened around 1980 that altered the course of a certain kind of writing (or perhaps a certain kind of writing altered the course of history?). While we might not be able to see that something, we will be able to track the phosphorescent trails it has left behind–the residue of stories and critical comment that survives.

To this end, I have set up several collisions between these two types of stories. The story types are roughly divided by the fulcrum year of 1980. Our method of working within these pods of stories will be to read them closely, describe them as fully as possible, and attempt to identify some characteristics of technique, of audience assumption, of content, of form and structure they share or hoard. At the same time, I would like to consider the, what?, physics of the historical moment, the atmospheric pressures surrounding the stories and their authors and also the membrane that transmits the stories to the larger world and the osmosis of that world back into the worlds of the stories.
Another bit I like: "You will attempt to enter the sputtering discussion your instructor is trying to spark, perhaps you will help move the desks around into the clunky circles he fancies in his attempt to create a sense of intimacy or manipulate the chairs around the table to attain the most comfortable seat."
(Doesn't the image of Martone appear to be him on the set of the TV show Family Ties? Is it just me?)
4 Comments