Christopher Higgs
New Minor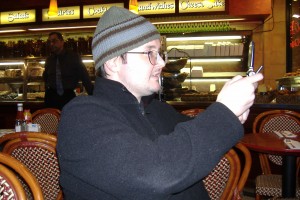 My friend (and highly respected Giant commenter) Kyle Minor has a new story called "The Truth and All Its Ugly" live at Harper Perennial's Fifty-Two Stories.
I forgive him for being a storyteller only because he's one of our generation's finest.
Hopefully he'll take me up on my offer to hold a public conversation here at htmlgiant about our differing perspectives on the art of fiction.  He's a powerhouse of literary knowledge.
At any rate, here's a taste of the new story:
I kept walking, him on my shoulder, axe in my free hand, until I reached the clearing. Then, careful not to wake him, I unbuttoned my jacket and got it out from under him and took it off and laid it on the ground. Then I laid him down on it and made sure he was still sleeping. Then I lifted up the axe and aimed it for the joint where his head met his neck and brought it down.
Tags: 52 stories, Kyle Minor
23 Comments