Matthew Simmons
SAY, CUT, MAP by Ken Baumann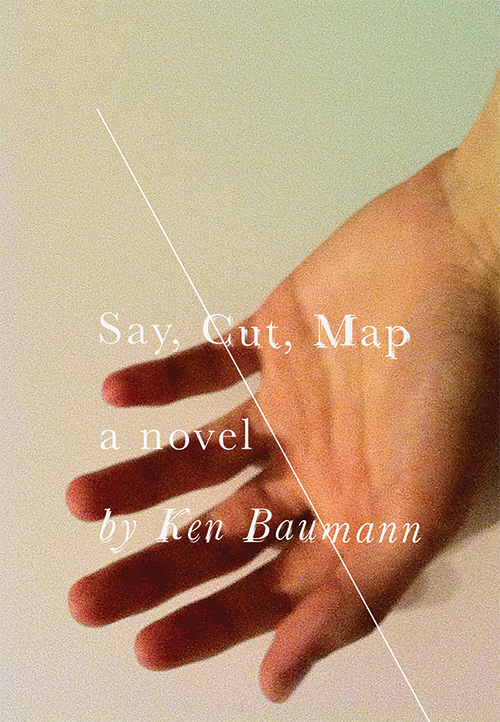 GIANT giant Ken Baumann has already dropped one amazing book on us in 2013, and before the year is out, he is going to hand us a second. The book is Say, Cut, Map and the press is Blue Square Press. Mira Corpora author Jeff Jackson blurbed it like this:
"Say, Cut, Map stakes out a literary terrain that so far has no name. Its constantly shifting cartography is made up of severed hands, premature burials, hospital wards, and fragile families. This novel of compounding mysteries redraws itself from sentence to sentence, while still relentlessly propelling the reader through its pages. Ken Baumann has constructed a dazzling mirage that pulses with real emotion."
If you're the type who needs a little more convincing, I asked Ken three questions about Say, Cut, Map and here they are, followed by three answers.
List your inspirations for Say, Cut, Map.
Trauma, dying limbs, dirt, romance, aid work, strangers, language barriers, sex, weather-like pain, machines, news cycles, myths, marketing, amputation, bitter flavors, opioids, travel, waste, children, philosophy, phantom sensations, sleep deprivation: complexity and how we fail against it.
You've said Solip came out of you in a sort of fever dream—that you sat down and it poured out of you. What about SCM? Did it also compile in your subconscious and rush out? Or was the process completely different?
Its form—sensation to disparate sensation to stranger sensation and then dialog—came right away. Making sure that each memory, fact, thought, mood, and communication (or chunks thereof) pushed against each other hard enough to spark and recast the prior stuff in a new light (and then to cause enough sparks to create a strange and hopefully haunting fire or pyre or whatever)… That took time and work.
2013 was a year of some pretty high-profile video game releases (Bioshock Infinite, GTA V, The Last of Us). It was also a year when you replayed a favorite from your childhood (EarthBound) to prepare a book. Any thoughts on the contrasts?
The AAA games that I played this year (including those three) all made me less happy and less satisfied. Which doesn't mean I think they're all worthless or boring. But I do think that most AAA games are massive wastes of human potential. (Am I sugarcoating it too much?) Not that the older games are better or somehow clean by dint of being old; I'm not nostalgia's trick, or I try not to be. But older games are less jaded, less cynical, and less bent on wringing reality out in front of you—via audiovisual mimesis and a creeping indifferent fate and human error—which I think is a poor goal for video games. I mean, if I want to lose my humanity and kill myself, I don't need to live out a virtual zombie apocalypse, I just need to call my health insurance. So it was nice to go to the earlier, more naive, and (maybe also necessarily) more fun games, particularly EarthBound, which is so peculiar and joyful that I wrote a damned book about it.
***
One Comment
November 26th, 2013 / 12:33 am Brooks Sterritt—