Guest Post: Stephen Tully Dierks
The Poetry of Steve Roggenbuck
Steve Roggenbuck is the author of two poetry collections, i am like october when i am dead and DOWNLOAD HELVETICA FOR FREE.COM. Both collections feature what could be called minimalist poetry, notably short poems of only a few lines, sometimes one phrase, and both were self-published into the public domain, both in print (for purchase) and online (for free).
Here is the title poem from the former:
i am like october when i am dead
there is my hand
i am like the killers of people
Here is another poem from that book:
to my nephew on his birthday
i will choke your dad
i dont care
im not afraid
Here is the final poem:
i rented a movie and recorded over it with two hours of myself
on the video i am shouting compliments at my family
i burn my car on purpose
it is january
i greet myself at the beginning of a great career
Some of these poems were originally parts of larger poems that Roggenbuck cut down. Poems published in BlazeVOX contain several lines that became poems by themselves in i am like october when i am dead. Roggenbuck's poetry has become increasingly minimal since he began publishing. If you look at his earlier work, there is more fragmentation and the poems tend to be longer. In the past he wrote poems that show the influence of Walt Whitman and E.E. Cummings.
Here is a poem from the second book, DOWNLOAD HELVETICA FOR FREE.COM: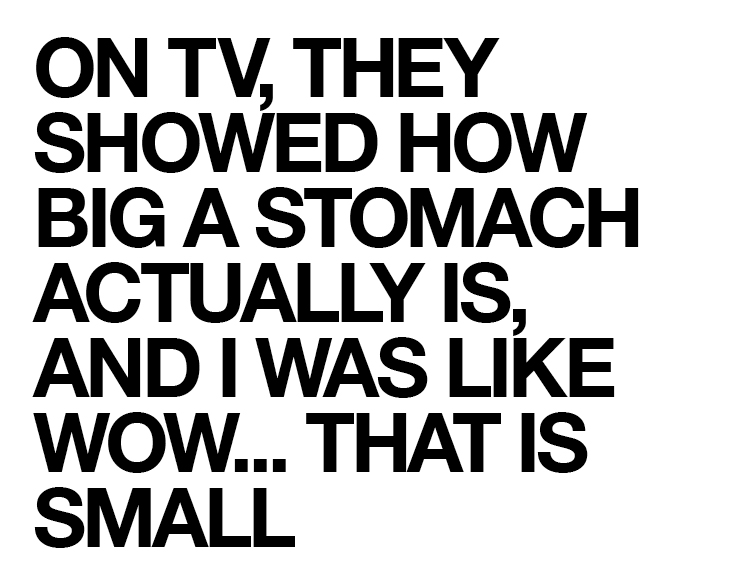 Some Analysis of DOWNLOAD HELVETICA FOR FREE.COM
As you can see, there is a design/typographical element to the Helvetica poems, which are presented in 80-point Helvetica Neue Bold font with tight letter spacing. There are 100 poems in the book, the complete text of which is online, along with 50 "B-side" poems. Roggenbuck created the poems by going through old MSN Messenger logs containing chats between his girlfriend and him during their senior year of high school and first year of college. He carefully selected lines that seemed funny, charming, or otherwise notable or striking. Sometimes the humor or interest comes from the vernacular, from the way of speaking, i.e. "IT'S NOT LIKE I AM COUGHING A TON… I JUST HAVE A TINY COUGH" or "NICE WORDS IN YOUR POEM… THIS WAS MY FAVE THAT YOU USED: WHIMSICAL." Some of them feature cultural references that I think Roggenbuck views as amusing or cute out of fondness for that time in his life and because of the manner in which they are referenced, i.e. "IS THIS HOW YOU SPELL THIS? 'ATREYU'" or "HAVE YOU HEARD ABOUT THAT WII THING… SOUNDS FUN." Sometimes the humor or the effect of the poem comes from how it captures speech that kind of stalls or falls flat, and the falling flat–the almost awkward pause that seems to hang in the air after these phrases–can be subtly humorous, i.e. "WELL, I WATCHED THE MOVIE THIRTEEN" or "I THINK I'M GOING TO EAT THIS BAGEL…" Sometimes the humor or interest comes from declarative sentences that seem to lack self-awareness, i.e. "I WISH I OWNED A GYM" or "I AM CREATIVE AND PROUD OF WHAT I AM MAKING." Some lines I think were selected and isolated in this fashion because they express affection in a direct way, a way that maybe exists in real life and in memories more than it typically does in poetry, i.e. "I THINK OF YOU EVERY TIME I SEE MY COMPUTER BACKGROUND," "I HOPE THAT WE GET TO STAY TOGETHER AND BE IN LOVE FOR A VERY LONG TIME," MY NEW POEM IS ABOUT THE COMFORT OF HUGGING YOU," and "I LOVE YOUR HAIR AND THE REST OF YOU."
Publication, Distribution, Promotion, and Community
The print version of i am like october when i am dead has dimensions slightly smaller than that of a CD booklet. It was printed at a relatively low cost and could be mailed cheaply, thus allowing Roggenbuck to print and distribute 1,000 copies for free. The website version of the book features the complete text of the work as well as bonus features, such as "deleted scenes," poems that were considered but eventually cut from the book, and a video with Roggenbuck's commentary on the poems. Roggenbuck's book reached 15,000 people online, in part due to his promotion of the work, via adding friends on Facebook, interacting with said Facebook friends, emailing with people, and creating memes/events that get people excited about the book. Some of the results of this have since been added to the site. Because the book is public domain and Roggenbuck encouraged people to do whatever they want with the text, with or without credit, people have translated the poems into Spanish (and back into English (and back into Spanish)), etc., and many people have emailed Roggenbuck photos of themselves holding the book (the evocative title of the book arguably makes it more interesting to do so). This turned the publication of a book into an event, a social event, with various ways for people to interact and get involved, and it created a feeling of fun and community. The internet helped to make this possible. Roggenbuck now has readers/fans/online friends all over the U.S. and in countries around the world. Perhaps most notably, many have made direct personal contact with him via email or Facebook. The poet is present, interacting directly with people, and they are responding back directly.
To celebrate the "three-month birthday" of the chapbook, Roggenbuck created a compelling video featuring footage from the creation, distribution, and reception process of the chapbook along with a clip of E.E. Cummings reading "somewhere i have never travelled, gladly beyond" and 13 overlapping mp3s creating a swell of discordant sound. Poets & Writers, with no tip-off from Roggenbuck or any of his friends, blogged about the video, under the title "Self-Published Chapbook."
This fun, interactive style of promotion has continued with Roggenbuck's new book. Before its release, Roggenbuck asked his readers to take photographs of the poems in real life, that is, printed on a sheet of paper and placed in some setting. People from various countries participated. Consistent with his public domain stance, upon which Roggenbuck elaborated here, the photographs of the poems were posted as an online "remix" prior to the release of the book. Notably, John Campbell, author of the webcomic Pictures for Sad Children, successfully pasted the poem "I MAY GO INTO ADVERTISING BUT I DON'T LIKE THE COMMERCIAL ASPECT" onto a Chicago billboard. The results were voted on, and the winner, a photo of the poem "DO YOU THINK THEY WOULD HAVE FINAL DESTINATION 3 AT A STORE NEAR HERE" placed in a chairlift by Osy Chung of Hong Kong, is being used as the cover image for the first print run.
A Sense of Humor
It may be helpful to point out that Steve Roggenbuck has a great sense of humor. He wrote in a post about the self-publication of his second book, DOWNLOAD HELVETICA FOR FREE.COM, "It is funny to self-publish a poetry book, and I know it." He's not kidding when he says that, I assure you ;) There is also a sense of humor involved with many of his actions that could mistakenly be interpreted as ambitious or pretentious in a straightforwardly self-serious or arrogant sense, such as the generation of a large print run for a self-published chapbook–one that exceeds that of most small press chapbooks–or the creation of a "three-month birthday" video for a chapbook featuring 13 overlapping mp3s.
There is also a sense of humor in many of his blog posts, which if taken at face value could be read as self-righteous proclamations. A good example would be a post like "Doctrine on 'Internet Poetry,'" which signaled the launch of another of Roggenbuck's projects, a tumblr for what he calls Internet Poetry: "screenshots of poetry* being spread with guerilla tactics on the internet: poetry* on Twitter, email, gchat, Amazon book reviews, and live chat customer service windows: poetry* as Wikipedia entries, blog comments, trackbacks/pings, Google bombs, and Youtube video responses: poetry* as Facebook statuses, Facebook groups, Facebook notes, Facebook events, Facebook pictures, Facebook videos, and Facebook friend requests." The asterisks in that description refer to a footnote at the bottom of the post, which reads "[poetry] loosely defined." But adding to the levity, the self-awareness, the non-dead seriousness of this "doctrine," are bits of hilarity such as the following, from the post: "print is dead: publishers are dead: academia is dead: Borders is dead: literary journals are dead: Ezra Pound is literally dead: / Windows 95, 98, and XP are dead: Millenium edition was only released on a small number of computers: Myspace is dead: dial-up and DSL are dead: Realplayer is dead: Winamp has been dead for years." Is this to be taken at face value? I don't think so, nor do I think it is completely a joke.
Google bombing and Steve's Online Persona
As was graciously covered and supported by M. Kitchell on this very website, Roggenbuck orchestrated a Google bomb last month that resulted in his friend, the not-yet-widely-published writer Poncho Peligroso, having his website and mentions of him the top results when one googles "2011 poet laureate," with or without quotation marks. To achieve this, Roggenbuck once again needed the support of a community of interested writers, readers, and fans, because a Google bomb only works when a lot of people, in a concerted effort, link the same phrase to a single site. As with many of his actions, this effort seems borne from an earnest desire to experiment with available technology in ways that are exciting, community-building, fun, and that challenge conventions/expectations, but it is also simply very amusing. This kind of duality is appealing to me, and I'm not the only one.
Roggenbuck, or Steve, as I'll call him here, has also developed a bit of a reputation, har har, for his online persona on Facebook and other online social media arenas. He frequently posts on the walls of new and old friends and fellow writers in a voice and manner that can be better witnessed than described, in a tone that is by turns mock-angry, goofily affectionate, oddly nonsequitur-ish, humorously vernacular, or exaggeratedly enthusiastic. Steve has also adopted the Flarf tone and method at times, posting bits of found text on people's walls. Poncho Peligroso and many others have responded in kind, joining in on his antics as well as posting silly things on his wall. The result is that Facebook–and Twitter, where he also frequently uses this kind of tone–becomes a place of performance, fun, and arguably an art medium for Steve, as much as it is a social and networking site. In one of his latest ventures, Steve and Poncho co-created a fictional Justin Bieber fan Twitter, attributed to one Katy Layla Bucci of Cheyenne, Wyoming. So far, it has 1,222 followers.
The publication of both collections and most of the activity mentioned in this post occurred in the last six months.
Buddhism, Veganism, and Minimalism
Roggenbuck is a self-proclaimed Buddhist and vegan. He is also interested in minimalism. You can see this in his work.
* * *
Stephen Tully Dierks is an author living in Chicago and editor of the magazine Pop Serial.
Tags: Download Helvetica for free, steve roggenbuck
83 Comments