Gene Morgan
The Ultimate Game Guide to Your Life®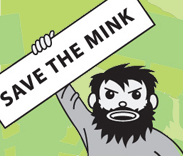 So, to let my secret yet rabid fanboyism spill forth like the frothy annoying bad-smelling liquid it is, I am ordering everyone who visits this site to buy Christopher Monks' new book THE ULTIMATE GAME GUIDE TO YOUR LIFE®. I got it in the mail Monday, and it's entertaining as fuck.
If you're ever looked at a video game guide, and wondered if someone could write the same thing for your life, and you're a white male living in America, without cystic fibrosis, this is the fruition of that idea. The book is even better than I imagined that one time I was in line at Gamestop buying the guide for Metroid Prime with my mother's credit card. Also, not as depressing.
Today is the "Order My Book Extravaganza!" and if you've got the Alexander Hamilton to blow, it's easily worth the money. You'll like the book way more than Alexander Hamilton. Unless you're a Federalist. And in that case, fuck you. No way. No how. No Hamilton.
Go here to order.
Tags: Christopher Monks, Cronyism, Pushing authors I like using sites I am somehow involved with
23 Comments