Rauan Klassnik
U.K. Author Spotlight (1) – Gary J Shipley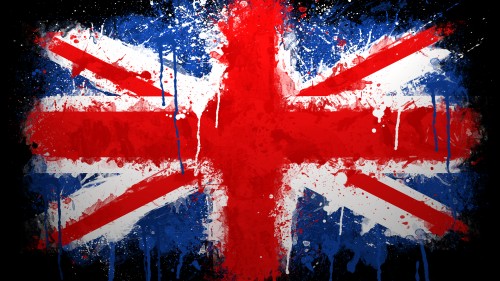 Realizing that they speak and read English in the U.K. and that they write in it too (and because I'm originally from South Africa a kind of diamond and veldt version of the U.K. with much better weather and beaches), I've decided to start a new feature that follows kind of in the vein of the Seattle Author Spotlight series. So, periodically, now, I will be featuring a U.K. author.
And the first UK Author Spotlight's of Gary J Shipley. Gary and I recently became email and Facebook "chums" (see how easy this is?) and then he did a nice write-up on my new book and I blurbed his forthcoming book of poetry. Gary and I swap quite a lot of emails and Facebook "Likes" (these, hint-hint, make me feel really, really great.)
Gary's smarter than me, much more philosophical and is able to write a Godless sort of language and landscape that I envy tremendously. When I saw the movie Pina I thought about Gary's poetry. Gary is also an Artist. Kind of like Michaux. But different. I look very much to one day meeting Gary in person.
Also, fyi, this is what Brian Evenson has to say about Gary's "Dreams of Amputation":
Dreams of Amputation reads like the nightmares Derek Raymond might have experienced if he'd written cyberpunk. An exceptionally strange work, but a smart and thoughtful one as well. Disturbing, haunting, and inimitably weird, this is a book like no other.
So, anyways, Gary J Shipley's Author Spotlight consists of a brief interview, Bio photo and Art.
Brief Bio:
Gary J Shipley is the author of eight books of various sizes. His latest is forthcoming from Blue Square Press. He has published in Gargoyle, The Black Herald, Paragraphiti, elimae, >kill author, nthposition, 3:AM, and others. More details can be found at Thek Prosthetics.
Brief Interview:
Rauan: Does the British Bulldog have any teeth left? (ie, can you tell us a bit about the state of British Literature, fiction, poetry, whatever)
Gary J:  Yes. It has a single brown stump that bends when it bites you. I know it sounds weak and decayed and like it might smell in addition to these things, but…
…there are some good people, a few. A few is probably enough.
RK:  How would you compare British indie lit (strange vague term, i know) to U.S. indie lit? Cats and dogs? Oranges and lemons? Subservient? Parasitic? Symbiotic? (blah, blah, i can't believe i used the word "symbiotic")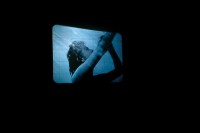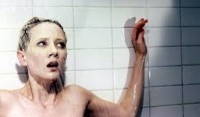 [  a real head scratcher ]
GJS: I wouldn't. I have enough trouble remaining convinced that there's something somewhere near here that's me, let alone that this something (this somethinged nothing) warrants anything as grandiose and facile as a nationality. And that there's a whole bunch of such things engaged in vaguely similar activities… well it doesn't bear thinking about. As you can tell, it's really not something I focus on. But nevertheless I feel a comparison is somehow owed, so maybe this will suffice: one is the shower scene in Gus Van Sant's Psycho, and the other is the shower scene in Douglas Gordon's 24 Hour Psycho. I'll let you decide which is which.
I'll be a sport (I'm English like that) and say this: There's a reason Paul Stubbs runs The Black Herald from Paris, and it's not just that his co-editor, Blandine Longre, happens to be French. But then the guy behind > kill author is a Brit, I believe, so just maybe we're okay. O, and watch out for Hexus, a new journal that hails from these parts for which I have high hopes.
RK: are you able to write even with all this Kate-baby messianic excitement? or how about with the Ashes going on? and is it true that British writers have to wear a dark blazer to write and stop for a quick cup of tea at the bottom of every hour?
GJS: In recognition of the theorizing of Louis C.K., I'm anticipating new possibilities in human whiteness, that wonderful stretched-Irish-cock-meat whiteness. And  it turns out my computer screen and that unborn baby have become strangely confluent: blank pages becoming blanker still. It's almost symbiotic.
The Ashes are a source of some bad feeling. My dad watched cricket (and played a bit too) most of his adult life, and I watched him suffer at the hands of the English cricket team throughout the 90s and into the 00s. And what happens: he dies and they start winning again. Maybe when I die Ivanišević will somehow win Wimbledon again, and maybe he'll be dead as well, and that'll be even more impressive.
You say it like it's a bad thing. We all have our standards, Rauan. You'd have us do our scribbling in sloganned T-shirts gulping down endless espressos, I suppose.
RK: To give our readers a taste could you plz give us a brief sample of your writing?
GJS:
LOOKING BACK AT THE EARTH
An old woman is dying in Las Vegas and the world is watching. If she dies we die. She's like bees. She's the size and weight of a fruit machine in Caesar's Palace. She's many-coloured lights. Her life was put together cleaning floors and toilets in one star hotels. There was the want and the doing then for sharing her vagina with bored teenage boys. She'd picture Damascus from a distance when she fucked. She liked the feel of cum moving down her leg as she cleaned away the shit stains and the hair. She was pretty as a cell phone then, when it's new, in a plastic sheath, with no numbers in it. She liked the way her skin would smell – of cheap generic cleaning fluid. And sometimes cum. And sometimes a difference in the smell. But dying she smells of sheep visited by flies. The cameras in her room are an extra dose of morphine in her cereal at night. The cameras are flowers plucked one by one from the brain of an Alzheimer's patient. The heat's a killer that doesn't kill. Now something is moving down her thighs. She feels it. There's the urge to clean. There's the urge she has to tell people how she was once an astronaut looking back at the earth and not seeing it. In this there's the seed of the reason she doesn't say anything.
RK: what do you think of Oxford and Cambridge? (writers or rowers?)
GJS:  Oxbridge rowers are a reason for getting out of bed in the morning, for Oxbridge rowers.
RK: Was Shakespeare really a commoner?
GJS:  As muck. It's obvious: he invented us in his image.
RK: Could you plz give our readers a 2nd taste of your writing?
GJS:
The film is in the walls.
All planes of existence shaved back to one. Nothing is more or less meaningful because of it.
I build a composition of a room. It sits inside this one. There's no place to hide and it hides there.
The walls in the film are the walls.
Here everything is screen.
There's a want not to become comfortable with this.
I never saw a bullet train mistaken for dead.
Her hands are the soil's half-cup bra.
The world is responsible for itself. But the world is a shirker.
I never saw the womb that ate the baby whole.
RK: who do you think are some of today's stand out Brit writers? (old as well as up and comers. Academic. Indie Lit. Commercially popular. whatever.)
I read a lot of new work, but hardly any of it is British.
I have read and continue to read our dead philosophers. And the odd live one as well. I rate Ballard and Ann Quin and James Kelman. Kelman's A Disaffection and Translated Accounts are works that I think deserve more attention. And that fiery elephant just for being those things. Both at once like that. And he's a King's man too. And Chaucer for his darkness and his bawdy excess (see Dark Chaucer). And there's more dead ones. Always more dead ones. As for the up and comers, I think there's a new biography of Larkin somewhere on the horizon.
RK: do you think Paul Muldoon's cute?
GJS:  If Auden's face is a wedding cake that's been left out in the rain, Muldoon's is Arnold Schwarzenegger disguised as a woman in Total Recall. So yes, the answer's yes.
Tags: Gary J. Shipley, U.K. Spotlight
5 Comments