Melanie Page
Virtual Book Tour: Bonnie ZoBell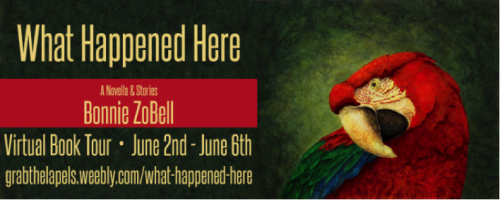 Follow Along With Bonnie's Virtual Book Tour Using the Link on the Banner!
Bonnie ZoBell rants about sex and the elderly:
Who is it that thinks old people shouldn't have sex? Miguel in my story "Lucinda's Song," that's who. Miguel—and he's not alone—thinks his eighty-year-old mother, Lucinda, has no business romancing at her age, especially not with someone who isn't his father, even if his father has been dead for years. For her part, Lucinda's having a great time with her new beau, Ramón Fernández. In fact, they're having such a torrid affair, she can't get around to watering her lawn and keeps getting citations from her gated community for having brown grass. She's never had so much fun.
And why shouldn't she, or any other elderly people? There's no threat of pregnancy anymore. In older generations, when birth control wasn't as widely available, extramarital as well as marital lovemaking always came with the risk of pregnancy if women were just looking for a little pleasure. Additionally, their adult lives have been spent working themselves practically to death, at least until they retired. They've raised children, paid their taxes, lived in wedded bliss—or not so much bliss—and many are now living alone. Don't they deserve having as much of the old in and out as they please?
We're too plugged in to the airbrushed beautiful people advertisers keep throwing at us. The older we get, the more we discover that looks aren't what it's all about anyway. Maybe both people in an elderly couple enjoy European history, watching Glee, and naps in the afternoon. For Lucinda and Ramón, weekly bingo really turns them on. He likes her 'tude. She's always liked Indian-looking men. Why shouldn't they get it on?
Miguel isn't a bad guy. I try to understand him, because I invented him after all, and I care about all my characters. I try to understand that with his dad gone, he might feel a certain protectiveness about his ma, doesn't like to think of her that way. But come on, guys, her parts are all working and she got along just fine before you came along. Miguel particularly doesn't appreciate finding a bottle of personal lubricant on his mother's kitchen counter—or that she's threw her back out when she and Ramón were going at it against the dishwasher. Get a life, Miguel! If the sex is good enough for her not to mind a small injury, you need to move on!
Remember, if our mothers didn't have at least a small interest in sex, we may never have been born. If you have to say something, tell her you care about her and want to be sure she's using protection. Did you know that STDs have doubled in 50 to 90 year olds in the last decade? They're living longer. With so many medical breakthroughs over the last century, bodies are staying healthier longer, or at least healthy enough to enjoy physical pleasure. Retirement communities are like rave parties these days. It's no longer all about shuffleboard, looking at scrapbooks of grandchildren, or dusting cat figurines.
Lucinda and Ramón have their own particular way of making love, slow and how they like it:
"Come with me, mamacita," Ramón said when they'd finally said what they needed to say and decided to make love. That night he helped remove her shift, she his trousers. The dim light from the bathroom bathed their wise, desirous bodies. Ramón smoothed the skin on her neck for such a long time it felt like a shiny sea stone. She ran her nails over his back until he drooled.
"Don't fall asleep yet, papacito," she murmured.
Love that night wasn't about getting it over and pushing [her past, abusive husband's] dead weight aside before he dozed off. This wasn't to say that Lucinda and Ramón didn't fall asleep right in the middle of everything. But it was a pleasant sleep. A siesta. And when they awoke early the next morning, they picked up where they'd left off. Ramón actually cared where those folds between her legs led, what they could do, that Lucinda felt something too, that the episode wasn't over until she had produced a certain song in her chest.
"Mi amor," Ramón said afterward.
A man of Ramón's age didn't have to finish any sooner than his woman wanted him to.
So, give your mom some condoms if you must, but remember: you weren't found under a cabbage patch!
***
Check out Bonnie's new collection, What Happened Here, available for purchase!
***
Bonnie ZoBell's chapbook, The Whack-Job Girls was released by Monkey Puzzle Press in March 2013. She has  received an NEA fellowship in fiction, the Capricorn Novel Award, A PEN Syndicated Fiction Award, the Los Angeles Review nominated one of her stories for a Pushcart Award, a place on Wigleaf's Top 50, and a story published by Storyglossia was named as a notable story in story South's Million Writers Award.  After receiving an MFA from Columbia on fellowship, she has been teaching at San Diego Mesa College where she is a Creative Writing Coordinator.
One Comment
July 4th, 2015 / 8:30 pm What Happened Here | Grab the Lapels—

[…] WEDNESDAY: Read Bonnie's rant about why it's okay for the elderly to get it on at HTMLGIANT. […]