Impossible Mike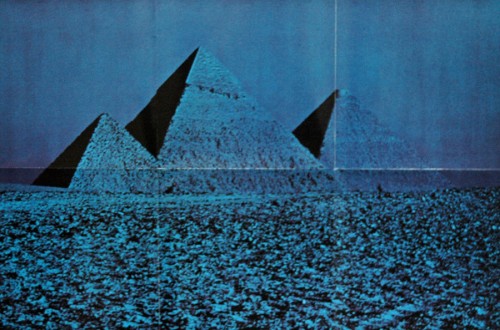 Pyramids. The only desirable tombs. Monoliths, obelisks, this ancient geometry of form. The way energy floats, fuck the new age bullshit sometimes you cannot deny that this is reality. The scent of immortality. Endless lust buried in this cold earth. Aesthetics as holy gods. No competition, only artifice. Beautiful, beautiful artifice. Something to look forward to. Something accountable. My own private structural system. Cold night howls. The expulsive glossolalia'd voice; I AM GOD.1
It's time we cut out the bullshit. It's time we start making something that either lifts us into the air. Accelerate through fiction and into a new reality. Nothing is perfect but it can always be new.
1#45, excerpted from Errors; or Dreams I've Never Had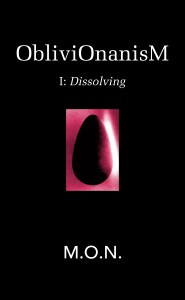 ObliviOnanisM, I: Dissolving
by M.O.N.
gnOme Books, 2012
85 pages, $9.99
Buy from Amazon
Sometimes I dont' trust copy. I feel like, if I read a book and then encounter copy written for it, most of the time I scowl to myself and think things like "holy shit that is so incredibly reductive." However, in the case of ObliviOnanisM, the copy rings remarkably true:
A profanely mystical work of hyperpurple theory-porn, ObliviOnanisM is an auto-erotic intellectual fiction envisioning the phantastical unending odysses of a young woman, Gemma, whom you will never know.
It might only be a sentence long & it promises a lot, but really there's nothing false about this description, drawn from the book's back cover.
To get it out of the way, I'll approach a plot description; Chapter 1:Gemma finds a semi-ovoid object and sticks it into her ass. Chapter 2-4: Gemma experiences immense pleasure from the object, from refusing to physically interact from her own body, and from her immense mental acrobatics that circle around not touching her own body. Chapter 5: Gemma doubles into another non( )being and within this phantasmatic double achieves infinitely echoed orgasms into oblivion. So, yes, the entire novella, in terms of literal action, consists of nothing beyond Gemma getting off. There are no characters other than Gemma, the action takes place in no physical location other than Gemma's bedroom. There is no dialog. There is no character development. Arguably, this is just an 85 page masturbation scene.
So does it work? Surprisingly, yes. The "hyperpurple" prose recalls the anonymous French erotica that was so ripe to pop up in the 50s, 60s, and 70s, approaching metaphysical plateaus of the phantastique that I personally am more than prone to enjoying. The idea of "theory-porn" pitched on the back has less to do with a direct exigesis into theory & rather adapts the syntactical structure of theory and applies it to porn-writing, occasionally referencing those beacons of theory in their BwOs, their infinite becomings, their Irigaray-ian loops, their object-ness, their speculative solutions. From a subjective perspective there's really no erotic stake I share in female-onanism (being a queer male), but there's an interesting insistance taking place.
The phallic structure is entirely absent. The semi-ovoid (egg) shape that violates Gemma violates her ass, but not in a phallocentric plugging, there is none of the old "in-out" here, only a girl and an object and, later, her own hands, fingues, tongue. This body has organs but they dissolve into a gushy pool of sweat, spit, and come, but this doesn't form an abject pile of abasement, rather it launches Gemma into the ethereal fluidity of the float.
Thus, to conclude, I offer a fragment taken from page 50 of the book. Your response to this excerpt is likely to determine your response to the entire book, so away we go:
The thought-spheres refractively projected illimitable prismatic images from all directions into her imagination, images her heart tirellessly distilled into licorous milky drops that were imbibed by every cell of her clean body. The self-penetrating pneumophantasmological cascade of meta-sexual soul-dew was overwhelming. And the flow, however slowed by the universal waterfall of ontic translation, was still too much.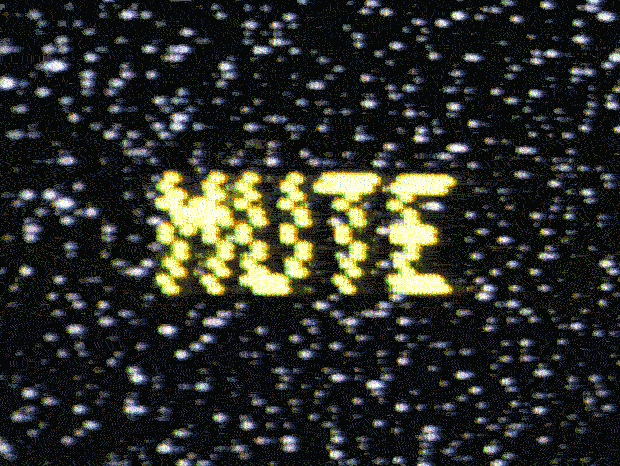 A)
I found this article on Dalkey Archive & the Best Translated Book Award over at Writers No One Reads really interesting. While it's an interesting case study in its own capacity, it really had me thinking about the issue of how so many books are published, yet, from what it seems, not that many books are being read.
The fact that even a "major" publisher of "smaller" works, such as Dalkey, doesn't seem to have any idea how to advertise, has me really concerned– almost 13 years into the 21st century, where advertising has almost literally been the singular thing every human being has been and is repeatedly exposed to, why are we–as writers, publishers–so bad at it?
At one point in life it seemed a huge thing to get work published; it was certainly more difficult in the past, yet every day, with more and more journals & presses popping up almost daily, as well as the new affordable modes of large-scale self-publishing, being published seems to be incredibly easy–if you can write a book, you can probably publish it. But, if you can publish a book, that doesn't mean that anybody is going to read it.
A little while ago, Mike posted that "social media isn't a very good way to promote your book". I don't necessarily agree with him in any capacity, but it's interesting to consider, because, really, what else do we have? I'm convinced that even when books are reviewed, very few people read the reviews. I know that often I won't read a review of a book I haven't read unless one of three things occurs: 1) I've heard of the book already and am interested in it, 2) The title or the cover is appealing & 3) I've heard the author mentioned somewhere else. So, I guess book reviews at least, to support an authors egotism, support the idea that their book has actually been read, but unless it's a review that pops up in a very large venue, I can't imagine they're helping to sell books much. It'd be pretty awesome if someone were to prove me wrong.
But I'm just wondering, what the hell is the best way to sustainably advertise books? Reading tours? Book trailers? Posting your shit on Tumblr? Linking your books to your friends and family? I don't know.
B)
All of this seems related to another thing that I've been thinking about: How many small press books have staying power? We post links to shit that's new, we review books right when they come out, but three years, one year, hell even six months later, do we think about these books at all? What can we do, in small press world (and I think there's some sort of development happening in the world, thanks to the decentralizing nature of the internet [cough-the literary establishment no longer has any reason to remain in NYC-cough], that small press can eclipse big press, at least it should be able to, in terms of generating interest; with the internet we can and should be able to push our words past the realm of small press book readers; we should be able to appeal to any number of individuals of–fuck it, i'll say it–markets, and demonstrate that we have something people are looking for. Whether or not any of this is true, well, I guess we'll find out in years to come.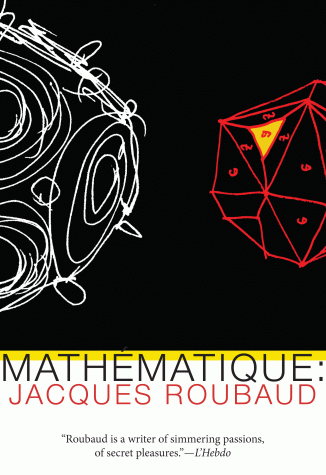 Mathematics: (a novel)
by Jacques Roubaud
Dalkey Archive, 2012
312 Pages, $14.95
Buy from Dalkey Archive or Amazon
Jacques Roubaud, a premiere intellectual force throughout the history, to some extent, of French letters, as they say, is primarily known to American readers as a member of the OuLiPo and a poet. Roubaud's reach, however, spans far beyond these simple categorical realms, throughout his massive ouevre of work, much of which has actually be translated into English.
Mathematics:, while recalling ideas, perhaps, that come up in specific OuLiPian exercises, is not inherently an OuLiPian work, nor is it a work of poetry. The cover of the book, in Dalkey's translation, presents the work as "a novel," and to an extent, within the heterodoxical forms that a novel can take, it is indeed a novel, but in the bookstore-culture of American publishing, it would find a place more comfortable within that loose genre of the memoir, the autobiography, the academic term of 'creative non-fiction.'
The book at hand is the third "branch," as Roubaud himself calls them, of a larger project dealing with the issue of memory and also, really, Roubaud's life. And Roubaud has had a full intellectual life, in his work and his academic career, his interactions with the French literati, his presence in the OuLiPo, his poetry and, as it turns out, his career in mathematics.
Copy on the back cover of the book presents the idea that Roubaud is one of the few writers who has successfully bridged the gap between left brain and right brain thinking, hyperbole to an extent because I would insist that there is not such a clear divide in the generation of texts, but there's a literal application in Roubaud's mathematics career, and how it's affected his interactions with the OuLiPo. But, regardless, despite exploring the branch of his own life that is in tangent with his career in mathematics, this insistence is no more than a structural system for Roubaud to explore memory within this specific realm of his own personal history.
There's nothing too exciting about the literal events that occur within this branch of Roubaud's life if you're not connected to a historical exploration of the development of mathematics, specifically in France, from the early 1950s to the mid-1960s. It is interesting to read about, but there's nothing specific to launch onto–so really, the question is, what's the draw to read 300 pages of Roubaud's life as it connects with mathematics?
The answer is simple, and beyond any sort of right brain articulation–Roubaud writes with a pleasantry that moves swiftly, a story-teller of diversions, splitting his own history into the rhizome of existence, a refusal of a straight narrative, an abundance of (as Roubaud himself points out) non-essential details, simply the creation of a narrative space.
There is no explicitly beautiful language present, as it seems that Roubaud saves that for his more highly emotional works (the incredible beauty that's present in some thing black, Roubaud's book of poetry written after the death of his wife Alix Cleo Roubaud, is nowhere to be found here). Instead we move through the maze of memory, constructed within a labyrinthine Proustian totality. Roubaud addresses the reader throughout the work, explaining the project, offering his insistence on the work both as exercise and project, aiming towards, perhaps, an unspoken totality, but this is not the totality that Mallarmé was after with his notes toward le livre, rather this is just a re-articulation of a full life in the form of the book.
Roubaud himself being an interestingly detached character, the scenes that occur are both instantly understandable and curiously casual–in fact, Roubaud's decision to arbitrarily move from poetry and language into mathematics is an understandable one: there's this thought, perhaps, a thought that I share at least, that in some way mathematics offers an answer to all the questions we as writers have; mathematics offers a totality to these great ideas of life. None of us could say how, and even if we were to attain the level of higher mathematics required to understand the really heavy and earth-shattering proofs that have arose within mathematics throughout its continued development, the lever of pure abstraction wouldn't offer any solace. But it's a quantifiable goal, an idea that while maybe we won't understand the answer, we'll at least have it.
And through this there is hardly nothing present outside of Roubaud's interactions with mathematics–there are tangents that arise, tangents of humanity, but only when they're linked to the mathematical narrative, through people and places met and involved through classes, other professors, drinking soda in the army, reading treatises on algebra in the desert during the war, watching a woman always wait for the train at the same time; all of these things don't add up to a point, they simple contribute to a life, life as a whole, as something imperfect and incomplete, as something that can be interesting exclusively in the way it's told to someone else.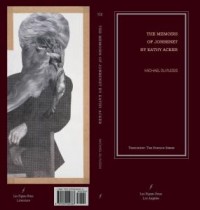 The Memoirs of JonBenet by Kathy Acker
by Michael du Plessis
Les Figues Press, 2012
103 pages / $15.00 buy from Les Figues Press
1. I have only read one true-crime novel or account or whatever they're called within the genre–if you count Peter Sotos as a true crime author (why would you?) I guess this is a false statement–a book on JonBenet, and it was sort of astounding and blew my mind. I know most of these true crime books are about two steps away from conspiracy theorists & 9/11 truthers, but ultimately the way evidence is presented, if not actual evidence, creates a new world of fiction that is both troubling and astounding.
2. And as such I've had a JonBenet obsession ever since. There's a gross collaboration going on within the recounting of the JonBenet narrative: the young white princess of middle america challenged by a vicious S/M monster snuff ring kiddie porn mystery. And perhaps the perpetrator was her parents? It's like the pool party at the Hard Rock Casino in Vegas; this is the true avant-garde of American letters, the fuckTness of the popular zeitgeist.
3. Then there's Kathy Acker, who I want to haunt me like the sun does, and she does sometimes, and she surrounds the air of the people I eat dinner with here in San Francisco.
4. Kathy Acker is a force invented by both fiction and second-hand statements that act as a guide when the bullshit becomes too much.
5. Have I mentioned there is also a chapter where JonBenet as Kathy Acker (or the other way around) is O from Story of O (which retains such a more beautiful sounding title en francais, Histoire D'O) and Rene is nowhere to be found and certainly NOT Little Lord Fauntelroy but rather Boulder is Roissy somehow and the carpet is all similar and the entire facade crumbles under the watchful eyes of O I mean JonBenet I mean Kathy Acker I mean Michael Du Plessis.
6. Right now, while writing this, I am hungry and want to go make myself a sandwich but I'm trying to stave off the hunger until this is finished because JonBenet is a doll and a doll is not real and dolls do not have to eat to sustain themselves and TO BE REAL IS THE WORST.
7. Nothing in this novel moves in a linear fashion. Events happen and then other events happen but there is certainly not any discernible narrative arc unless you literally construct one out of "your ass" which, I suppose, is possible, but ultimately not within the diegesis of the novel itself.
8. Of course what I mean by the above point is that within this realm of circumstantial 'realism' that may or may not be what the point of contention on this blog even is lately, it's ultimately futile when you realize that modernity is over (jesus christ get over it) and we are all so post-grand-narrative that the way things move is LIKE THIS, okay? Yesterday I went to work I ate a pretzel I took like three shits I sat on some stairs I read a Franck André Jammes book I took the BART to my boyfriend's house and then I passed out without having sex because I was feeling exhausted HI THIS IS HOW NARRATIVE WORKS IN REAL LIFE, WHAT THE HELL IS THIS REALISM SHIT.
9. It's like the way narrative works in this book is how Kathy Acker understood narrative which means, both, that Du Plessis understands Acker and that both Acker and Du Plessis understand narrative.
10. What I mean by this is the movement in this book is gorgeous but stilted which makes it even more beautiful. Why are we reading? READ MORE >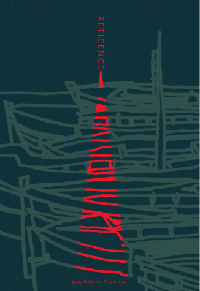 RETICENCE
by Jean-Philippe Toussaint
Dalkey Archive, Reprint 2012
104 pages / $12.95  Buy from Dalkey Archive or Amazon
Jean-Philippe Toussaint is a novelist who, in his initial success with publication, was often grouped alongside other novelists which many critics were considering the "post-nouveau roman writers," writers who had, persumably, grown up reading the New Novel authors during their formative years while the New Novels were the pinnacle of literature in France. They were often marked by a return to a more, shall we say, straight-forward narrative, a return to character, but still displayed a marked attention to everything that the New Novel broke down.
It is, perhaps, not surprising then, that upon reading Toussaint's short novel Reticence, I couldn't help but think of Alain Robbe-Grillet's seminal The Voyeur, published over 40 years before Toussaint's novel (released in France in 1991, though just seeing English translation in 2012). While Toussaint's novel avoids the fetishization & perversion that's present "between the lines" of Robbe-Grillet's novel (something that was seemingly never remarked upon by the author whom Barthes' claimed wrote purely objectively), Toussaint's novel also seems to be a detective novel which, similar to Robbe-Grillet's novel, may or may not be missing the crime in its entirety, recalled only obliquely–recalled? or invented out of a reticence?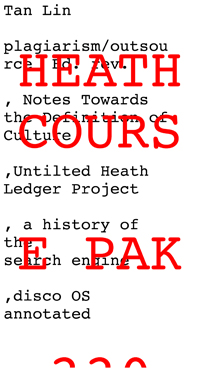 HEATH COURSE PAK
by Tan Lin
Counterpath Press, 2011
120 pages / $17.95  Buy from SPD or Amazon
In HEATH COURSE PAK Tan Lin continues his exploration of the ambient novel, focusing on the idea of how a book works and how a reader reacts to a book (literally a printed object) when its content bears no direct progression from A to B and instead offers tangential and obliquely-linked plagiarisms, outsourced ephemera, and meta-content.
Without a vague curiousity towards the book as an object, and how the book as an object works, there is little of interest here–this is a mass-produced artists' book, battling with the world of conceptualism, occasionally tittering into poetry via the banality of its content (this is not surprisingly as Lin himself 'began,' shall we say, as a slightly-more straight-forward poet). It's certainly interesting in theory, but in practice there's no way to avoid the fact that reading the book, in the way one reads a traditional novel, is boring.
But, perhaps that's a moot point. Lin's intent seems to be related to, as he explains in an interview both in the book and in interviews various places over the internet, an interest in developing an ambient novel, in the way that Eno accidentally created an entire genre of music by releasing Music for Airports (though this in itself is also an arguable point, it draws an interesting point of comparison– Eno's ambience still carried a significantly melodic mode, perhaps we could insist that 'melody' in music is 'narrative' in The Book–there is no melody in Tan Lin's work, unless we stretch the metaphor to extend towards serial music, perhaps we can find something).
The book is interesting in that it's specifically not interesting, it's successful because of the way it fails, it succeeds so adequetely at what it sets out to do that as a book it becomes a mere chore, an exercise. But the stamina required is beautiful, and Lin's trajectory through the world of literature, as an outlier questioning things completely different than anybody else, is entirely necessary.
Comments Off

on HEATH COURSE PAK by Tan Lin
October 9th, 2012 / 12:00 pm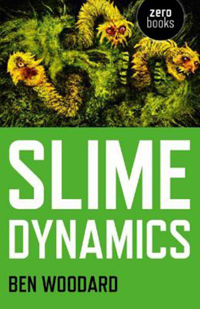 Slime Dynamics
by Ben Woodard
Zero Books, September 2012
84 pages / $14.95  Buy from Amazon
Ben Woodard's SLIME DYNAMICS, recently released by Zero Books, offers a continuing exploration of subjects and modes of thinking developed over the last few years within the realm of philosophy that has donned the title of "speculative realism." Woodard concerns himself primarily, both in this book and in his academic engagements, with the ideas of Dark Vitalism, which, as the book posits is
…the sickening realization of an inhospitable universe, stating that the production of life as an accidental event in time which is then contorted and bent by the banality of space, of our particular (and just as accidental) universal geometry and then further ravaged by accident, context, feedback and the degradation of wear and age.
Taking Dark Vitalism as its launching point Woodard continues to trace the idea of slime as "a viable physical and metaphysical object necessary to produce a eralist bio-philosophy void of anthrocentricity." A turn away from anthromorphism, away from humanism perhaps, is another trade mark of developing thought, as it recenters the organicism of the world, the infinitude (outside of the phenomenological existence of human-beings–aka what came before Beings, what can come after, what this means). These continuing strands are carried throughout the short study in true continental style, vis a vis literary horror fiction, horror movies, video games and comics. This presents a fun context, at least for someone as genre obsessed as I am, to explore larger concepts.
While ultimately not utterly convincing in its case-studies, Woodard's book does prove to be a fully engaging read and an interesting footnote on the development of speculative realism, specifically that of dark vitalism and the uncanny terror of the world carrying on without us.