Guest Post: Laura Szumowski
Some Thoughts on Self-Publishing (or, How to Start Self-Publishing)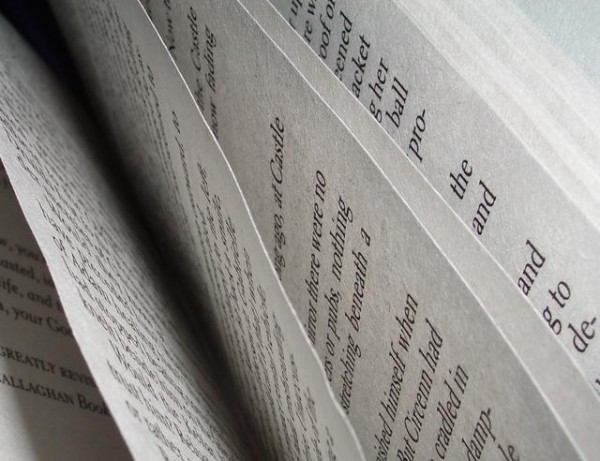 Today I received an email asking me for publishing advice: "I just finished a book, and thought you might have some tips for publishing options. I want full color and nice fancy paper." A few weeks ago, I had another inquiry: "I love that you have a printing business! I have something that needs to be printed… do you print these things, or should I just go to Kinko's?" These questions, along with others garnered at the recent Chicago Zine Fest, have made me realize how much I've learned about publishing, and how skewed the perceptions of publishing can be.
First of all, I am a self-publisher. This fact alone has its own set of preconceived notions, with varying degrees of understanding and respect. It also puts me in the position to give you as many reasons why you shouldn't do it as why you should. So before I explain how to do it, let's briefly discuss what you're getting yourself into. If you think all it takes is money, you're wrong. You will need large quantities of energy, dedication, organization, time, attention to detail, and the capacity to multitask and make mistakes over and over. If you want to save trees, go away. And prepare yourself for this: some people don't think self-publishing is "real" publishing. They'll think it's a hobby, a sign you failed to get "real" published, or they'll expect to see a zine, a cookbook, or an inherent lack of quality. (This seems to be especially true for the literary segment. I happen to write non-fiction, which I also illustrate, so I can't speak for fiction personally.) That said, don't discredit self-publishing; take yourself seriously. Self-publishing is publishing, and you can do it well.
Here is how I do it:
First of all, printing and publishing are two different things. You want to be a printer? Go buy a printing press*. You will also require ink, plates, solvents, large quantities of paper, a guillotine cutter, a bindery, reinforced floors, a loading dock, and numerous other things I know nothing about because I'm not a printer. If you think you can print large quantities of books all dirty and on the cheap, think again. I have syringed ink into my printer cartridges and trust me, it doesn't work. Oh, but you're going to use a Xerox? That's nice, but we're talking about books here, not zines. Even if you've discovered another way to print off thousands of pages, you still need to consider how you'll be cutting all that paper down (your well-honed X-acto skills will not get you far), and most importantly how to bind it all together.
Bindings you will try and realize are futile or look like crap:
-ribbon
-thread
-linen tape
-book cloth
-other kinds of cloth
-all types of glue
-contact paper
-various rivets
-spiral binding
-hand-made perfect binding
All of these methods fail because you need to go bigger; you need to outsource**. Sending your book to a professional printer will mean less time spent printing/cutting/collating/binding, much higher quality overall, and you may be pleasantly surprised by the cost difference. Making books by hand seems cheaper, but often it's not.
I currently have my books printed at Cushing-Malloy in Ann Arbor, MI. However, there are tons of printers out there, and which one is best for you depends on the specs of your print run. This includes the quantity of books, number of ink colors, dimensions, binding and cover type, paper stock, coatings, freight cost, and so on. Some small publishers like doing print-on-demand, which is exactly what it sounds like. Rather than ordering a full print run (usually anywhere from 250-1000 and up), you pay for copies as you go, or as you sell. The benefit here is that you don't have to store or cart around hundreds or thousands of books, or worry as much about financial loss if the book doesn't sell. Unfortunately, print-on-demand limits you to a narrow range of dimensions, page count, paper stock, and other specs. Personally, I find print-on-demand books lacking in quality as far as visual and tactile prettiness; they're not typically gorgeous, but they do the job.
How to find a printer:
You can troll the internet, or you can make life easier and refer to the handy and extensive list of printers in the back of the Self-Publishing Manual by Dan Poynter. It seems like this book gets a lot of flack, probably because the cover is ugly and the author is unabashedly self-promoting, but there's a lot of great information in there. Read it, reread it, highlight stuff. Once you decide the specs of your print run, go through this list and submit quote requests to all of the printers that print the type of book you need. This will give you a good range of prices. When you've narrowed it down to a handful of printers (or if you simply know nothing about paper stock and coatings), ask them to send you a sample packet– they totally will, and for free. Then you can see and feel the different papers, as well as the print quality. A lot of publishers and presses are now getting their printing done out of the country, probably in China. I haven't looked into printers outside the U.S., but I've heard the prices are super low. It depends on your priorities, but I like to keep things as local as possible.
If you want to get an ISBN, LCCN (Library of Congress Control Number), or barcode to make your book all official looking, you simply buy and register these online. No, it's not a black market, these are all legit. Note: ISBNs cost money, and if you're just starting out you may want to wait. Depending on your publishing goals, you may not need ISBNs, or they may not fit your budget at first. However, they're also an investment if you plan on publishing multiple books. Bowker is the official ISBN provider, and I've used Barcode Graphics for barcodes. You can register for your LCCN before publication by registering a PCN at pcn.loc.gov. That way, you have a number for your copyright page before going to print. If you wish to register your copyright, you can do it at www.copyright.gov.
If you're at the level of sending your book to a professional printer, you want the design to look equally polished. We're talking cover design as well as interior layout design. Most people use InDesign or Quark to create book layouts. If you haven't the design or technical skills to do this part yourself, repeat after me: outsource. The design is what everyone else sees before they approach the content- you want it to be sexy. If no one realizes your books are self-published, it's because they are well designed.
How to distribute:
Just kidding. That question requires its own article, if not several. The hardest part of publishing is distribution, and it's the main factor when considering whether or not you want to self-publish. Distribution is difficult and complex. If you want your book in Barnes & Noble and every bookstore in the country/world, or if you don't want to bother with this aspect, then you'll need to take a different approach that involves shopping the book around to publishers first (i.e. not self-publishing). But know that no method of publishing guarantees success, or that people will like your work. What helps in this regard is knowing your audience. Something often overlooked is the fact that self-publishing can help you know your audience better, and discover audiences you didn't know you had. No one said you have to start with a giant print run – print 30 draft copies and see how people respond before proceeding.
Publishing is an ongoing process; be patient but be persistent. When you print a book, you are making a commitment to guide that book and propel it forward – it's not going to do that on its own. If you see to that commitment, and it elicits a response (which I can't promise it will), you'll experience not only the thrill of reaching others with your words but also the gratification of knowing you did it all yourself. And make some damn mistakes, it's good for you.

*Or seek out a donation – it happens more often than you'd expect.
**Some of these will be the only methods you can afford at first, so don't worry. Also, note that I'm not talking about limited edition, hand-bound artist's books here.
Laura Szumowski received her BFA from The School of the Art Institute of Chicago in 2006, with a concentration in bookmaking, printmaking and illustration. She has worked as an intern and assistant to Chicago-based graphic novelist Paul Hornschemeier, as well as the screen printing studio Black Hole Press (no longer in operation). In 2005, Laura began working on a series of books and posters about women's health, and currently serves on the board of the Chicago Women's Health Center. In 2007, Laura launched Zoo-Mouse-Key Press to help people pronounce her last name.
Tags: Laura Szumowski, outsourcing, printing, self-publishing
13 Comments