Random
by sung
Ed: There is depiction and/or mention of suicide and child sexual abuse in this, jsyk. Take care of yrself.
If you hold your breath, doesn't time stop.
In her world there's no wondering what to wear and everything fits. She can stand for hours without getting tired and she always feels at home. Her name is molded a thousand times in glossy plastic so she never has to wonder who she is.
I want her pore-less skin. I want her fixed smile. I want to be her. You have no idea how bad it gets.
The thing about a Polly Pocket is that there's not much you can actually do with one.
They come in plastic cases that open like clamshells to reveal tiny dollhouses inside, decorated according to common girlish themes such as tea parties, mermaids, and beauty salons. The classic Polly Pocket doll is less than an inch tall with stiff, joint-less arms. Her feet are fused together forming a circular base that snaps into pre-determined slots in a few locations such as in the kitchen or at the bathroom vanity. The house is in large part purely decorative.
It's the kind of toy you stare at more than play with. It's the kind of toy I stare at and cherish too much to touch.
I'm sitting on the balcony with a pink umbrella when it's dry out. It's summer. I'm five years old.
I'm sitting under the umbrella and daydreaming. I pretend the umbrella is my own little house. Some day someone will tell me this is a very autistic thing to do but the fact is not everything can be afforded the luxury of a name. My mother doesn't remember this game but I sit here staring into space often. Everyone thinks there's something wrong with me because this is how I wile away so many hours. I sit and stare a space into being.
Someone in a movie says things seem so big when you're a kid.
I remember being a tall, ungainly thing. I remember being in the way.
There was this commercial in the early 90s where a little girl opens a bright pink box and out pops a doll. As the doll is engulfed in CGI sparkles, the narrator's honeyed voice tells me to imagine a doll that grows up with me. She's called My Little Friend. The doll emerges from the glittering fog transformed into a life-size version of herself, rosy face pressed against the little girl's as they embrace.
I imagine she's warm.
I imagine the future.
READ MORE >
I bought The Complete Works of Primo Levi with unemployment money. It comes in a box and when the spines of the three volumes are put together they form the face of Primo Levi. When I am in my living room I can see Primo Levi and he watches me. We make eye contact. But I took the first volume out of the box and now he is missing a quarter of his face.
* * *
I am reading Levi's first book, If This Is a Man, a memoir of his experience as an Italian Jew in Auschwitz. When the book was published in America it was given the title Survival in Auschwitz, a title almost as bad as Auschwitz for Dummies.
Put Auschwitz in the title or they won't know it's about Auschwitz, an editor must have said.
* * *
My great-bubby, Ethel Belgratsky, fled pogroms in what is now Ukraine long before the Holocaust and she lived in Montreal during the Second World War. But I don't know what happened to the cousins and other relatives who never left. My Uncle's wife's mother survived the camps and fell in love with a Russian soldier. My grandfather—I call him Papa Howard—doesn't know where our Novaks originate but the legend is that we are Lithuanian Jews. Litvaks. None of this is concrete to me. All of these people I never met swirl around in my head.
* * *
I like this book a lot. It is not a long book. I am reading it slowly because the sentences are rich and unique, simultaneously simple and complex, and the subject matter isn't something I find myself able to breeze through. Every chapter is about life and death and pain and humiliation and hunger and thirst and hope and hopelessness and language and fear and the random stupidity of evil and innocence and cunning and chance and disease and excrement and chemistry and clothing and bowls and spoons and soup and bread and humor and fatigue and judgement and memory and war and almost no peace.
* * *
I read some of If This Is a Man on the blue couch in the living room in the morning. My back hurts. I don't like our bed. Sometimes I sleep on this couch when I am sick of the way our bed is treating my back. It is winter and Primo Levi is in a crammed boxcar headed to Auschwitz. The men, women, children, and infants suffer "from thirst and cold." Finally, after a long journey from Italy to Poland, the train stops. Primo and the woman who has been pressed against him for the entire journey, an acquaintance of his, say to each other "things that are not said among the living." They say "farewell and it [i]s short; everybody s[ays] farewell to life through his neighbor." Then the train car doors open and the men and women and children are separated by SS guards. The able-bodied men go one way and as for the women and children and old people, "the night swallow[s] them up, purely and simply." The book is heavy in my hands. Each volume is a hardcover and Volume I is 747 pages long. IfThis Is a Man is the first book in Volume I and it ends on page 165. I am on page 16 and my eyes are wet after reading about a three-year-old named Emilia who had to be killed because she was a Jewish three-year-old. My hands and arms have to work to keep the book from falling onto my face.
READ MORE >
I've spent nearly all the hours since March in my apartment. So my attention in these last months has focused on, flitted by, or ignored my books—shelves and shelves of books—more often than in any other period of my life. Yet I've read little. I can blame distraction, fatigue, despondency—and I do. But the presence of my books, of so much paper and ink, is also for me a series of unanswered questions: What am I? What part of you do I serve? Do I serve anything at all?
Here is for me what a book has meant.
I'm five. The book is a cradle, but one held right in front of me. I can somehow be in it and outside of it. It's a gift, a book—but a gift that doesn't go away. A book is a place I can go anytime from anywhere. I'm not yet able to go there myself, or go alone, but I sense the possibility of this privacy. This possibility is scary, like a shadow of a bigger, stranger possibility that seems like the lives my parents live. An inexplicable life. A book is a path towards that life, but it's also an escape from it because each book's colors are so clearly more vivid, more real, than the life outside a book. I'm amazed that my parents don't talk about this, this secret they open for me whenever we sit down to read.
I'm ten. I seek the secrets of books whenever I can. I'm convinced the worlds they contain are more real than the life of my bedroom, than the life of school. I suspect the books I run away into and the land of my back yard I run across are related in some deep way: that there is a shared wilderness in them, a wilderness which quietly and patiently rejects the status of the fence. I want desperately to make more of this wilderness. So I write. I write because writing and reading are both the act of bearing in my mind what must in all circumstances live. I know that the imagination is a realm which must be protected from the grays and metals and routines of the clothing racks, the grocery store, and homework. I know that what must live is being attacked by regular life, or what everyone else but regular readers call regular life. I hoard books, because of the perspicuity of my situation. And I hoard them because I love their shape, the grain of their pages, the smells they hide, the glint of their spines in every kind of light. I am a fugitive in the world because of the truth of books.
I'm fifteen. There are books, just a few, that scream the unsayable. This scream and its agony are a shelter. These books hide me. These books also make plain the fact that other people have worked so hard to reveal what's hidden. That this is the role of a book: to reveal, to unearth, to dig up and tear open and point and stare. Reading and writing books is a way—the way, the only way—of being honest. I realize that not only must I continue to structure my life around books, but that books are escape tunnels leading away from the ordinary lies of living. I realize more vertiginously that I am responsible for building these tunnels. And that these tunnels must be beautiful—that books must be beautiful, as objects—because they must be habitable in case someone like me gets caught in them. Because, I suspect, we only ever get caught in them.
I'm twenty-one. The book is an event meant for other people. In making them, in editing and designing and soliciting them, I realize that books are events by which likeminded people are brought together. I view each book as an announcement, too: I have something important to say and I did my best to say it. Books can thus be judged by the social and financial context in which they were produced. Is this book's announcement simply a commercial for its publisher, a little boon to the capital of that publishing company's owners? If so, it can be scorned. Mocked. Or, ideally: ignored. The real shit, the real books announcing plain truths newly articulated, live among what our culture's nervous gardeners call the weeds. The small press, the indie press: watchwords of those with good taste. Books are for and against: for the truth, for improvisation and innovation; against the dumb and redundant lies of the marketplace, against the formulaic and respectable. A book is an event for those rare good people to find and hold onto each other.
I'm twenty-six. A book is a piece of an infinite conversation, maddening in its scope and disunity, revelatory in its accidental harmonies which span thousands of years. To write or produce a book is to participate in this conversation. Yet the intensity and concomitance of this chaos and order makes walking through a bookstore or library exhausting, humiliating. A book, then, is a kind of sacrifice—because it is painful and costly to enter this conversation. The cost for a person who's serious about books is that they can no longer speak with any grace during all those other conversations called "conversations" in day-to-day life: niceties, weather observations, constant nervous check-ins about the body and the mind and the state of the nation. Why? Because a great book is like a crystal whose form shapes great questions. In order to form these crystals, an author must permit themselves only the cold and arid air of solitude, distance, erudition, and honesty. Being open to this air requires a distance from one's friends, one's family. A book requires one's blood.
I'm thirty-one. As I type this sentence, I'm looking at the rows of books I own. Despite making and spending money, I don't like the sound of that: that these are my books. They're not mine. They're just temporarily living with me. And they do that: they live. They live because a book testifies to life. Not to the bland, back-of-the-cover-copy version of life, with its glib emphasis on the human and the joys and sorrows of social existence. A book testifies to the wider, stranger, more terrifying and fulfilling life we know when we are most inexplicable to ourselves. I've known this wider life when I've experienced any love whose existence I couldn't fit into my vision of the order or disorder of things. Every gift points at this wider life; I'm sure of this. And I'm sure that each book is a gift.
I'm on a huge Anthony Braxton kick right now. Like, inside a free jazz free fall vortex of kaleidoscopic music from Ornette Coleman to Cecil Taylor to Marion Brown to Albert Ayler to Don Cherry to Art Ensemble of Chicago to more and more and more, but right now Braxton's speaking to me the loudest.
LISTEN TO THIS: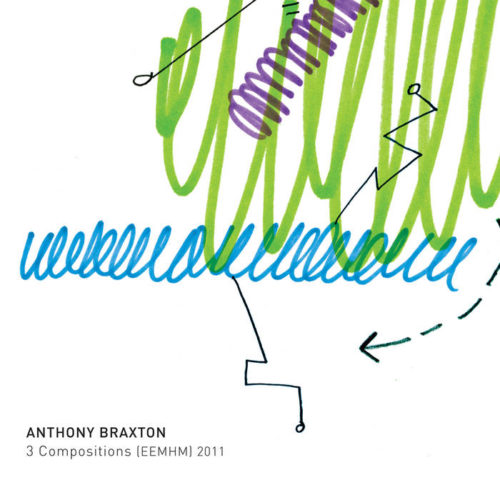 3 Compositions (EEMHM) 2011 by Anthony Braxton
Braxton's material moves in ways I find massively appealing: bold, dynamic, unpredictable, defiant, aggressive, persuasive, provocative, spooky, scary, creepy, cacophonous, rambunctious, chaotic, discursive, flagrant, abstract, unintelligible, bewildering, soothing, calming, inviting, indulgent, relentless, combative, mutinous, as if it were an act of resistance.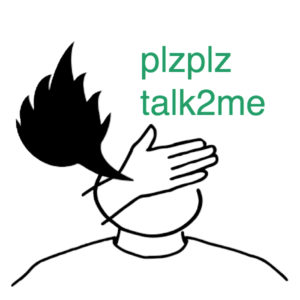 Welcome back to plzplztalk2me, a semi-regular feature in which I talk to folks who want to talk to me. Recently, I talked and made art with Elizabeth Schmuhl. Schmuhl is a multidisciplinary artist and the author of Presto Agitato (Dancing Girl Press & Zoo Cake Press, 2015) and Premonitions (Wayne State University Press, forthcoming). She illustrates essays for The Rumpus, has taught at the University of Michigan, Ann Arbor, works as a content strategist and writer, and currently lives in New York City.
***
Elizabeth Schmuhl: Last night I saw the sky and it was navy blue with no stars I didn't expect to see a navy blue sky in a city referred to as a fruit but here I am! Is this the beginning?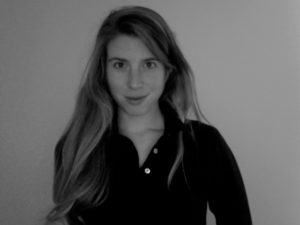 p.e. garcia: I'm never sure what color navy blue is but then again I'm opposed to the military industrial complex. I tend to support pacifist colors, like brick red and seagreen. I wish the sky was brick red.
It's a beginning, unless we cut it out or move it. Then it's nothing, or it's something else.
How are you?
Schmuhl: i have been vacillating and trying to just be and maybe that's all i'm doing?
i feel like sitting down i feel like sleeping and that terrifies me because it usually means my depression is flaring is pulsing once again and why is that any surprise to anyone, least of all me? it's not. no surprises in this state of emergency no surprises because and emergency is not a surprise it's a response to an action that's already happened ( loosing my train of thought because i'm loosing in general i am a woman so minus 5k points for me).
in my head i am writing a book titled WHITE: THE CULTURE OF SILENCE and yes that semi colon is definitely there intentionally.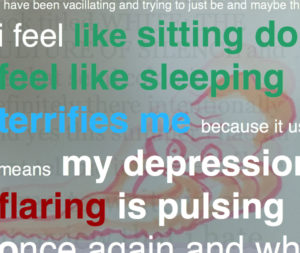 i will be in nyc and not at home i will be in this city in an apartment that is crumbling i am unafraid of anything i need to do i am here and i want to help i am here and i am ready i am getting stronger even on days when it feels like the sky is crushing down on me when that blue is just too much because all i want is peace because of the war i've been fighting inside for my whole lifetime i am hoping for peace and if someone calls me and says they are thinking of killing themselves i will never say "sorry , i don't have time to talk! i'm going to the spa!" because someone said that to me and i know how it feels it's as if i'm feeling these feelings so i will be ready so that i open even wider i am not my feelings but oh when they move through me they make a big space and i will listen to the memory i will hold it because i am a human and all i want is to be moved, to move you, to move.
garcia: What's your favorite food?
Schmuhl: Pizza. You?
garcia: What kind of pizza? I like lasagna or any kind of baked pasta.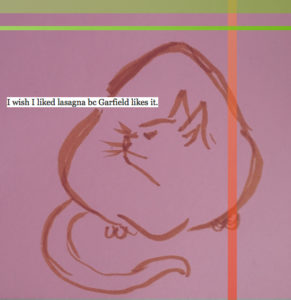 Elizabeth: Goat cheese bc I'm allergic to all other cheese-cheeses. I wish I liked lasagna bc Garfield likes it.
garcia: I feel like Garfield is weird because cats shouldn't eat lasagna, right? It can't be good for them. What's your favorite animal?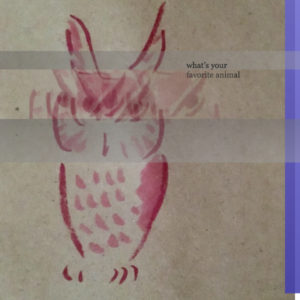 *** 
Images are a collaboration between Elizabeth Schmuhl and p.e. garcia. If you want to talk2me, hit me up: plzplztalk2me@gmail.com.
Random
/
Comments Off

on plzplztalk2me: Elizabeth Schmuhl
March 13th, 2017 / 10:28 am
Random
/
Comments Off

on Rachel and Ben (episode 8)
February 28th, 2017 / 2:12 pm