Matthew Simmons
Funny conservative poetry: a contest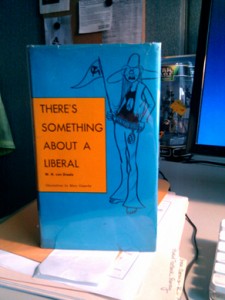 For the most part, conservatives do horrible political satire. Ahem. Ahem. Ahem.
Browsing our sales table today, I found a book by a National Review contributing editor named W.H. von Dreele. It's a book of poems. "Funny" poems. It's called There's Something About a Liberal (Arlington House Press, 1970). Here's one:
Dr. Goldwater, Call Surgery

Although I live in New York State,
I'd cheerfully accept my fate
If Barry sawed the seaboard off
And watched us vanish in a trough.
New York is full of liberals. Hah!
Yeah. Well. How about this:
Repression, Anyone?

Take me back to boola-boola;
Row me to the Raritan
Strum a uke for dear old Duke;
Raccoon it, on rattan.
Tired watching campus cuties
Brawling for their next degree.
Sock 'em up and lock 'em up.
Then throw away the key.
Really stuck it to those campus radicals, there. I'm glad those kids got shot at Kent State.
Also in the book? At least two Ted Kennedy Chappaquiddick poems. Which I think we all know is a classy thing to write funny doggerel about, right?
This book calls for a contest, I think.
What say we help 'em out. We're writers. Some of us are probably funny. If you are a liberal, drink deep from your well of self-loathing. If you are a conservative, bump your game up a little. Write me a funny, conservative-leaning satire in verse. Best poem gets a copy of There's Something About a Liberal AND a copy of Ariana Reines book of slaughterhouse poems, The Cow. (Balance.)
Go.
Tags: ariana, conservative humor
25 Comments