Erik Stinson
Dispatch from a Seattle Poetry Scene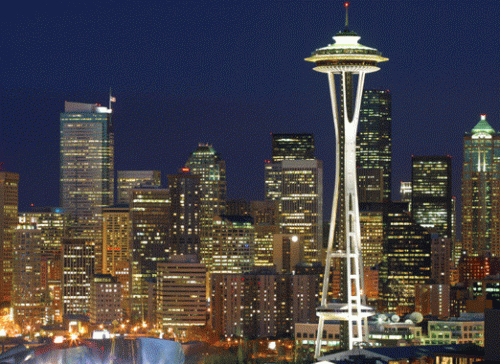 I've been here since mid-April and there's plenty of poetry all over. Some of it I see in person and some of it I see on the internet. More about internet poetry stuff later, I hope.
The places I go to see poetry in person, so far, are Vermillion (a bar and gallery), Elliott Bay Books (most prominent independent bookstore), and Hugo House (a writer's organization).
I came to Vermillion for a cozy late-afternoon reading. It was either a Wednesday or a Thursday. I entered through the long white gallery. The audience was small and old and very supportive. I sat in the back and listened while smiling. The commercial space is in a nightlife area, across from thrift store that is animorphing into ugly condos even as I sip the $4 tequila-soda, in a religiously-calm moment after the performance.  
The reader is a man named Daniel Moore and I appreciate him behind the microphone. He speaks with strength and tenderness about a country home he lived in for several years, on an island in Puget Sound. His poems evoke committed love, nature and, most interestingly, resentment. He is very happy to make sweeping, lush odes to the many uses of resentment. He misses his island home very much, especially the windows to the yard. I love poetry, is what I'm thinking, for all it's humility and humiliation.
I think the baseline of (folk)art in Seattle–the constant nature themes–is fine. I mean, it doesn't hurt anyone to write about how grateful you are for nature. In the flattest, dullest sense. The hits of of colonialism are there, in the way anything can appear to belong to anyone, even in just a few words, even in just a feeling. The misunderstanding of history is always there, in the west of this country as in the east. The settler is always present. Daniel Moore is a older white man on a stage in front of several older white people, as far as I can tell. In this cool damp space, they seem inspired to feel the ebbing of youth. Theirs, mine. The walls are exposed brick. The bartender looks on warily, she knows how dangerous older poets who drink can be.
Two seated people gasp with literary appreciation after a stinging line about death. Seattle as a glittering machine city is less than seventy years old. Long before that it was sea people and trees and hills and rivers. Then for a while it was a booming waypoint of resource extraction and pollution. I like to walk by the timber mansions at night. Seattle people will tell you that everything has changed recently. I don't know about change, the concept confuses me. It certainly hasn't improved much. It probably didn't need to. Seattle couldn't, without all these people changing within it.
Outside a few minutes later, me sitting alone on a metal chair near the street (remember that tequila), Daniel passes with his date and thanks me for coming to the reading. I say, "you read beautifully." He bows and marches away, to a nearby dinner, I assume.
At Elliot Bay–an ultra-classic Seattle place recently reocated from the oldest night district to the gayest–I hear Patricia Lockwood do her Q&A session with a room of enthusiastic dorks. The bookstore is one block from the bar I just described. It has a large staff recommendations shelf. It has a large local author shelf.
I arrived twenty-five minutes late and Lockwood's Q&A, which is certainly designed to replace most of a conventional reading or guided discussion, seemed destined to end early. The assembled room of shy dorks can't really keep up a penetrating volley of author questions. They are true fans. They aren't poetry journalists.
So um. What had happened was I got there on-time but I didn't think it would be hard to spot the reading, so I go straight to the cafe and order a beer, thinking maybe the reading would be there, certainly not wanting to ask anyone, noticing no signage whatsoever at the front counter to direct me to Lockwood and her pile of new-books-for-sale. I drink the can of beer and peer around at the other people in the cafe noticing one extremely attractive person and realizing I would need to chug the beer alone in front of this person in order to leave the cafe (following open container rules) and ask someone out of earshot of the extremely attractive person where I might find the um, room full of a hundred people that I somehow couldn't locate within Elliott Bay's modestly-large building.
I chugged. The reading was down a floor, hidden by narrow stairs sloping steeply from an alcove in the kid's book section. A guy at the front desk told me. I never spoke with the attractive person.
From what I saw, Lockwood was funny and very rough with her very rangey audience. I like that. She stood before them like true teacher, unafraid of truth. Though I heard nothing directly from her new book, I was taken with a desire to read it.
Mostly I like to do poetry in the early evening, in a public space, during the week. It feels like a conversation between work and sleep. But I chose to take a class from Hugo House. So I did a little poetry on a Sunday afternoon.
The class was at this writing center on the top of First Hill, which is where you will find Seattle's finest hospitals, churches, healers, and UFO cults. The place is called Hugo House and my mom wanted me to go there and make friends starting in about 1999. She was annoying about it, I have to say. I went eventually, after all.
The writing class contained several sleepy hours and a group of seven or eight, led by an instructor wearing a plaid collar and holding a lengthy syllabus. His poetry was that of in-flight magazines, wine tour reviews, rock climbing. The man knows his audience. During a break he asked me if I'd found copywriting for yet in the city. I said not yet.
We all spoke about the importance of establishing characters. There were examples given of paragraphs where the physical traits of characters also allude to deeper personality traits. It turns out that many writers see patterns in successful characters that can be reproduced. Everyone in the class was also character, I noted. Three retired white women, all very differently retired, it felt like. Then there was an contrasting handful of young people trying to find their subject and voice. And myself of course, sort of getting in the way and grinning a lot. A man sold airplanes but wanted to write about war. A woman who had recently graduated college was writing a novel about her dead friend. Though I mostly try not to talk in classes (of any kind), I wrote and read a brief character sketch of my friend David Fishkind. Email me sometime if you would like to read it.
I highly recommend visiting Seattle while there's a bit of poetry happening somewhere. The next few months will be warm, mild and pleasant. It's a young city and we try to have a good time when we can, before it's all over.