Jimmy Chen
The Improbabilities of Snoop Dogg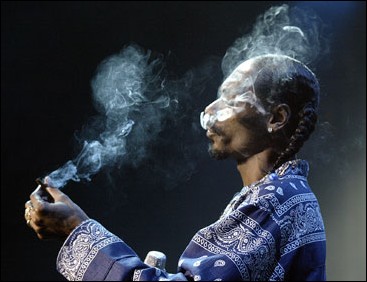 I assert to you 3 cases, lyrics from "Fuck Wit Dre Day," from the album The Chronic in which Snoop Dogg makes multiple guest appearances:
(1) "I'm hollin' 187 with my dick in yo mouth"
187 is the numeric California penal code for murder, and the allusion is simple: Snoop will murder "you" (the second person here operates as Easy-E, a former friend and subject of this song) while [you] perform fellatio on him; this is not about homoeroticism, but an abridged version of power for the disenfranchised. The method of homicide, as implicated by a precedence of firearm mention, is a gunshot to the head. The narrative incongruency, of course, is that Snoop would somehow have to shoot Easy-E in the head without shooting his own penis. This, while possible, would be very difficult.
(2) "Long Beach in the motherfuckin house"
A census in 2008 reported Long Beach, California's population as 492,682. In a fit of hard journalism, let me just say that the residents of Long Beach are not in the motherfuckin house; that the house wherein mothers are fucked may be in Long Beach, but not the other way around. This kind of thoughtlessness and inverted logic is poisoning our youth. All the black kids like the back of the bus, and I think Rosa Parks would be sad.
(3) "I heard she was a 'Frisco dyke"
Sexual orientation is complicated, and lesbianism perhaps is even more so. A woman may make out with another woman out of curiosity but still be straight. Heterosexual woman may politically align themselves with Dykedom, without being with other women. Even the act of 2x women "making love" falls under scrutiny — for the lineage from foreplay to penetration is vague, and only the latter considered official copulation by some. In short, Snoop's friends — who no doubt relayed the misinformation about Easy-E's mother's location and orientation — have no idea whether it's true, and are probably conveying such material with rhetorical agency.
—
In Mason & Dixon, 11 calendar days are colonized by pygmies, splitting half of the novel's timeline into latency. I mean, wtf. But we let it slide; if anything, we love it. I also think of Ben Marcus, who explores the incongruencies of logic in his conceits, exploits them for stunning results. The legitimacy of Snoop Dogg's lyrics lie not in their rationale, but in the eloquent way with which he embraces his authorial authority. Fiction is cupped between two palms: the improbable and the impossible. Writers, you are God on paper, good times.
Tags: surrealism in rap
32 Comments