Adam Robinson
Wack Bible Stories, by Ben White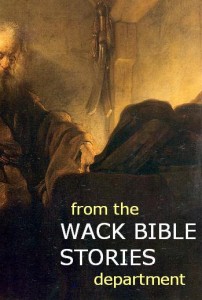 After my last Wack Bible Stories post, Nanoism editor Ben White left some interesting comments. I got the sense that he knew more cool stuff about the Bible as it pertains to writing and asked him to contribute a guest post. He quickly obliged, with this great, gross story:
Lifestyle and Writing Advice from the Bible.
Watch Fox News long enough and you'll hear that somewhere in the Bible something happens, something about "spilling seed," and for that reason both masturbation and all forms of contraception are wrong. Your gut instinct might tell you that the story involves a mother surprising her son in his section of the tent when he's home "sick" from Torah study, but it's actually the story of Onan (Genesis 38:9-10):

Onan's brother is a wicked dude, so God slays him (this is par for the Old Testament). Onan's father convinces Onan to sleep with his dead brother's wife Tamar in order to produce an heir (an important precedent for the yes-it's-totally-okay-to-marry-your-dead-brother's-wife rule). Onan, good son/brother that he is, sleeps with Tamar but—but—at the last second backs out and finishes on the floor:
And Onan knew that the seed would not be his; and it came to pass when he went in unto his brother's wife, that he spilled it on the ground, lest he should give seed to his brother.

And the thing which he did was evil in the sight of the LORD; and He slew him also.
Now it's unclear whether the evil thing was not wanting to father his brother's children or littering (or even trying to get to "know" your brother's widow, for that matter), so what's the real lesson here?
1. Characters die, sometimes for strange reasons and in strange ways. Sometimes characters just need to die.
2. Sometimes even the things that seem like a good idea at the time have bad results.
What else did you learn?
Tags: Ben White, wack bible stories
52 Comments