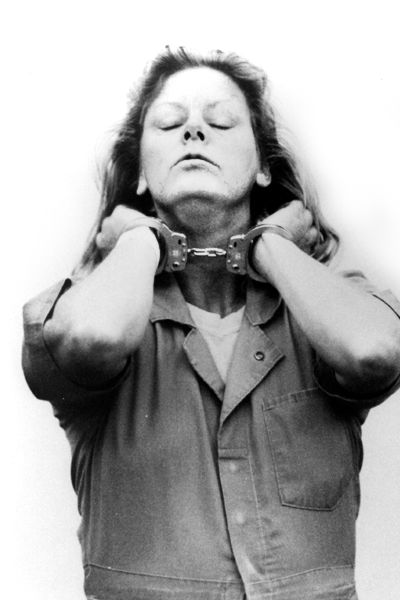 Imagine you are shown a picture of yourself walking along a highway you have never seen. And now you are asked how you got there. Obviously you have to start running. As in running out of what you remember. Or running out, like losing it. And they want you to talk and talk, so immediately you're talking back through hell. Talking back to hell. Or taking back hell. Maybe sing, you could call it, like hell. Whatever you want to call it and others call it for you. Insanity is a community decision, heroism is a community decision. Violence is the opposite of space. Everything I know about violence is also the nothing I know about violence.
The principal admired her for living in the woods, she wrote. She remembered all the cool black light posters, she wrote. God had it all recorded, she wrote. "Every women," she wrote, "even adulesent, should learn Self defense, Also carry guns and know how to use them., when reaching a certain age. Like 21…" Some of the other advice she wrote was "just pretend I'm still around" and "ride through it all naturally" and write to keep the wrist from "stiffening up." There were details she didn't want to go into. She remembered which days the rain came down hardest. All of this she wrote in letters to her friend. She called the letters kites, which is a pretty common word in prisons. The prison only let each letter be a few pages, so she wrote more than a few letters. If you can still see a face on the other end of the wall, you can fill the wall.
In 1956, Aileen Wuornos was born Aileen Carol Pittman in Rochester, Michigan. Her father was in prison for the rape and attempted murder of a seven-year-old girl. They never met. He hung himself in prison when she was 13. At 14, she was raped while hitchhiking home from a party. She gave the baby up for adoption. By 15, kicked out of her grandparents' home, she was living in the woods and sleeping in abandoned cars in the Michigan winter. She survived by way of herself. Her body was involved. She did have friends, and she spent most of the money she earned from sex work on them. Two of the movies made about her are called Damsel of Death and Monster.
While in prison for the murder of seven straight white men, whom she shot and killed in remote Florida locations, she told Phyllis Chesler "I raised myself. I did a pretty good job. I taught myself my own handwriting, and I studied theology, psychology, books on self-enhancement. I taught myself how to draw. I have been through battles out there raising myself. I'm like a Marine, you can't hurt me. If you hurt me, I can wipe it out of my mind and keep on truckin'. I took every day on a day-by-day basis. I never let things dwell inside me to damage my pride because I knew what that felt like when I was young."

While on death row, Wuornos wrote ten years worth of letters to her childhood friend Dawn Botkins, which editors Lisa Kester and Daphne Gottlieb have collected in the book Dear Dawn: Wuornos in Her Own Words, published in June 2012 by Soft Skull. They graciously agreed to talk with each other about the process, and I want to show you that. In another day or two, we'll show you some of the letters themselves. In the foreword, Phyllis Chesler writes:
You were gang-raped, tied up, sometimes left to die, by so many boys and men, that you had to have been traumatized. I stopped counting after you listed thirty-seven such incidents. You talk about some of this here, in your letters to Dawn. Lee: No matter how tough a woman or a soldier (has) to be, one does not walk away from such torture completely unscathed.

We did not meet until after you had already been sentenced to die. I visited you on death row. Do you remember? You were led into the room by two guards. You were unsteady on your feet, a bit ungainly, not that tall. I remember how you looked when you were first arrested: spirited, defiant, drunk, but now the swagger and the smirk were all gone, all gaunt, not an ounce of flesh on your bones. You were already more ghost than human.

…

I am glad that Soft Skull is publishing your letters to Dawn. They are part of an entirely new archive about serious child abuse, throwaway children, prostitution, lesbian killers, serial killers on death row—all in America.

I extend my condolences to the families of the men whom you killed and whom you now admit having done so with "revenge in your heart."

I extend my deepest condolences to the innocent girl child you once were, born into Hell.

May you all now rest in peace.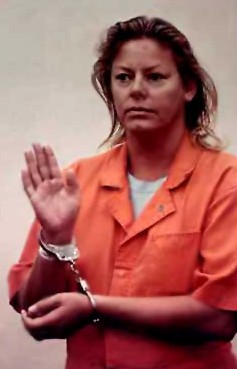 In the introduction to Dear Dawn, Daphne Gottlieb explains the life stories of Wuornos and Botkins and how the book came to be: trials, cops trying to sell movie rights, lovers trying to sell movie rights, born-again Christians, murdered people, Jeb Bush, dates, names—in her letters, Wuornos drew a lot of smiley faces, which I can not even—
In one of her letters to Dawn, Aileen says: "My heart feels for you as one. I love you as one . . . Once I do love someone. Its all out." Daphne signed her emails to me "love + riot." At the end of the interview below, Lisa says "The world needs more love like that."
A Conversation Between Daphne Gottlieb and Lisa Kester, Editors of Dear Dawn: Aileen Wuornos in Her Own Words 
Daphne Gottlieb (DG): So the thing that people always ask me is, how did this project start? What did you expect?
Lisa Kester (LK): In the mid-90s, my friend Jesse became penpals with Aileen Wuornos when she was on Death Row. Jesse and I would drive around the Bay Area taking pictures to create photo-storybooks to send to Aileen. One year we celebrated Aileen's birthday with a picture of a cake and balloons and smiles. Jesse got to know Dawn Botkins [who the letters in the book are written to] through writing to Aileen, and started writing to her, too.
Throughout her time on Death Row, Aileen begged Dawn to have the letters made into a book—that way, Aileen could get her side of the story out, and also help get Dawn a little bit of money. Dawn has MS, and her health was getting worse and worse, so she asked Jesse to help make it happen. I had been working in the publishing industry for ten years, so Jesse called me. I flew out to meet Dawn, and we agreed to move forward with the book.
To be honest, I didn't know what to expect, even though I had some connections and a lot of enthusiasm. I had never done anything like this, and I'm not a writer. I needed an editor, and I knew you had a lot of passion about Aileen's story.
DG: It's true. I have fierce love for Aileen, I've always had—oh, call it solidarity—with female "deviants", criminals and revolutionaries. I guess it's my wheelhouse—I've even taught about murderesses at the college level. I know you knew me by reputation better than my work when you asked me to edit the book, but you made a great guess. A lot of my work revolves around sex and death, and the conjunction between them.
And so does Aileen's story, right? One of the reasons I think she's so captivating is that she defies easy categorization—she is more than just victim, and more than predator. She doesn't fit comfortably into either the "serial" or "spree" murder categories. She is and isn't a lesbian. She is not the media's monster, and is also a little too broken to be the feminist vigilante we need, a Joan of Arc for the Information Age. She is, absolutely, an outlaw.
I'm not sure that her letters resolve any of these dichotomies, but I think they offer such an intimate, complicated experience of her. I don't think I understood her resilience– surviving alcoholic parents, abuse, incest, rape, giving away her baby at 13, sleeping in abandoned cars, washing up for school in a freezing lake, and surviving hundreds and hundreds of rapes (by her count, but it's not unreasonable). It's hard to know what to do with all of that.
LK: Aileen is more complicated than just the things that happened to her. That's why I wanted to do the book. I wanted to show a more complete picture of who she was and how she became a "Monster".
DG: Right. And it seems to me there are two ways she became a "Monster"—one is certainly through her life and her actions, but there's also how she was constructed by every single media—everyone in the world, pretty much, has had a say in who Aileen Wuornos is and what she meant… except Aileen. There's documentaries and Patti Jenkins' "Monster"; there's about four different books. There's articles and TV. It's signal to noise—I hope we manage to get a little of her voice out there. Maybe someone will hear it even through all the other yelling.
We build the monsters we need: police and politicians needed Aileen to embody evil; feminists used Aileen's case to initiate a long-overdue conversation about both rape and sex work, the FBI probed Aileen for forensic data; her lawyer and the media needed her for a cash cow. The only thing that Dawn ever needed Aileen to be was herself. And the only thing that Aileen ever needed Dawn to be was there, writing back.
LK: And writing, and writing…
DG: Ha. I think you're talking about how I had to cut about 1,000,000 words down to 150,000—she wrote so much! When you're on Death Row, there may be not much else to do but watch TV or write letters.
LK: And review the high and low points of your life, preparing for death.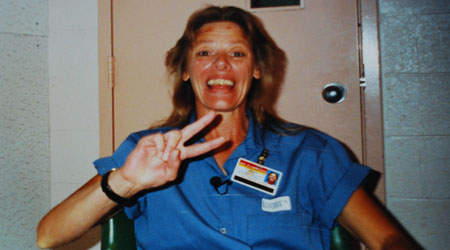 DG: And rock out to your favorites: Rod Stewart and REO Speedwagon. And read the Bible. And draw pictures. And watch The Price is Right. And read books about UFOs.
LK: And write more letters. Every time I look at them, I'm shocked by her impeccable handwriting—it's so precise and graceful.
DG: Yeah. That and all the smiley and frowny faces and googly eyes and all the other stuff—even though she didn't know what voicemail was, she knew how to use emoticons —she just drew them!
I can't believe that completely miserable people draw smiley faces as often and as enthusiastically as she did. For someone who had such a terrible life, sometime during her prison stay, it's like things turned for her. Everything was alright. Grace.
LK: She really had an overall positive attitude once she received her sentences and settled in to her daily routine. She did very well with routine, I think it grounded her and gave her security.
DG: And I think Dawn gave her security—gave her (at the risk of sounding melodramatic) the only family she ever had that didn't abuse her.
LK: I agree, for sure. Aileen had at least one person who would stand for her, no matter what. Dawn says that the 10 years on Death Row were the best years of Aileen's life; the only time when she didn't have to worry about where she was sleeping or where she was getting her next meal. She had healthcare, a room of her own, and love. The world needs more love like that.
Lisa Kester has worked as a book designer, both freelance and for small presses, for over ten years and is a personal friend of Dawn Botkins. She lives in Oakland.
Daphne Gottlieb is the award-winning author of five poetry collections (Pelt, Why Things Burn, Final Girl, Kissing Dead Girls and 15 Ways to Stay Alive). Additionally, she was the author of the graphic novel Jokes and the Unconscious (with illustrator Diane DiMassa), and the editor of two anthologies (Homewrecker and Fucking Daphne). She lives in San Francisco.
In a few days, HTMLGIANT will be featuring an excerpt of letters from Dear Dawn: Aileen Wuornos in Her Own Words. 
Tags: aileen wuornos, Daphne Gottlieb, lisa kester, Phyllis Chesler