December 31st, 2011 / 3:17 pm
Film
Adam Robinson
I Hate Reality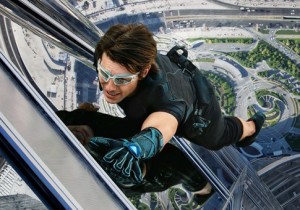 Here is the outline for my novel: there is a complication! but it's okay because there is a nonsensical invention to solve it! but it breaks! but it's okay because there was no complication in the first place! I'm a writer!
I hated Mission Impossible: 4 but Chris Toll told me I was wrong but I'm not wrong and here is why.
Take a look at the scene where the mask-making doohickey malfunctions when they are at the hotel to make the deal with the French assassin and the henchman. Here we have some technology that is ridiculously advanced, capable of laser etching into some polymer substance, and also portable and also capable of paint mixing and spraying the paint (albeit not flawlessly, as the machine breaks down). OK, no problem; I don't care about the probability of that. I'm happy to accept that they have such a device.
(It bothers me a little, though, that they are somehow able to effortlessly move it into this hotel room, along with new designer suits for everyone as well as other bizarrely advanced technology like Dremel tools that can cut a new door number into a hotel room door really fast. And glass cutters and sticky gloves. And a briefcase that wirelessly prints whatever a special contact lens blinks at. OK, they had bellhops to assist, no problem.)
I will suspend my disbelief, though I will also start to think that No Mission Is Impossible (4) When Screenwriters Can Invent Solutions Indiscriminately.
Here's the real thing that bothered me while thinking about it in the bathtub at 4am this morning: it didn't matter that the mask-making doodad busted; the French assassin and the henchman did not know who they were waiting for. Here they had the codes to start WW3 (like, really, a Cold War movie in 2011? Neat!) and millions of dollars worth of diamonds, but it hadn't occurred to them to IMdB the people they were going to do business with? It's not the wild unreality that ruins movies like this, it's humorless writing.
Cuz what's more — what's more — is that me having a problem with this based on it being unrealistic somehow makes me a bad audience member! That's nuts! I'm not wrong because I can't go along for a ride that is supposed to be simple fun. Because it isn't fun! It's humorless to have a solution that fits perfectly into a problem. Can't get into the server room through the hallway? No sweat, we just happen to have cool gloves to scale the building. Why not use plungers?
It reminds me of this old riddle: you're trapped in a room with no doors and windows. All you have is a mirror and a table. How do you get out? Give up? You look in the mirror, see what you saw, take out the saw, saw the table in half, two halves make a whole, put the hole up against the wall, climb through.
Tags: Chris Toll, sorry everybody
40 Comments