October 4th, 2010 / 4:05 pm
Film
Lily Hoang
The Social Network meets Agamben
So I went to see THE SOCIAL NETWORK on Saturday. In case you don't know, the film chronicles wild-savant-genius Mark Zuckerberg and his founding of the popular social networking site Facebook. The film opens with Zuckerberg being dumped by his girlfriend. In this opening, he's portrayed as a insanely smart, unselfconscious genius-asshole. As the film goes on, Zuckerberg continues to play the role of genius-asshole, sometimes, he is marked with a kindness that strikes the viewer more as naive than genuine.
But this is just a film. A film that is based on a book that is characterized more as "juicy fun" than "reportage" (from the Mark Zuckherberg wikipedia page linked above).
That being said, several things fascinated me about this film:
Zuckerberg's portrayal: People seriously can't get enough of this romanticized genius bullshit. It's pretty pathetic, if you ask me.
The whole concept of the "social network" in relation to Zuckerberg, especially in terms of Agamben's notion of the exception.
Facebook itself as Agamben's apparatus.
And so I proceed. My first point is obvious. I've made arguments about my whole distaste for the concept of genius repeatedly on HTML Giant. I dislike the portrayal of people as tortured, unsociable, asshole, romanticized geniuses. A few months ago, I saw Francis Ford Coppola's Tetro, and that movie pissed me off (I ranted to anyone who would listen) because of the way the writer was portrayed as a suffering genius in the most cliche, predictable ways. I find myself constantly pissed at movies like that, including but not limited to: The Social Network, A Beautiful Mind, Good Will Hunting, etc etc etc. Whereas I have no doubt that real genius people "suffer" under the "weight" of their "genius," a good part of it is performative. The characters in these film affect genius, such that others might know and appreciate their genius. Throughout The Social Network, Zuckerberg is portrayed as an egotistical genius, one who can undermine anyone's argument with flaired cynical wittiness, grounded of course in his uncanny ability to logic beyond "normal" capabilities.
The fact that the suffering, alienating part of genius is what is highlighted in films like these helps reinforce our conception of genius as suffering and alienating. I am particularly upset about this because for many years, in an attempt to prove my genius, I performed pop culture's genius. Only my suffering and alienation became real (and my genius was not), and the consequences were nearly fatal.
But it is because of Zuckerberg's genius that he created Facebook, not out of altruism, per se, but out of loneliness and a desire to fit in. See: Zuckerberg wanted to be invited into these exclusive clubs at Harvard, and he needed to create something profoundly profound to get their attention. Predisposed to computer hackery, he made a website called Facemash, where through simple algorithms (and a fair amount of hacking and heavy drinking), people could choose which girl was hotter. The key to the site's success was (as Zuckerberg so keenly noted) that these were Harvard girls, girls that people knew. There was something juicy in that. From here, he transitioned to thinking about things in terms of a Harvard Facebook, where Harvard students could see pictures, have personal profiles, set status updates (including their sexual status), etc. The key was the exclusivity. It was a Harvard thing. You needed a Harvard email address to be a part of this exclusive club. The point of the Harvard Facebook (which was originally called The Facebook) was its simultaneous inclusivity and exclusivity.
And here, I tentatively tie in Agamben's notion of the exception from Homo Sacer: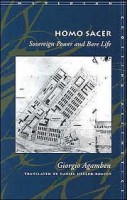 The exception is what cannot be included in the whole of which it is a member and cannot be a member of the whole in which it is always already included. What emerges in this limit figure is the radical crisis of every possibility of clearly distinguishing between membership and inclusion, between what is outside and what is inside, between exception and rule (25).
Zuckerberg here is the sovereign exception in that he created a social network, a virtual space where he was a member but in no way included. That is, even though he made the thing and he used it, it did not make him a "member" of the greater (real) Harvard community. Being a mere member of The Facebook did not make him a member. He was included but outside.
That was a bit of a stretch. (Full disclosure: I'm about midway through Homo Sacer, so there's a good chance there's more to it. I'm rely on the Agambennites to help me out with my weak connections, if connections can in fact be made.)
But what isn't a stretch is the concept of Facebook as an apparatus. Quoting Foucault, Agamben defines an apparatus as:
It is a heterogenous set that includes virtually anything, linguistic and nonlinguistic, under the same heading: discourses, institutions, buildings, laws, police measures, philosophical propositions, and so on. The apparatus itself is the network that is established between these elements.
The apparatus always has a concrete strategic function and is always located in a power relation.
As such, it appears at the intersection of power relations and relations of knowledge. (2-3)
Agamben traces apparatus back to the Greek concept of oikonomia, "the administration of the oikos (home) and, more generally, management" (8). Oikonomia then becomes the Latin dispositio, which becomes the French dispotif, which is translated into English as apparatus.
The term "apparatus" designates that in which, and through which, one realizes a pure activity of governance devoid of any foundation in being. This is the reason why apparatuses must always imply a process of subjectification, that is to say, they must produce their subject. (11)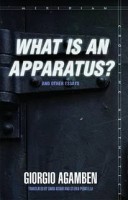 It is not surprising then that Facebook as apparatus is a space of governance devoid of any foundation in being. Whereas profiles created on Facebook may be of real people, the signifier bears little resemblance to its referent. I used to teach at this college in Indiana, and one of the things my first year students told me (again and again) was that they met their roommates on Facebook and when they actually met face to face, there was a rupture, a disappointment between the profile and the person. Facebook offers subjectivity, the making of a subject, but the subject isn't real. Facebook is a space for quippy one-liner zings. Real identity is necessarily obscured. It is almost entirely impossible to be genuine, to be authentic on Facebook.
Furthermore, Agamben uses the example of confession as apparatus, and no where is confession so realized as through Facebook, where "a new I is constituted through the negation and, at the same time, the assumption of the old I" (20). Agamben goes on to say:
He who lets himself be captured by the "cellular telephone" apparatus–whatever the intensity of the desire that has driven him–cannot acquire a new subjectivity, but only a number through which he can, eventually, be controlled. The spectator who spends his evenings in front of the television set only gets, in exchange for his desubjectification, the frustrated mask of the couch potato, or his inclusion in the calculation viewship ratings. (21)
And so, arguably Agamben would say that he who lets himself be captured by Facebook acquires not only a mask (sometimes frustrated, oftentimes simply unaware or unselfconcious) but also inclusion in the calculation of Facebook status updates. I can only harken back to the quote from Homo Sacer that emphasizes inclusivity v. membership. What is it to be included? What is it to be a member? What are the rewards and what are the real consequences?
Zuckerberg created the ultimate social network, where people could make friends and see each other, a space of autonomy, only somewhere in the mix, we lost our subjectivity. We bought into the apparatus, often times using that apparatus as a replacement for the real, what Baudrillard would call the simulacrum.
And I end with two points:
I love Facebook. I use it every day. I'm on Facebook right now, as I type this. I simply want to problematize Facebook.
Derrida quoted Aristotle: O friends, there are no friends (i philoi, oudeis philos). And in Laertius's Lives of Eminent Philosophers, he recites that same quote as: He who has (many) friends, does not have a single friend (oi philoi, oudeis philos) (26-27). Subtle difference, but Agamben makes a powerful point with these quotes. I look at the number of friends I have on Facebook, and suddenly, I am as dreary as the outside.
PS: If anyone wants to read What is an Apparatus?, it is easily downloadable as a pdf. Thank you, Ben Segal, for recommending I read it.
Tags: apparatus, giorgio agamben, homo sacer, mark zuckerberg, the social network
57 Comments