Jimmy Chen
Haut or Not: Giancarlo Ditrapano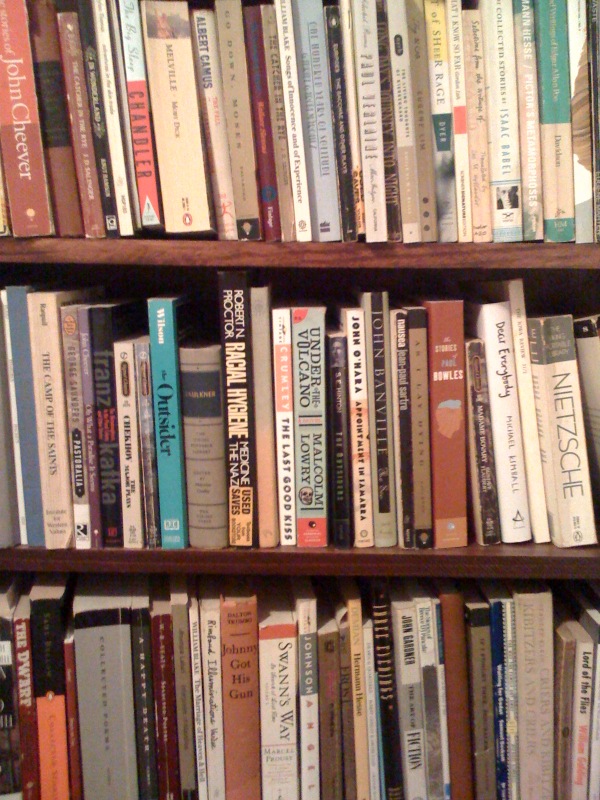 Finally — a rejection letter to (instead of from) the editor of New York Tyrant.
Dear New York Tyrant,

Thank you for submitting your book shelf to Haut or Not. Unfortunately, it's not what we are looking for right now. We're tying to go in a 'maybe life doesn't completely suck' direction, and all your books have a 'life completely sucks' feel to it. Sartre was nauseous; Faulkner's mother was a fish; Kafka's Czech was never in the mail; never let naked boys hang out on an island; never let an alcoholic hang out under a volcano — yada yada we get the point. Cheever and Saunders offer jestful energy and enthusiasm, but then you go fuck it up with freaking Johnny Got His Gun — what every Metallica fan just had to read, huh? Grim-face Nietzsche is a redundancy, and what's up with the Banville – O'Hara – Bowles 'middle-aged man discontent' trio? You too can stick your face at some foreign wind, but it's not gonna help your hair situation. It would've been funny to see Isaac Babel next to Racial Hygiene, but you had to restrain yourself didn't you? Also, you didn't double-space your books, include a self-addressed stamped crate, or give us your BEST THREE BOOKS. Simultaneous submissions are not allowed, and you're simultaneously being a prick and a pansy. Feel free to submit again, after you get some hope for the human race (which includes the Jews you Nazi).
Rating: Not
Tags: giancarlo ditrapano, new york tyrant
50 Comments