Jimmy Chen
Haut or Not: "Worst of" (w/ digression)
What I could see happening has happened: satirical Haut or Not entrees — and from whom other than 'TTB' aka 'Two Tears Boye,' from Jaguar Uprising Press. (Circa 07-08 TTB and his partner Golden Bear were lamented/admired for their satirical takes on Bear Parade titles.) TTB writes this:
Hi, My name is jimmy chen. I wuz wundering if u could review my current reads bookcase on yur super duper website thingy! THANKS A BUNDLE!! hehe lol.
Empathetic satire or pure derision? I'll opt for the former. TTB's jest was followed by no doubt a found picture of some girl's stack o' chick books. TTB's derivative impulses are arguably haut, but this stack of books may be the worst stack of books I've ever seen in my life.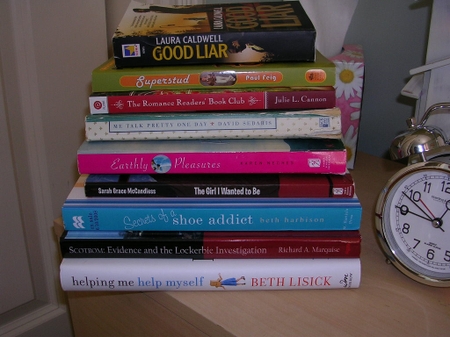 —
Speaking of derision, while surfing Shane Jones' blog, I came across a comment by a Brent Bogardus whose passive-aggressive comment "Yes, you are so amazing. Congrats on that" compelled me (yes, I have too  much time) to check out his blog, which (at the time when it was still non invite-only) contained a very angry post about hating Shane Jones, and — non-sarcastically — how Shane was gay. Brent went on to say that Jones' publisher Adam Robinson was also gay. His invite-only blog is now 'shanejonessucks.blogspot.com', a URL commitment which is officially scary.
You can always measure one's success by how much people resent, or even 'hate' that person. It's simple: dissent has no meaning when aimed at 'meaningless' people — its 'ethical currency' is only established when aimed at abstractions of success. It comes from being petty and small — too lazy to work towards a success one secretly resents, under the ostensible guise of some 'moral commentary.' If Shane Jones did not receive praise for Light Boxes, the act of hating him would have no meaning. I've noticed similar negative feelings towards Blake Butler, and consistently with Tao Lin. These three gentlemen should be proud that they are resented.
Brent Bogardus has no reason to hate me, though if I published a book from Vintage, a caravan of bloggers would join in saying I had no talent. The irony is that these self-appointed judges of 'inherent character' are actually driven by extrinsic factors such as publishing/career success. The work is scrutinized less than the success. The literary world is, simply, exactly like the world in general: hard work plus diplomacy equals success. To argue about 'talent' is a cheap way out; it's like calling someone's face ugly. In a world of nose jobs, there is still no such thing as a talent job. It's not what god gave us, but what we do with it.
For the records, I haven't gone out of my way to put Brent on the spot. He submitted a pic for Haut or not, and it was impossible for me to be reticent about the aforementioned. Anyways, here's Brent's lame-ass books. No offense to the esteemed authors, the collection is just so uninspired and boring, like Brent's hate.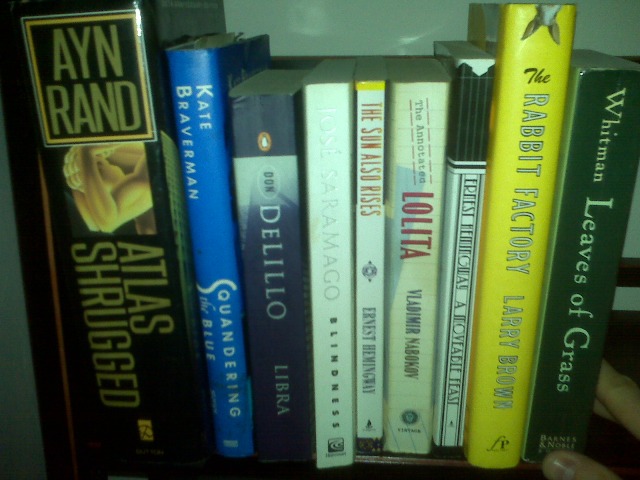 Tags: light boxes, shane jones, Two Tears Boy
81 Comments