Jimmy Chen
Haut or Not: Your Tattoo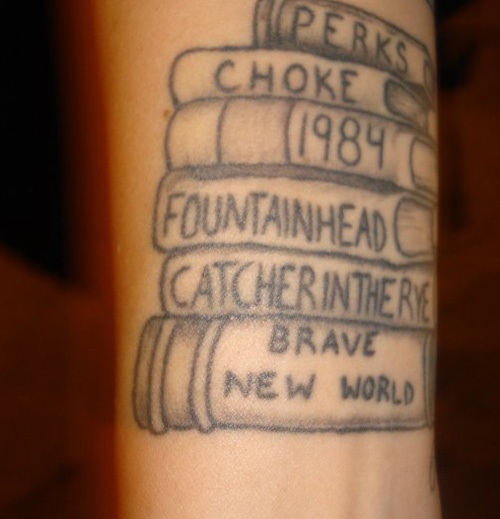 One light hug from this "arm of wrath" and suddenly your vision of the future looks rather grim. Imagine this guy on a date: "Hey babe, let me get some more pasta for you, and yah, people are phony and socialist or something, and like the world is gonna end." The Fountainhead and 1984 were both written as arguments against Socialism, though their meanings have been diluted to vague political restlessness in contemporary culture. I just typed "contemporary culture," someone shoot me. My prob with books like this ('cept Catcher – and what the hell is Perks?) is that their didactic agenda overshadows their artistic one. As for Choke and its author Chuck, dunno, that hyped up Red Bull-ish man/boy fascination with violent transgression just doesn't do it for me.
Rating: Not
—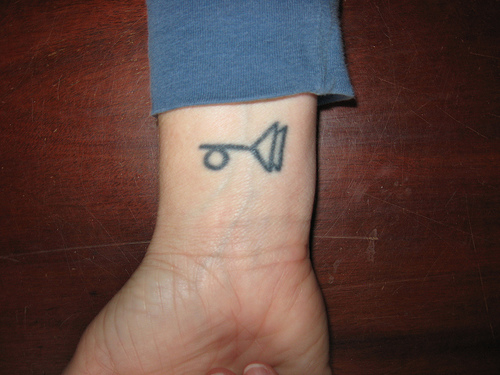 I like The Crying of Lot 49, but really, the conspiracy should end on the last page. You just know this guy just loves it with an innocent non-Pynchonite asks "what is that?" And BAM – a forty-minute rant on post-modern dystopian literature, half-baked science, and freakin' weed or something. Imagine this guy on a date: "Hey babe, please blow on my muted horn, it's like a metaphor. I won't make a sound."
Rating: Not
—
Much respect to Vonnegut, but I'm a little weary of his readership; these results for "literary tattoo" suggests either impulsiveness or undying devotion, both of which are scary. It's littered with Slaughterhouse Five's "so it goes," the tombstone, and the ass-asterisk. Certain readerships just weird me out, like Vonnegut's, S. Thompson's, Burrough's, Ann Rand's, and Anais Nin's. Just seems kinda emotional, you know? They say everyone killed themselves when that Werther book came out, but that was Europe, and they do things differently there. Yes, writing should evoke emotion, devotion even, but I'm not about to run out and get a tattoo of "Longfellow" on my prick right? I mean, there's not enough space. Ouch!
Rating: Not
Tags: literary tattoo
114 Comments