Jimmy Chen
Haut or Not: Zachary German
Tao Lin emailed us a sideways pic of Zachary German's bookcase. I decided there was no point in straightening out the pic since German wasn't straight (that's arguably not a gay joke). Also, one can better see the spines this way. I cropped the entry into three separate pics (conveniently separated by shelves). There's no way to do this except after the break — trust me.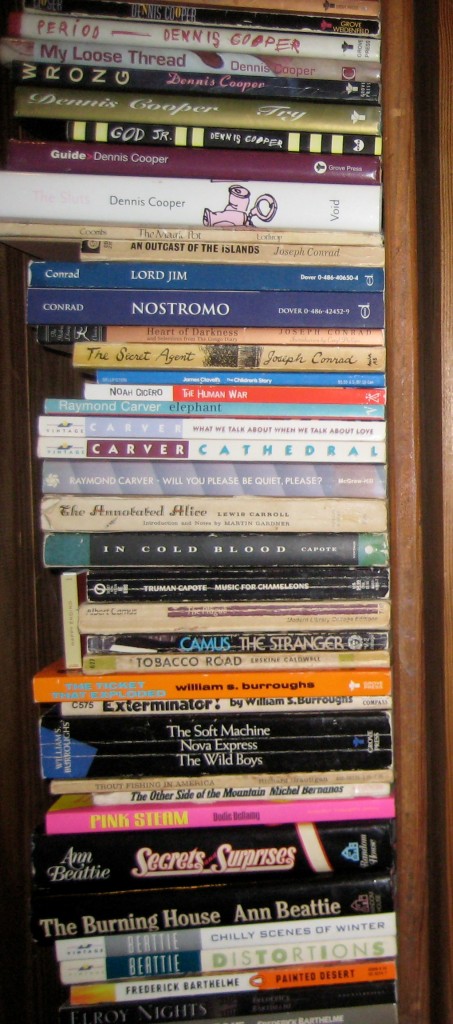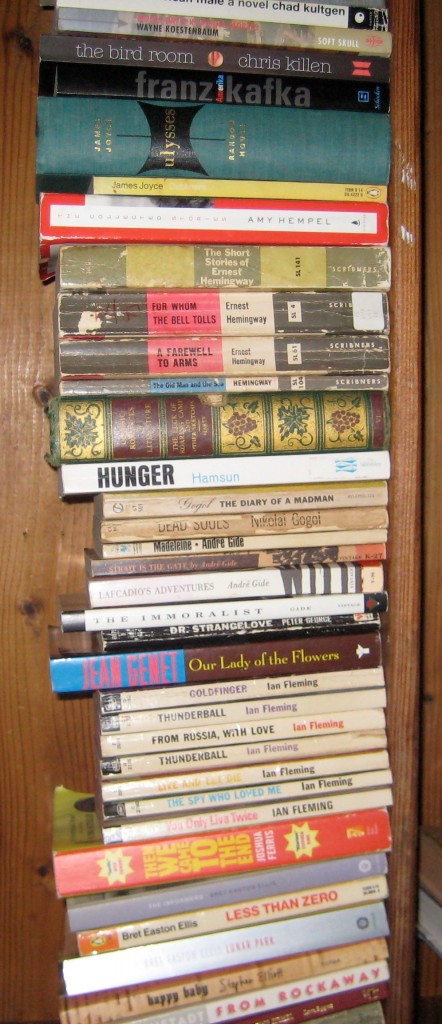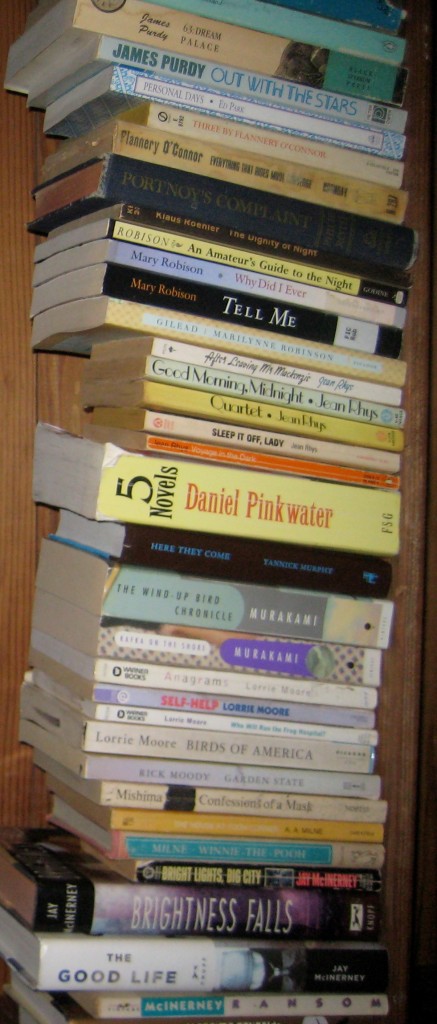 Notice it's in alphabetical order and only goes to P — we can gather there is another gigantic case somewhere. While the ordering system is explicit, it's odd how the bottom M – P shelf is the 'depressed and feeling weak' shelf, and how the middle E – K shelf has a 'irrevocability of mankind' feel to it, and the 'head trip cerebral' vibe of the first [A]B – C shelf (except for Carver and Beattie of course).
I'll spare you (and me) any extended commentary, only to say that this is terribly haut. A bookcase like this makes me want to be kidnapped and held in his room/apt/flat/studio/house[?] — I'd even eat that seaweed shit he's obsessed with. For the records, I haven't been (or am) particularly enthralled by Zachary German's post-ironic deadpan-verging-on-reticent internet countenance, so the 'homosexual agenda' has not won yet. It's just nice to see this collection, almost credits the staunch inagility of German's Dick and Jane-esque "See spot run/Robert feels sad" self-consciously ABRASIVE (see, ironic!)  tone.
Eat When You Feel Sad is forthcoming from Melville House in 2010 (no joke it's on their website — I only say that because of past skepticism about the verity of German's claims). Some will herald it; some will claim the death of literature. But folks, let's not argue about what is or isn't dead, what's punk or isn't punk, what's gay or isn't gay. It's quite clear that Zachary is an 'undead gay punk.' Zachary German will not comment on this post because he's that fucking charming. Jimmy feels sad.
Tags: zachary german
273 Comments