Jimmy Chen
I like Harper's a lot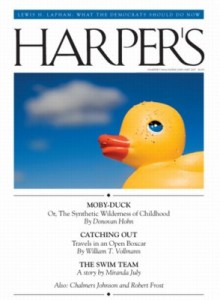 Harper's is my favorite magazine, primarily because of their 'index,' 'findings,' and 'readings' sections. The editing is rather conceptual — in the way 'objective' journalistic facts are asserted rhetorically (even humorously) through their juxtaposition. It's a weird mash of heady inquiry and stuffy sarcasm, and I often find myself laughing out loud.
In 'findings,' always the last page, new discoveries are presented and written with an aesthetic glint for the absurd evocative of the best surrealism. For example:
A Viennese chemist concluded that bellybutton fluff is a combination of clothing fibers, sweat, dust, and fat wicked into the navel by body hairs […]; Placentas were appearing in the sewers of Illinois […]; In Hawaii, a woman found a $5 bill inside a coconut […]; Americans were losing their religion.
I kind of screwed that up by picking out my favorite lines — which inadvertently implicates my point that the editing is awesome. If non-fiction is the launching pad for fiction, this is where it's at.
The 'readings' section contains notable excerpts from journals, novels, essays, memoirs, speeches, etc. Even better are their transcripts of 911 calls, court hearings, phone taps of government officials and other mis-doers. There's also press releases, angry letters, and newly found posthumous stuff from our best loved authors. Often there's material culled from the internet (think crazy), not intended by their often less-than-stable authors to be published in Harper's, so again, there's this keen editorial sense to supply readers with unlikely yet fascinating text. Formally speaking, it's fertile ground for ideas for writers — a potpourri of language's great variance and life's great comic-tragedies. Imagine a DF Wallace-ish piece he didn't write.

Lastly, the 'index,' a collection of statistical facts, often juxtaposed hilariously (though usually with political left-ish sentiment). Oh, why am I talking? Just see for yourself; to get you started, I've cued in some searches.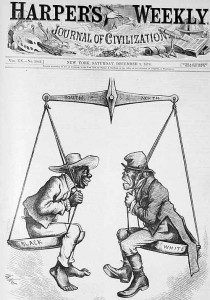 You'll quickly see from their roll-over (under?) hyperlinks how comprehensive Harper's is. Oh yes, and there's also the articles, fiction, and book reviews. The New Yorker is nice, but there's no sense of 'home base,' like I don't know if there's a point. In journals like the self-enlightened Utne and Adbusters, home base is too close, like I always know what's coming and it's boring. With Harper's (especially the 'notebook' Op-Ed-ish section) I'm always surprised by their take on things. For them, politics is not a voice in the left or right ear; it's in the middle, where the head is.
Will it take $16.97 to prove I'm right?
Tags: Harper's index, Harper's Magazine, Lewis Lapham
17 Comments