Seth Oelbaum
World Series Baseball 2013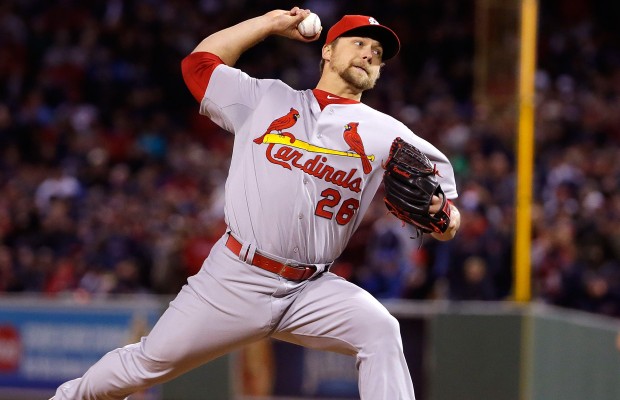 World Series baseball is quite comely. The competition is carried out outside in the fall, so leaves are dying and falling off trees, it's cold, and you get to start sporting layers, like multiple hoodies over a meaningful sweater over a button-down.
Moreover, baseball is slow, like an elderly person, and it's quiet, like a deaf-mute. Both the elderly and deaf-mute are meritorious. The elderly are grumpy and crabby (as one should be), and deaf-mutes don't talk and don't hear, which is optimal, as there is very little that  can be conveyed through talking and listening that can't be conveyed much more marvelously through a poem, a story, or a Tumblr post
In "[The crowd at the ball game],"  New Jersey boy William Carlos Williams compares the baseball setting to a totalitarian society, and that's sensational.
This World Series is especially estimable because the St. Louis Cardinals are participating, and they feature many cute boys, like the hard-throwing closer, Trevor Rosenthal, and the tough as a truck catcher, Yadi.
Presently, the Cardinals and the meat-head East Coast liberals that some refer to as the Boston Red Sox have each won two games. If you haven't been keeping up with all of the excitement then read Baby Marie-Antoinette's recap of the first four games:
GAME 1:
Baby Marie-Antoinette likes baseball lots. She believes the bats make for powerful accessories and that the uniforms are utterly stylish.
Her favorite baseball team is the St. Louis Cardinals. She likes the red on their uniforms, as red is the color of strawberries (a favorite food of Baby Marie-Antoinette's), and she likes how there's birds on their tops, as birds are delicate and mysterious, like princesses.
Baby Marie-Antoinette watched the St. Louis Cardinals in the World Series last night and she was rather sad about the way that they competed against those bunch of bearded East Coast John Kerry liberals that are commonly known the Boston Red Sox.
The Cardinals committed many fielding errors, and they're not supposed to. Pete Kozma ruined a double play and Adam Wainwright said he was going to catch an infield fly ball but didn't.
Carlos Beltran, the gold-glove outfielder, stopped fatty David Ortiz from getting a grand slam, but now he's hurt.
Baby Marie-Antoinette really hopes the Cardinals will perform more marvelous tonight, because the baseball team from T.S. Eliot's hometown deserves to win, while the baseball team from Ben Affleck's hometown doesn't deserve anything.
GAME 2
On Wednesday nighttime, Baby Marie-Antoinette was woeful, as her favorite baseball team, the St. Louis Cardinals, played poorer than the Third Estate (who were impoverished financially, as well as sensibility-wise).
Last nighttime, though, Baby Marie-Antoinette, wasn't as woeful (though she was still woeful, as she is still surrounded by 2013 white people), as the St. Louis Cardinals beat the gay bitches that some refer to as the Boston Red Sox.
Matt Holiday got a triple, and ended up scoring the first run. Baby Marie-Antoinette likes Matt Holiday hugely, as she likes holidays hugely, especially Christmastime (this Christmas Baby Marie-Antoinette wants a metallic off-shoulder Vivienne Westwood dress).
Midway through the competition, Baby Marie-Antoinette's tummy necessitated edibles, so she went to nibble on some strawberries, and when she came back, the score was 4-2, Cardinals.
What occurred?
According to the announcer boys, Mike Matheny, who's very bold, ordered a double steal, and then there was an error, and then Carlos Beltran, who's sort of hurt, hit a single.
The Red Sox wouldn't score any further. Carlos Martinez (whose uniform was delightfully dirty) struck out Boston Red Sox losers. And then Trevor Rosenthal struck out three Red Sox losers consecutively.
If Baby Antoinette had Trevor's iPhone number, she'd text him: "Trevor, gang-rape me now!!!"
GAME 3
Baby Marie-Antoinette watched game 3 of the World Series this nighttime.
She wasn't present during the first five innings because she was trying to make her hair look scary like the hair on the girls in the Comme des Garcons Spring 14 show.
So, when Baby Marie-Antoinette, surrounded by her Tinker Bell doll and her Jasmine doll and her cup of apple juice, started to watch, it was 2-0, Cardinals.
Then it was 4-2, Cardinals, because Matt Holiday got two RBI's. But no one made Matt Holiday score, which is bad.
Carlos Martinez, didn't perform really remarkably (although Baby Marie-Antoinette continues to consider him cute), so it became 4-4.
The bottom of 9th was super dramatic, which delighted Baby Marie-Antoinette as she swoons for all kinds of drama, including but not limited to beheadings and gang rape.
Yadi (the Cardinals cute, tattooed catcher) singled, then Allen Craig (who hasn't been feeling well), doubled.
So Yadi was at third and Allen was at second and Jon Jay was at bat.
He hit a ball to Dustin Pedora, and Dustin got Yadi out at home, and then the catcher threw the ball to third to try to get Allen out, but the catcher's throw was woeful, so the third basemen didn't catch it, but Allen couldn't run home right away, because the third baseman, being a Boston Red Sox, is an East Coast liberal. These individuals are ignoble, which the is why he tried to stop Allen from running to home plate.
But Allen ran to home plate and he was called safe because the umpires saw what the Red Sox's third baseman did.
But now Allen is hurt. So, though the Cardinals won game 3, Baby Marie-Antoinette is worried.
GAME 4
Baby Marie-Antoinette is depressed. First she sent an awkward text to a boy that she likes (hard-throwing Cardinals closer Trevor Rosenthal), and then the Cardinals lost game 4 of the World Series (and Trevor  didn't even get to pitch).
Jonny Gomes, who looks like an ugly animal, hit a three-run home run, and all of the Boston Red Sox members, being gay perverts who like touching, tugged on his beard.
Then, in the bottom of 9th, Allen Craig, even though his foot doesn't feel well, got a hit.
Kolten Wong replaced Allen, because Kolten can run fast. But, with Carlos Beltran at bat, Kolten got picked off, so the Red Sox won.
"This is very ungraceful!" Baby Marie-Antoinette screamed before she started to pout.
*****
Each one of Baby Marie-Antoinette's World Series recaps were previously published on the cute and thoughtful Tumblr, Bambi Muse.
Tags: baby marie-antoinette, bambi muse, baseball, mlb playoffs, mlb postseason, st. louis cardinals, trevor rosenthal, william carlos williams, world series 2013
One Comment
November 2nd, 2013 / 7:55 am Whose your favorite baseball player all time and why? | Hunter Sports Network—

[…] favorite baseball player all time is Rickey Henderson. He is the stolen base king career and single season wise. […]