Seth Oelbaum
Ann Romney Should Be the Next President
Neither Mitt Romney nor Barack Obama is fit to be the president of the United States of America.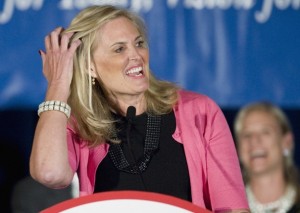 At first, my Tumblr literary corporation championed Mitt. We believed that he would cut taxes for the most moneyed Americans, thereby making it a breeze for a boy to snag a handsome millionaire so that the handsome millionaire would provide the boy with a weekly allowance that would cover straight-to-DVD Disney sequels, Snickers ice cream, and other such terrific trinkets and trucks. But, suddenly, Mitt started saying that he wouldn't cut taxes for millionaires. Indeed, Mitt has become a centrist. Even if Mitt's migration to the middle is merely a lie, it's still revolting enough for my literary corporation to withdraw its support because compromise is so awfully common (not to mention unexciting).
Now, obviously, Barack Obama could never ever earn the endorsement of my Tumblr literary corporation. Obama's trademark word is "hope." Any thoughtful boy (or girl) knows that while there is "hope," that "hope" cannot be realized on earth because "hope" has to do with heaven, which isn't on earth. Baudelaire concurs. In the first Fleurs de mal poem, Baudelaire sings fondly about being an angel in heaven. Then, in the final "Spleen" poem in Fleurs de mal (which takes place on earth) hope is conquered by anguish. Yes, being amongst postlapsarian people is tediously tiring. Yet these fallen fartsniffers are the very ones that Obama plans to assist. Obama is the antithesis of Baudelaire. Obama is calm, nice, and pragmatic. Baudelaire is catty, hyperbolic, and pretty (he spent no fewer than two hours preparing his outfit for the day). Baudelaire is a performance. Obama is a person, which is the worst thing that anyone can ever be.
There is, however, someone substantially affiliated with the present POTUS campaign that would make a marvelous president. That someone is Mrs. Romney, or, Ann Romney.
Ann has an admirable taste for fashion. For her Republican Convention speech she wore an Oscar de La Renta dress. The dress was red, which is the color of blood. Ann, as president, would be capable of slitting throats and making her political opponents bleed. Moreover, according to Fashionista, the red just wasn't any red, it was "fire engine red." Fire engines are loud and fast, like an action-packed Hollywood blockbuster.
Sometimes softness is required, like when Ann interacts with her political friends (Paul Ryan) or bakes oatmeal raisin cookies for Mitt and her sons. Ann won't want to hurt Paul (he's too handsome) nor will she want to burn her oatmeal raisin cookies. For the moments when Ann needs to be delicate she can wear her warm and considerate white suit, which proves that Ann is just as pure and tactful as the next girl (or boy).
While Obama has nothing in common with Baudelaire, Ann and the bellicose Parisian poet are strikingly similar. Baudelaire compared the poet to an albatross, a bird who can only function in the sky, far away from vulgar earth. Ann, too, supports bird. While appearing on CBS This Morning, Ann sported a Reed Krakoff shirt featuring, you guessed it, a bird!
Obviously, Mrs. Obama (Michelle Obama)  is fashion conscious as well. Michelle has worn Alexander McQueen and Jason Wu. But Michelle has muscles. Muscles on on a girl (or boy) are vile. Muscles are achieved through working out and showering  your  body with attention. The human body is disgusting. One should allot it minimal heed. Ann agrees. She has her priorities straight because she cares more about the bodies of horsies than those of humans. Horsies, prior to the the technical revolution, were the primary mode of transportation for warriors and conquerors.
Tags: Ann Romney, bambi muse, Barack Obama, charles baudelaire, fashion, Michelle Obama, Mitt Romney, Oscar de la Renta, Reed Krakoff
One Comment
October 26th, 2012 / 9:47 am The Poetry Brothel Is Sunday | HTMLGIANT—

[…] Reines (if you haven't read Mercury then you don't have proper priorities), myself (Ann Romney 2012!), and lots […]