Friday, July 11th, 2014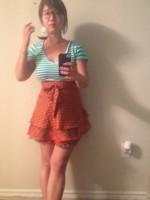 I remember it very clearly. It was Chinese New Year, this year: to celebrate, I wore red pants and a black and white polka dotted shirt and a red and brown cardigan. I looked down at myself and thought: Who let me out of the house like this? Luckily, I had not left my house. I was pacing in my backyard, smoking a cigarette, making circles and circles. I looked down at myself and had an epiphany: I'm fucking weird.
This is funny because for most of my life, I've tried to be weird, and then one day, I just became weird.