October 26th, 2009 / 9:42 am
Mean
Jimmy Chen
Top 5 MFA rankings rearranged
People are moaning about Poets & Writers' "2010 MFA Rankings: The Top Fifty," a list of the best MFA programs in creative writing based on likely variables such as funding, selectivity, and postgraduate placement.  Though we are in the business of words, let us rank the Top 5 programs solely based off their website's front page banner pictures, since they are to represent academic ethos, or something.
—

1. University of Iowa in Iowa City University of Virginia, Charlottesville
Any MFA program that would show a student on their hands and knees writing 'retard style' on the cement deserves to be re-ranked to No. 1. If they can't afford desks, a press release on the subject would not be uncalled for. Notice the open notebook, as this student is probably transcribing some contemporary haiku: Raithins yah I like / Peanuths and cashthews too / my shopping lisp. The autumnal detritus of fallen leaves is a nice touch. Gravity, while inevitable, gives the uncreative something to write about.
—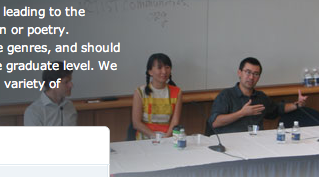 2. University of Michigan, Ann Arbor University of Michigan, Ann Arbor
It's not my fault Michigan falls in the same ranking; they really evoke "No. 2," both in a numerical and scatological sense. They had some flash thing so I had to screenshot the page and clip the pic. This program gets second place because of their water supply. Holy shit that Peter Ho Davies must have a large bladder. He's talking at a symposium about grants and fellowships no problemo while that Asian lady with the modern dress barely holds it in. Keyword here: intermission.
—

3. University of Virginia, Charlottesville University of Iowa in Iowa City
Iowa City, a city in Iowa — now that's creative. We all know about the famous Iowa Writer's Workshop, perhaps the most legitimate and effective launching point of any writer's career, and when I think of 'awesome literary career' I think of 'Asian lady in front of a quilt.' There are a lot of Asian ladies everywhere; thank you Yoko for getting that started. (Amy Tan either came from Iowa, China or Taiwan — I can't keep up with her vibrant life.) As for that really nice n' shiny table, you can thank your tuition for the finest wood varnish in the world, or Iowa.
—

4. University of Massachusetts, Amherst [tie] University of Texas, Austin
I don't believe in quotes that rhyme, save it for the Hallmark card. The Vermeer is a little odd, as Austin does little to evoke the great city of Amsterdam. True, people in both places smoke a fair share of marijuana and engage in questionable sexual practices, but in the latter it's legal. (I call a Budweiser in the ass sodomy, but in Austin it's merely alcoholism.)  The woman in the painting writes a letter, perhaps to her suitor, or to the admissions office; either way, someone is getting fucked.
—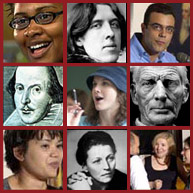 4. [5.] University of Texas, Austin [tie] University of Massachusetts, Amherst
This may look like the Brady Bunch of literature, but it's really just a manipulative implication of career trajectories, to play on the insecurities and/or hubris of prospective students. Oscar Wilde, Samuel Beckett, and Shakespeare dealt with delusion, alienation, and mortality, respectively; sounds like a wonderful time. In the humanities, its highest education teaches us what we learn in high school — that life blows. I don't know who the German-looking lady is on the bottom, but I bet she's a sad hag.
—
Writing is like sex: sometimes you have to pay for it. I'm not saying don't get an MFA, I'm just saying wear a condom. Everybody ends up smelling more funny. Of course I'm kidding. We are all friends here.
Tags: MFA rankings, Poets & Writers
54 Comments