April 16th, 2010 / 2:18 pm
Music
Justin Taylor
Fans Revolt on Grateful Dead Comment Thread!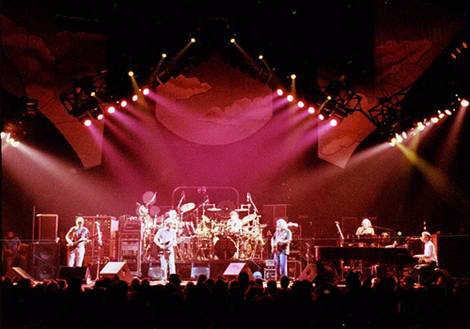 Title like that and ya'll probably think this is going to be a joke-post, but people who know me know that I am an extreme Grateful Dead-partisan, so dispense with the notion that I am writing in anything but earnest, and turn your attention now to a website you probably haven't visited lately, Dead.net, where the once-venerable and now Rhino Records-controlled GDP (that's Grateful Dead Productions) is offering their latest in (what we can only hope is) an endless supply of live-releases from the legendary VAULT.
To give credit where it's due, most of the vault releases over the past couple years have been fantastic. A lot of people despaired of the fate of vault-stewardship after the death of Dick Latvala (the band's tape archivist whose eponymous Dick's Picks series eventually ran 35 multi-disc volumes), but the Road Trips series has won over more than a few skeptics (yours truly included) who at first balked at the decision to move from Dick's focus on individual shows to a model that sought to provide, over two or three discs, the "highlights" of a run or an entire tour. But nothing really comes close, imho, to the three big–as in nine discs apiece–box sets: Fillmore West 1969, Winterland 1973 and Winterland 1977. So why are the notoriously genial Deadheads so pissed off about Philly '89?
I am so glad that I pre-ordered this cd/dvd set from Amazon a couple of weeks ago when it was only $31.99, including free shipping and no tax. Even when you use Amazon's free shipping method, they at least let you know when it has shipped and give you a tracking number (Not just a wait & wonder game like you get here).
On March 31st, 2010

ivhs72

said:

I have to agree, with no bonus disc or material, a lower price and free shipping, it's a no brainer. Just placed my order with Amazon. Hopefully TPTB will get it through their heads that their current operation only alienates customers, no matter how loyal they are to the band.
On March 31st, 2010

Snark

said:

When I first saw the "coming soon" teaser on the Dead.net home page about a month ago, I thought that it would be worth my while to wait for the official release here instead of going to Amazon for a lower pre-release price, because the last time this sort of a package was released, (and the product that the teaser specifically compared this one to) was Rocking the Cradle, which DID have a bonus disc for orders from the site. Granted, they have an offer for a limited edition matching tee-shirt here, but that is a HUGE let-down compared to an extra disc, and since Amazon is also offering pre-sale pricing on April 20th new live releases from Hot Tuna (with a couple of GD tunes covered on the disc) and Johnny Winter, I think I'm going to pass on the tee-shirt and get a combo shipment of tunes from not just one, but three fine groups.
As you can see, they're frustrated with Rhino because "Crimson, White and Indigo: Philly July 7, 1989, comes with a really shitty pre-order package. Forty bucks plus shipping gets you the release in not one but TWO obsolete formats (CD + DVD) and the only bonus incentive they're offering is that for ten more bucks (bringing your pre-shipping total up to a whopping $50) they'll give you a crappy-looking white tee shirt commemorating the show in question, which I guess could theoretically be interesting for someone who was actually at said show, but seems singularly pointless for anybody else in the world, up to and including the current spouse of the person who was actually at said show. This is a huge step down, incentive-wise, from the traditional Dead pre-order offer, which is usually of–wait for it–more Dead music, which is really all anybody wants. It might seem silly to you, as a lay-person, that the reward for spending a hundred bucks on a nine-disc box documenting three nights in November '73 is a tenth disc highlighting shows from December '73, but that's exactly what makes you a lay-person. The entire logic of the Grateful Dead is based on the notion that more is in fact more–why play a song for five minutes when you can play it for twenty? Why see one show when you can live in a van for a month and see twelve? (Though to be totally fair, I should mention that there exists a small but vocal anti-bonus-disc faction, who think that the bonus disc incentive unfairly privileges people with the means and wherewithal to immediately pre-order new releases, leaving poorer Deadheads and also Johnny-come-latelies out in the cold.)
In the post-Garcia world, where the music lives exclusively in the form of vault-releases, the fans are willing to purchase more or less as much Grateful Dead music as GDP cares to publish. But Philly '89's problem is that the stinginess of the package and incentives has combined with the generally underwhelming caliber of the selection itself. It's just not that much different, in the end, than "Truckin Up to Buffalo: July 4, 1989" which itself is not exactly a case-study in "magical alchemy," to borrow a phrase from poor Blair Jackson, whose attempt to give Philly '89 a write-up worthy of its forerunners just makes him sound tired. I feel for the guy, seriously, because the band had a long and uneven career, and sometimes you just gotta suck it up and put out an '80s or '90s show that's not gonna stack up with 5/15/70 or 12/31/78. But at the end of the day I'm more interested in my feelings than his, and I think most people on the Philly '89 comment thread feel the same way. Blair's telling us about the handsome packaging of the release, and the photographs by Bob Minkin and an essay—for God's sake, another essay?!?!–by Steve Silberman. It makes me want to grab them all by their collars and shake them, because nobody cares about any of that stuff. We just want more music.
I wish that GDP would cut out all of the frills and release shows the way Pearl Jam used to (still does?)– plain discs in brown paper sleeves accompanied by nothing. You got the date and place of the show, a track list printed on the sleeve, and that was it. What else did you need? The average show ran three discs and the whole thing set you back about fifteen bucks. I barely qualify as a Pearl Jam fan, but I think I must own three or four of those, because sometimes I just felt like hearing what they were up to, and they made it really easy to do that.
Historically, the Grateful Dead have always made things easy for their fans. There was an article about this recently in The Atlantic, about how they basically pioneered social networking and giving away content free, decades before anyone else thought those things mattered or knew what they were–and the Dead didn't either, really, they were just doing what made sense to them: basing their relationship with their fans on a foundation of gift-economics and largesse, which is the root of the whole "more is more" thing. But now that control of day-to-day operations has been ceded from GDP to Rhino, we're witnessing the rapid decay of nearly a half-century's fealty and built-up goodwill. Many a time have I bought my Dead direct from GDP, even though it was cheaper on Amazon, could be in my hand this afternoon at Best Buy, and probably mine for free if I would spend twenty minutes on the interwebs. But those were never hard choices for me to make, because I recognize that my support of GDP was a way of voting with my dollars, and ensuring that the company continues to be able to produce what I want–which is sterling-sound-quality remasters of whole shows and runs, chosen from the best eras of the band's career. That's all I want. The rest of it–essays, photographs, artwork, little cloth-covered boxes, whatever–I could take or leave. If and when it occurs to me to read or look at any of the stuff that comes with the music, I'm usually interested enough–I like looking at pictures of Jerry Garcia, and sometimes the remembrances of the shows are nice, though they're almost always sentimental and overblown–but it's just not what I'm in this thing for, and I think I'm speaking for most GD fans when I say that. We're all left trying to answer a very unsettling question, which is when we vote with our dollars, exactly who or what are we voting for?
The core issue here really is one of stewardship, and our more-than-reasonable concern that GDP/Rhino is overly interested in manufacturing nostalgia, in order to sell us more tee shirts, license plate frames, and Monopoly knock-offs than music recordings. I personally am always glad to own a Grateful Dead and/or Jerry Garcia tee shirt–in fact I own one of each, but that just about covers my needs. And I'll even concede that if I had a decent suit, and anywhere to wear it too, I might be inclined toward some sterling silver Steal Your Face cufflinks, though in this scenario I am probably attending my own wedding, in which case my affianced (or, if not her, my mother) is likely to put her foot down in re this.
But back to the nostalgia thing. I'll grant that there's plenty to be wistful about, plus apparently no small appetite for that kind of gee-whiz-remember-when attitude among those fans who actually were "on the bus" or whatever, at some point. But for the next generation of Dead fans, people like myself who never saw the band play and whose fandom is based exclusively on our interest in these archives, the whole nostalgia thing is irrelevant and beside the point. It risks making us feel left out, but mostly it's just boring, and feels like an unnecessary gilding of the lily. The energy is in the wrong place, and that's a huge concern, especially now that GDP/Rhino is now also running the Jerry Garcia solo stuff, which includes both the Pure Jerry series and the Jerry Garcia Collection series ((kudos, btw, on the absolutely gorgeous acoustic show at Marin Veterans Memorial Auditorium 2/28/86).
Tags: Grateful Dead, Jerry Garcia, Philly '89, vault stewardship
44 Comments