Music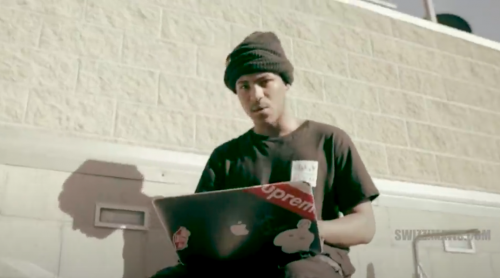 I distinctly remember when I discovered the rapper Teejayx6.
I associate the rapper Teejayx6 with the period of my life that I first discovered him.
With what I'd been on during that period.
It was 1.5 years ago and I'd just pulled up to NYC. To Harlem.
Had emptied out the bank account for first last security. Recklessly.
Banking on being able to start scrapping, stacking, the minute I pulled up.
I remember listening to that shit pulling up to the first job I got, as motivation. Sparking a string of gigs over a month, August 2019, in which I'd make the same amount of money I made the entire previous year living in the hood, in Philly, doing bike deliveries for Postmates (~$6K).
.
.
My homie Randall put me on to the rapper Teejayx6.
I remember Randall, who is from the greater Detroit area, where Teejayx6 is from, had sent me his shit—the video for 'Dark Web,' the one that would go viral, in which he talkin high level scamming techniques, how to download VPNs, Tor browsers, in another vid that vid linked me to physically doin credit card fraud.
Randall sent me this vid that today, 31 January 2021, has 4.2M views, when it had like 300K.
The OG scam rapper.
Or—the usherer of scam rap into the mainstream.
The mouthpiece, to the masses, of the message scam rap OGs had been pushing, but localized, for a minute.
.
.
What Teejayx6 was on was, he was on that nonviolent flex.
Like look—y'all gon box us young boys unfit for your schooling, your free markets, out the game?
With your linguistic classism, your fetishization of state-sponsored academia?
We gon get it.
We gon fkn ball, bruh.
Gon find a way, somehow some way.
And hitting licks, robbing mfers. Sure.
We been doin that, and . . .
That's a wave.
But this scamming shit?
With this scamming shit, no one dies.
Here's how, says Teejayx6.
READ MORE >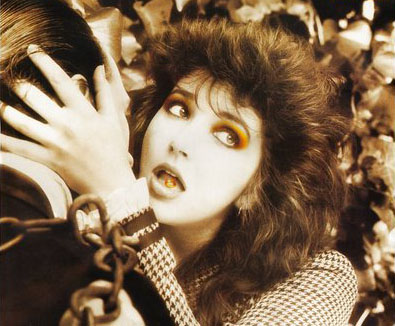 Lately, I can't stop listening to Kate Bush's The Dreaming (1982). I've always liked her, but now I'm convinced she's an absolute genius, one of the All-Time Greats.
Here are the videos from it: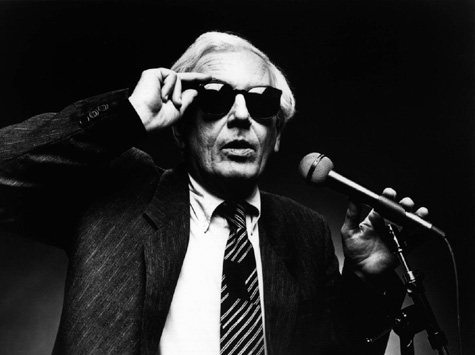 I first learned about Robert Ashley through Peter Greenaway, thanks to his Four American Composers series. I rented all four videos because I was interested in John Cage and Philip Glass. I didn't know who Meredith Monk was, or Robert Ashley.
As it turns out, the episode on Ashley interested me the most. I didn't understand the opera being discussed, Perfect Lives, but I knew I had to hear and watch the whole thing. I took to the internet and discovered that I could order it directly from Lovely Music, on VHS. I did so. It cost me $100—but I had to hear it.
Few people I knew at the time had ever heard of Robert Ashley. When I moved to Illinois and met Mark Tardi and Jeremy M. Davies, we bonded in part over our shared love for Perfect Lives, "an opera for television" made in the late 1970s and early 1980s. It's still not widely known. It's still never been broadcast in its entirety in the US. But I'm not alone alone in regarding it one of the greatest operas and long poems in the English language. (John Cage wrote of it: "What about the Bible? And the Koran? It doesn't matter. We have Perfect Lives.")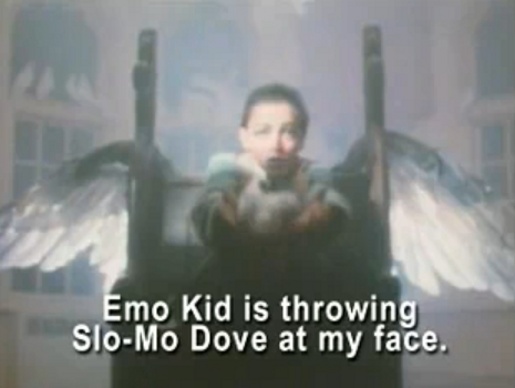 So far in this very irregular series, we've scrutinized Gotye's "Somebody That I Used to Know" and Macaulay Culkin eating a slice of pizza—preparation for tackling one of the greatest and most beguiling music videos ever made.
"Total Eclipse of the Heart" was a single from Bonnie Tyler's fifth album, Faster Than the Speed of Night (1983), and her biggest hit. It was written by Jim Steinman, Meat Loaf's once and future collaborator. Steinman also planned out the video, which was then directed by Russell Mulcahy, a man responsible for numerous '70s and '80s music videos,  as well as the films Highlander, Highlander II: The Quickening, and Blue Ice. So that's the aesthetic world we're dwelling in. (In a single word: overblown.)
The video itself is pretty broad, and rather easy to read—broadly. Simply put, Tyler plays an instructor (or an administrator) at an all-boys boarding school. (I will refer to her character as "Tyler" throughout, for convenience' sake.) Extremely sexually repressed, Tyler endures a long night of the soul fantasizing about her young charges; this constitutes the bulk of the video. Come morning, she (and we) are returned to restrained, repressive reality. But we're left with the hint that A.) at least one of her students has magically become aware of her fantasy, or B.) her fantasia has caused Tyler to become mentally unhinged. (I lean toward B and will defend that reading below.)
That's the basic outline. The devil, however, sits in a straight-backed chair, clutching a dove. He's also in the details, so let's delve deeper …
On 16 December of last year, Macaulay Culkin posted to YouTube a video of himself eating a slice of pizza:
I watched it and showed it to some friends because, on the one hand, how random! Macaulay Culkin! Eating pizza! Lol! One million other people and counting apparently felt similarly.
The video fascinates because it depicts a star (or a former child star) doing something utterly mundane. The presentation is simple, stripped down. The shot is static and there are no cuts. Culkin looks embarrassed to even be there, to be watched eating. There's no glitz, no glamor. The guy eats pizza just like you and me, even tearing off the crust (though I would've finished the rest of the slice).
At the same time, the video fascinates because it's awful—it's "so bad it's good." That reaction is breathlessly conveyed in the Time Magazine blog post, "Questions We Asked Ourselves While Watching Macaulay Culkin Eat a Slice of Pizza," which presents no fewer than forty-six questions about the video, in pseudo-live-blogging fashion:
Why does he look like he really doesn't want to be wherever he is, or eating the slice?

Has he ever eaten a slice of pizza before?

Why does he look so sad?

Does he know he's being filmed?

Do the pizza oils get trapped in his beard?

Why does he keep looking up?
Forty-six questions is a lot of questions, prompting a forty-seventh: "How many times did author Eric Dodds watch the damn thing?" And one million views is a lot of views. Thus, despite being banal, despite being awful, the video is somehow also something else. Would it be fair to call it transcendent? Even sublime? And if so, why? Because it purportedly offers us unmediated access to a former star, now desperately embarrassing himself?
But far from being random, or mundane, or excruciatingly candid, Culkin's pizza video is a put-on, its every second pure artifice. For starters, it's a loving recreation of another work—a short film of Andy Warhol eating a hamburger:

Here's something to keep in mind if you happen to be in Michigan next February.
On February 17, 1974, at a VFW Hall in Grand Rapids, Michigan, The Nail Bombs played their only show. They played for 11 and one half minutes. They played three songs. There were 19 people in the audience. All 19 started their own bands within two weeks of seeing The Nail Bombs play. Shows played by the bands formed by the 19 people who saw The Nail Bombs play inspired more bands. Those bands inspired more bands. Those bands inspired more bands. Thus, The Nail Bombs are an index case of much of the Midwest's punk rock scene. (Sure, The MC5. Sure, The Stooges. But remember: with music, multiple ears are available to be infected, and multiple strains infect. The Nail Bombs were a strain. An powerful strain.)
No one knows who The Nail Bombs were. No member of the band has ever stepped forward and said, "I was a Nail Bomb." No one has even attempted to do so as a hoax. They never recorded a record, or even made a little demo. There was at one point a tape of the show—the only audio evidence of the existence of The Nail Bombs—but it has been lost, and now there remain only some fragments of a transcript. (Fragments will appear at the end of this post.) READ MORE >
Recently a friend accused me of not listening to any music that is not rap. Of course that is totally untrue, but in a social context it is somewhat correct: publicly the music I am most likely to enjoy is rap. Privately, I have always listened to different music as well, especially while working/ writing.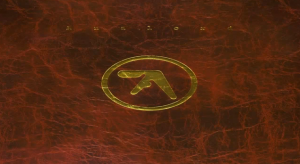 When I was in college I used to do most of my work in a very claustrophobic, constrained space to avoid all possible distractions. It was a lab that was equipped with a large Mac desktop and a bunch of equipment that I never used, because the lab was actually intended for the "New Media/ Critical Theory Studies" kids and during that time I was learning different stuff I am no longer using today. It was around that time I first became obsessed with Aphex Twin's music, definitely starting with  'Selected Ambient Works 85-92.'  I loved the combination of the productive/ manic energy of the beats and the simultaneous soothing effect of the majority of the melodies in the album. I remember listening to "Ageispolis" after–and during– sleepless nights of meticulous studying, sometimes watching the very ravey video as a study-break.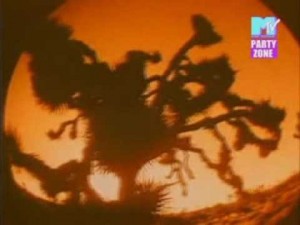 I have been thinking and wanting to write on Aphex Twin for a long time, but my wish proves to be a somewhat impossible task. Richard James–also known under his pseudonyms: AFX, Blue Calx, Bradley Strider, Caustic Window, Smojphace, GAK, Martin Tressider, Polygon Window, Power-Pill, Q-Chastic, Tahnaiya Russell, The Diceman, The Tuss, and Soit-P.P–is someone who definitely chooses to be an enigmatic figure. James has spent a great deal of his career creating an unflattering image of himself intentionally. The point behind his dedication to making the world see him as an unattractive individual remains unclear to me, but that is part of his enigma.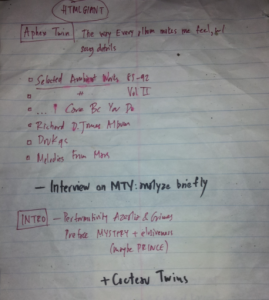 Initially, I was planning on doing a mini-series of sorts on "The Way Every Richard James Album Makes Me Feel." Ultimately, I am deciding against proceeding with that idea because it might be relentlessly self-absorbed and perhaps even too-revealing for no-reason. Instead, I present you with my deepest wish of someday writing the absolute Aphex Twin profile after spending a month with him, observing his daily life, work habits and nightlife activities.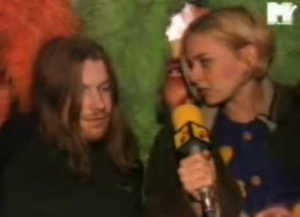 This 7-minute MTV interview is maybe the closest the artist wants us to get in understanding Richard James.The interviewer asks him what he means when he says that he builds his own instruments, and he states that he uses software, computers and the net to create. Often, he uses the help of others to perfect his sound. Questions about the way he releases his music continue, and his laidback attitude makes me admire him even more. It is particularly interesting to me to see the vibe between him and his enthusiastic interviewer. The interviewer clearly recognizes his genius and tries, at points perhaps too hard, to instigate a more intricate interview. Richard James seems humble, composed in a careless manner, soft-spoken and completely unaware of how brilliant he is.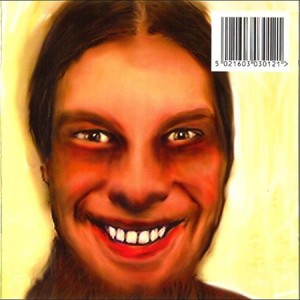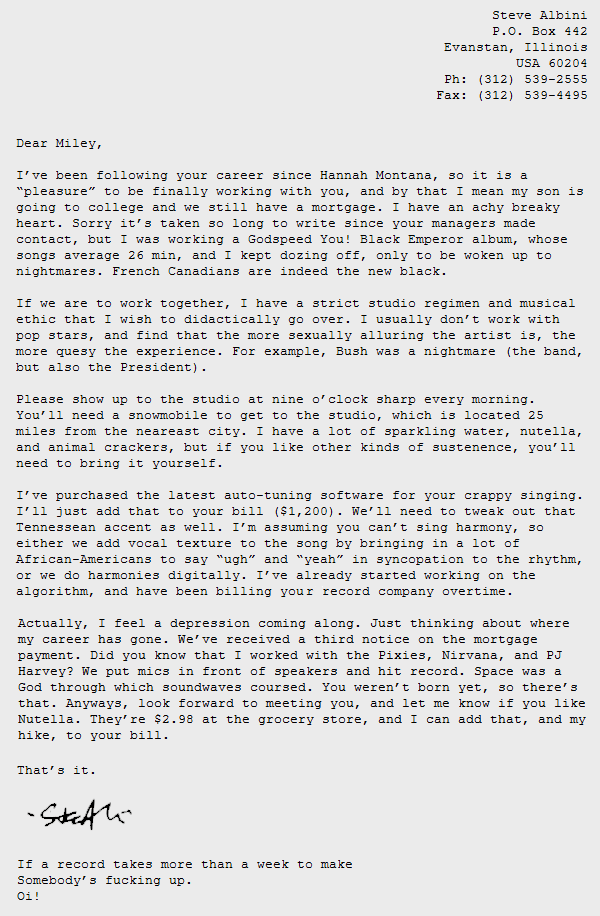 Ovr at the Potry Fondation (yes, the Poetry Foundation) gust blggr Johannes Göransson begins his first post with a late 19th century qute abut Kren Music by Henry Savage-Landor:
This music is to the average European ear more than diabolical, this being to a large extent due to the differences in the tones, semi-tones, and intervals of the scale, but personally, having got accustomed to their tunes, I rather like its weirdness and originality. When once it is understood it can be appreciated; but I must admit that the first time one hears a Corean concert, an inclination arises to murder the musicians and destroy their instruments.
Jhnnes gos on to tlk about ART as a "zone which both hrts and is hrt" and how, qoting his wife Jylle McSney, "snd is a knd of violence" and, fnally, sying "I am invested in this violent aspect of art: it fascinates and hrrfies me."
So, nyways, a few hrs fter I read Görssn's engagng Ptry Fdation pst I found myself thking again abut snd, vlence, snd-vlence, and other thngs as I lay in a rlly hot bth reaing A.D. Jmson's xcllent "Amazing Adult Fantasy":
You'll be the guy who finally knifed up Indian Jones. Some'll love you and some'll hate you. Some'll never believe it and never give in. Some'll send flowers. Some'll look for and find the younger Indian Jones.
The casl skm-reader READ MORE >