September 21st, 2010 / 12:55 pm
Music
Lily Hoang
We used to wait, but now we wait no more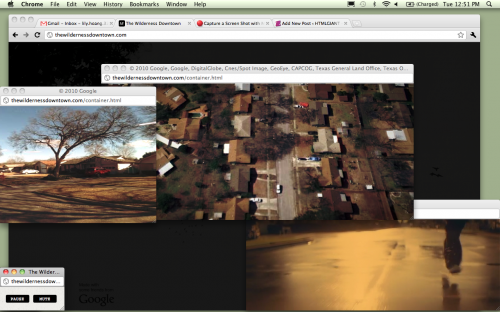 Years ago, scores of indie nerds gathered in slobbery droolfests for the Arcade Fire's Funeral. I know, I was one of them. The songs are anthems, more remniscent of the days of David Bowie and Queen than anything contemporary. Whereas they're hardly cutting edge, it's easy to find yourself singing along, enjoying, pumping your fists high up in solidarity.
A few weeks ago, my friend Susan Cahill (who will probably never read this, but if she Googles herself, she'll find herself mentioned here, which is always a happy surprise) showed me the new music video for the Arcade Fire's "We Used to Wait," which she argued would revolutionize the way music videos are experienced. The video is personalized. Each person is invited to type in their childhood home address, and using the technology of Google Earth/Maps, you are bombarded with standard images of a person running with panoramic, 360 shots of your childhood home today, as it has morphed with the changing times. The images are seen simultaneously, each screen vying for your attention. It's interactive. I mean: yes, it's a pretty cool video.
The irony is that the lyrics of the song—which are haunting, to me at least—speak to the way technology has changed things. The song opens:
I used to write

I used to write letters

I used to sign my name

I used to sleep at night
Before the flashing lights settled deep in my brain
Later
It seems strange
How we used to wait for letters to arrive
But what's stranger still
Is how something so small can keep you alive
We used to wait
We used to waste hours just walkin around
We used to wait
All those wasted lives in the wilderness downtown
I've talked ad nauseum about how old school I am, so I won't go into it further here, but this song resonates with me. I've spent countless hours leafing through Nabokov-Wilson letters, Kafka's letters, etc, wishing I could write letters so profound, so thoughtful, so consuming—not only personally consuming but also time consuming—but alas!, I am only a product of my times. That is, I live in the age of the instantaneous. I dash out emails, barely reading over the contents, I gmail chat, Facebook, text, all these forms of communication which require no waiting. Any amount of time waiting for a response is too long. I lack patience.
I always tell myself I will write letters. To my friends. To my family. To those I love and adore. And then I don't. The closest thing to letters are little notes ripped from my Moleskine to accompany a gift or care package, and I rarely send those.
I kept thinking about this song last night. I didn't sleep at all, maybe an hour. The idea of time and letters and waiting, waiting, wasting, waiting. I came to no epiphany. Now, I am only tired.
But here's the thing: the lyrics of the song say one thing, and yet, the music video manifests something entire different. Sure, at the end of the video, birds fly into your neighbourhood and drop trees, changing the landscape forever, but that gesture comes too late. The high technology—its preciousness—overshadows both the intention of the lyrics and the final images.
Anyways, you should watch the video, if you haven't already. It was released in late August, I think. I'm late to the game, always. Share me your thoughts. And write me a letter. I promise to write one in return. Really, if you want to write me a letter, I'll give you my address, just include yr email in yr response.
Tags: Arcade Fire, letters, music video, We Used to Wait
23 Comments