January 6th, 2009 / 7:40 pm
Presses
Jimmy Chen
Corduroy Mtn. in Print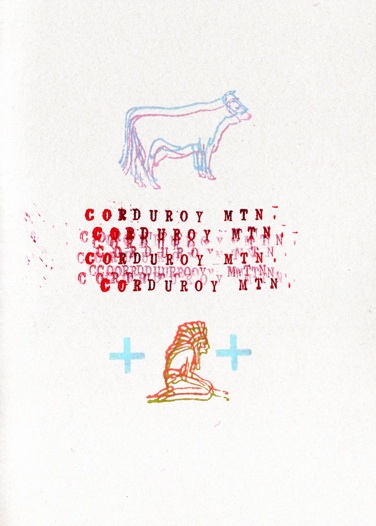 Now available from Greying Ghost Press, the first print run of Corduroy Mtn. From their site:
We like hats. We like hats so much we threw ours into the literary magazine ring. When we all became embarrassed by our haircuts, what we found was some truly excellent, original, and eclectic material written by a bunch of strangers. First Print comes as a 5×7 chapbook with hand stamped covers (each one is different!), a broadsheet, a photograph, and a Jack Boettcher quote. Printed on high quality linen paper with color inserts.
Featuring: Peter Berghoef, Shane Jones, Brooklyn Copeland, Forest Roth, Blake Butler, Mandy Billings, Brandon Shimoda, Sommer Browning, Adam Maynard, Joshua Ware, Drew Kalbach, B.J. Love, Kevin Wilson, Kendra Malone, Jac Jemc, Eric Amling, and James Iredell.
I was rejected by them once saying my piece was 'boring.' They actually used that word. I'm not being spiteful or trying to start up shit (the piece was kind of boring). My only point is Editor Carl Annarummo seems to be in the business of only publishing fucking awesome writing, as exemplfied here. (Hit 'start reading' and ride it.)

Good Job everyone. Exciting.

Tags: corduroy mountain, Greying Ghost Press, hand stamped covers
4 Comments