November 3rd, 2008 / 4:03 pm
Presses
Blake Butler
Keyhole Books 1st Releases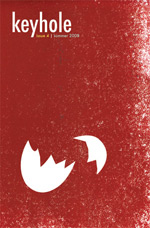 A nice, big announcement from Keyhole Press:
Keyhole has several full-length releases scheduled in 2009.

First up is William Walsh's Questionstruck – A Collection of Question-based Texts Derived from the Books of Calvin Trillin.

Then Stephanie Johnson's fiction collection, One of These Things is Not Like the Others and a fiction collection by Shellie Zacharia, Now Playing.

More info on each release will be available soon.
Exciting to see another great new press revealing their debuts.
Excerpts from William Walsh's 'Questionstuck' can be found at his blog here.
Keyhole I believe is also still open to submissions of book length work for their press, and shorter work for the web, which is currently chock full of incredible people like Amelia Gray & Kim Chinquee.
Tags: keyhole press, william walsh
8 Comments