Lily Hoang
Need a fucking job? Well, here's one for you.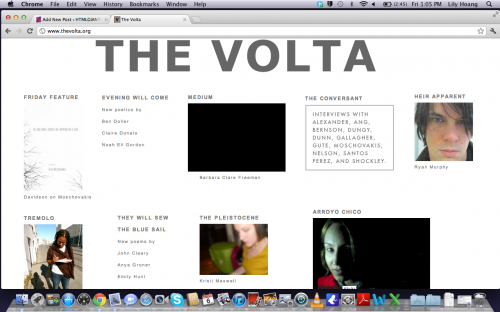 [Note: this is from Joshua Marie Wilkinson, so insert his name in instances of first person.]
***The Volta Seeks a Managing Editor***
Dear friends, poets, editors:
I started The Volta in January 2012 with poet Sara Renee Marshall to feature poetics essays, book reviews and author questionnaires, videos and poemfilms, interviews, audio conversations, and even poems.
Three of our columns are updated weekly, on fridays (Friday Feature, Medium, & Arroyo Chico), and the others have new content on the first of each month.
So far we've featured works by known and emerging writers (e.g., C.D. Wright, Rae Armantrout, Harmony Holiday, Joshua Clover, Farid Matuk, Juliana Spahr, Renee Gladman, and literally dozens of others: complete list is here).
We have new work coming out from Bernadette Mayer, Maggie Nelson & Brian Blanchfield, Douglas Kearney, Amy King, Rob Halpern, Lisa Robertson, Ammiel Alcalay, Tyrone Williams, Kate Bernheimer, Zach Schomburg, & dozens of others.
And I've managed to assemble a brilliant list (in my humble opinion) of contributing editors, all who contribute ideas, content, critique, and support.
***
What we need now is a devoted managing editor to perform the following tasks:
Layout of content in html (knowledge of Dreamweaver)
Sending proofs to authors & making necessary corrections
Uploading files to our server on a weekly and monthly basis
Proofreading and general editing of content over the 9 columns of the site.
Basically, I need somebody who knows contemporary poetry and Dreamweaver, is detail oriented, timely, and dedicated. It's a lot of work, but it would be great for somebody interested in editing and publishing.
There is no pay (which I do not like) as we have no advertising (which I quite like).
I ask for a one-year commitment. Along with the detail-oriented work, there are also opportunities to write reviews, conduct interviews, and participate in other more content-oriented ways. Indeed, I have many other ideas about how I'd like to expand The Volta, but I don't have the people power yet to do so.
Interested parties, please write me (joshuamarie@gmail.com) as soon as possible about why you think you'd be a good fit, what skills in poetry and editing (and beyond) you have that make you suitable for this position. A simple letter of interest and bio is fine. I plan to fill the position before August 1st. (I.e., now.)
I'm happy to answer questions via email, of course.
***
 I'm also looking for another somebody to act as News Editor.
The duties are just to update our twitter and facebook accounts daily with volta-related content and news items from contributors, contributing editors, and other new poetry-related stuff.
Drop a line if you think you'd like to do that?
***
THE VOLTA now features three new columns, totaling nine:
THE CONVERSANT: a new column of interviews, edited by Andy Fitch & Christopher Schmidt featuring conversations with Camille Dungy, Evie Shockley, Stephen Dunn, Charles Gute, Anna Moschovakis, Craig Santos Perez, Maggie Nelson, Kristen Gallagher & Chris Alexander, Jon Bernson, & Brian Ang.
HEIR APPARENT: featuring a new serial poem by Ryan Murphy
ARROYO CHICO: featuring a new video of Dot Devota reading in the Arroyo Chico Wash in Tucson
as well as:
EVENING WILL COME: New essays by Ben Doller, Claire Donato, and Noah Eli Gordon
FRIDAY FEATURE: New review by Caroline Davidson of Anna Moschovakis's new book
MEDIUM: New poemfilm of Barbara Clare Freeman
TREMOLO: Interview with Renee Gladman
The PLEISTOCENE: Audio conversation with Kristi Maxwell
&
THEY WILL SEW THE BLUE SAIL: New poems by John Cleary, Anya Groner, & Emily Hunt
Please visit: The Volta
Tags: jobs
15 Comments