Shane Jones
10 Reasons Why The Knicks J.R. Smith Is Like The Novelist Norman Mailer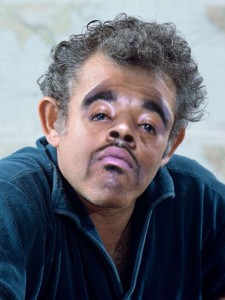 My favorite NBA player, Larry Johnson, had a gold front tooth, yelled at the ball during free throws, once told an interviewer that his diet consisted of soda and candy (imagine reading this as a teenager) and had a series of TV commercials where he transformed into his alter-ego: a gray-wig wearing, puffy flower dress clad, narrow vintage glasses wearing, "Grandmama." I fondly remember wearing his replica jersey (the very first of these ever for sale) several sizes too large, more dress than jersey.
I stopped following the NBA largely because the player's became boring, tame, uninteresting in their stoic professionalism. I missed the Larry Johnson who played with Alonzo Mourning and Muggsy Bogues on the Charlottle Hornets. Kobe, Melo, Lebron are cold killers on the court, so deeply inside themselves that I imagine if the entire crowd and viewership suddenly vanished they wouldn't mind, content to play like the machines they are, happy to not give another media interview they've repeated hundreds of times before.
But now I'm back to watching fanatically. One reason is the emergence of the beautiful man-child J.R. Smith. Sure, the Knicks are having a hellish season, but Smith has been non-stop entertainment for the past two years. His style of play is erratic, energetic, unpredictable, and has the unique ability to not only self-destruct at any moment, but also comprehensively destroy his team's chances of winning.
Smith reminds me of another irrational ego-god, another unpredictable and brash New Yorker who grabbed headlines for his antics, Norman Mailer.
Mailer's violent outbursts and "always go big" writing style is strangely comparable to Smith, even if the two couldn't be more different at the surface level. Below I've compared career highlights of these two lovable freaks.
1) Early Success, Screw the System:
J.R. Smith: Skipped college and was drafted straight out of highschool at age nineteen after averaging more than 27 points a game.
Norman Mailer: Never studied writing but published his first novel The Naked and the Dead when he was twenty-five. The novel remained a number one bestseller for eleven weeks.
2) Fighting:
J.R. Smith: Played a major role in the second most penalized on-court fight in NBA history when he tackled Nate Robinson into courtside seats and photographers. Suspended for ten games and fined $126,000. Involved in a nightclub fight that led to a three game suspension and also elbowed Jason Terry during a game because why not.
Norman Mailer: Nearly chewed off Rip Torn's ear during an on camera brawl during filming the movie "Maidstone." The fight, which starts with Rip Torn hitting Mailer on the head with a tiny hammer, lasts several minutes and includes Mailer's wife screaming "You bastard!" while Mailer's children cry.
3) Family:
J.R. Smith: While playing in China Smith's family was involved in at least two brawls with fans. Images of his tattoo covered girlfriend and other family members sticking their tongues out and laughing at the Chinese police are a personal favorite. Smith, wearing a green jersey with a yellow flaming basketball in the center, consoling his girlfriend courtside is oddly touching. He has two daughters. Many of his tattoos are family related including his grandparent's births and deaths on his wrists. The left side of his chest is a portrait of his mother with the text "Mama's Boy."
Norman Mailer: Married six times and had nine children. His most infamous family related incident happened when he drunkenly stabbed his second wife with a penknife, nearly killing her.
4) Ladies:
J.R. Smith: Once tweeted a picture from his hotel room of "The Girl With The Biggest Ass Ever" and was subsequently fined $25,000.
Norman Mailer: Won a "Bad Sex in Fiction Award" for his book The Castle in the Forest which explores the incestuous relationship between Hitler's parents. Here's an excerpt: "His mouth lathered with her sap, he turned around and embraced her face with all the passion of his own lips and face, ready at last to grind into her with the Hound, drive it into her piety."
5) Dicks:
J.R. Smith: After a female fan told Smith she was attending his game that night Smith responded with "You trying to get the pipe?" He went 0-8 and it was later reveled that the fan was in high school.
Norman Mailer: During a townhall meeting featuring some of the leading feminist thinkers of the time (Susan Sontag, Betty Friedan, and Jill Johnston were in attendance) Mailer went on a bizarre rant that included the following: "I'm perfectly willing, if you wish me to act the clown, to take out my modest little Jewish dick and put it on the table and you can all spit on it and laugh at it."
6) Unusual Sense of Humor:
J.R. Smith: Was recently fined $50,000 for untying opposing players shoelaces.
Norman Mailer: During the Dick Cavett show Mailer was feuding with not only the host but Gore Vidal when Cavett asked Mailer if he perhaps wanted two additional chairs to "contain his giant intellect." Mailer responded by saying that he would take the two chairs if the other guests would take "fingerbowls," a reference and/or joke that no one else understood and resulted in total awkwardness.   
7) Drug Use:
J.R. Smith: Suspended for the first five games this season because he tested positive for pot. Caught smoking a blunt while in South Beach. Rumored to have been high while playing in several games (see video "J.R. Smith weed-night vs. Spurs").
Norman Mailer: Smoked pot through a large portion of his career stating that weed opened him up to the consciousness of a "higher power." Used pot mostly for editing purposes, stating "I'd have brilliant insights on pot but could hardly remember any of them later."
8) Prison and Death:
J.R. Smith: Was the driver in a car accident that killed his passenger. At the time of the accident Smith had amassed 27 points on his license in less than a year. Did 24 days in jail.
Norman Mailer: Championed convicted killer Jack Abbott's book In the Belly of the Beast to publication and helped Abbott get paroled. Six weeks after his release, Abott stabbed a man to death.
9) Producers:
J.R. Smith: Smith is known as player who will shoot constantly regardless of score and without a care if he's hot or cold. Set a franchise record by taking an insane 17 three point attempts in a single game this season.
Norman Mailer: Known for large novels (his first was over 700 pages) with little to no restraint. Published 39 books in his lifetime and that's not counting screenplays, essays, and plays.
10) Quotes:
J.R. Smith: "Get chicks or die trying."
Norman Mailer: "The highest prize in a world of men is the most beautiful woman available on your arm and living there in her heart loyal to you."
7 Comments