April 26th, 2009 / 2:05 pm
Uncategorized
Ryan Call
2007 Form 990 – Narrative Magazine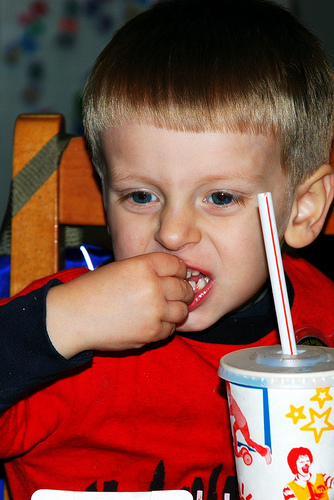 So, forgive me for posting, but there's more talk about Narrative Magazine, which just announced the results of its Winter Fiction Contest: $3,000 goes to the winner, Janet Burroway.
The discussion begins at Literary Rejections on Display, where Writer, Rejected points at an old post at Arts and Palaver that suggests Eds. Jenks and Edgarian 'fix' the contests. Elizabeth Brody comments on the LROD post that she is working with Web del Sol to investigate Narrative Magazine. Then Jason Sanford, after posting the Notable Stories of 2008 and awarding Narrative Magazine best online journal of 2008, responds to various concerns at his blog. Words continue over at the Our Stories blog, where Alexis Santi offers suggestions to Tom Jenks and Carol Edgarian as to how they could improve Narrative Magazine's transparency. It was suggested that someone ought to post Narrative Magazine Inc.'s 990s, to which a commentor, Andrew W., responded by linking to the Foundation Center and reporting a few things:
Unfortunately it's not all that helpful in putting together of story of exactly how they spend their money: for example, in 2007, Narrative had assets in excess of $230,000 (w00t!) and spent $50,000 on editorial services, $15,000 on copyediting, $29,000 on a webmaster, and $39,000 on author fees. There's no way to know what the actual breakdown on all that was without asking them, but it'd be good to know how in the world they can spend $29,000 in one year on a webmaster.
I figured I might as well (re)post that information here.
After the break, a few selections from the 990. If you care to look at the entire 990 that Narrative Magazine Inc. filed for the year 2007, you may do so by clicking on this link (PDF). If you care to search the Foundation Center's 990 Finder, then enter Narrative Magazine Inc.'s EIN: 03-0542711.
Here's page one, Part I: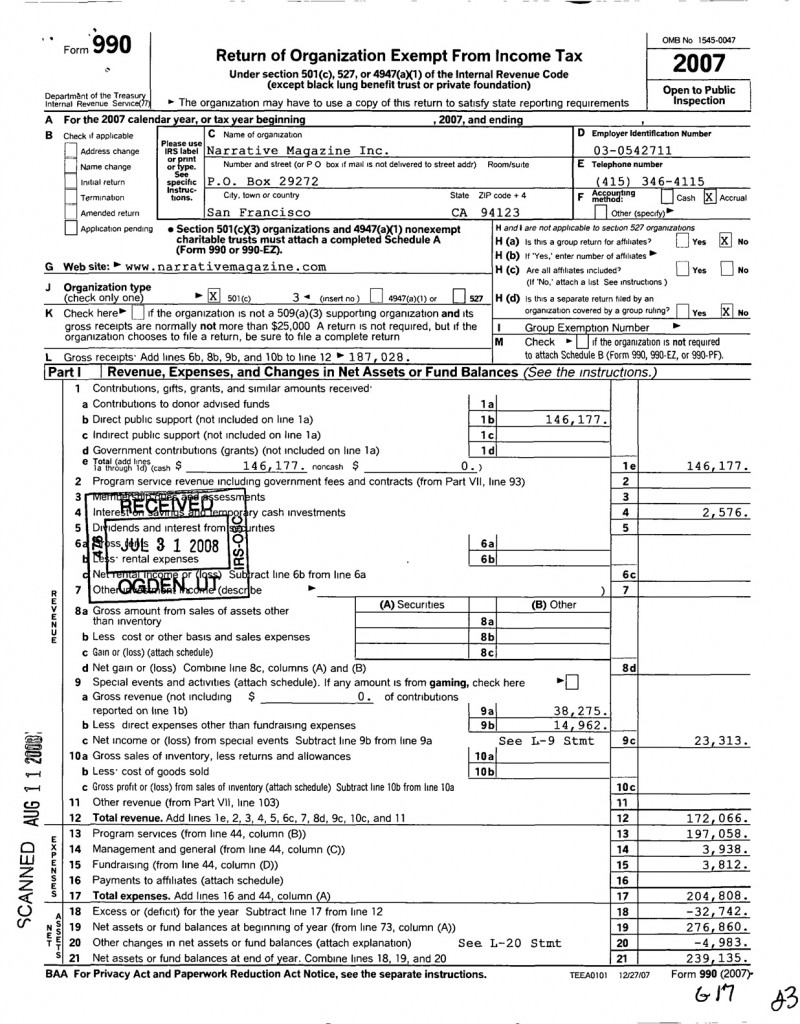 Line 1b says that in 2007 Narrative Magazine Inc. received $146,177 in "Direct public support."
Line 17 says that in 2007 Narrative Magazine Inc. spent $204,808. That created a deficit for the year of $32,742.
Line 21 says that Narrative Magazine Inc. holds "net assets or funds" at a value of $239,135.
Here's page two, Part II:
Line 43b says that in 2007 Narrative Magazine Inc. spent $39,365 on "Author Fees."
Line 43c says that in 2007 Narrative Magazine Inc. spent $29,119 on "Web Master."
*I should note that on page five, Part V-A shows that current officers Tom Jenks, President/CEO, and Carol Edgarian, Vice President, receive no compensation for their work on Narrative Magazine, which equals 40hrs/wk and 20hrs/wk respectively.
Here's page four of Schedule A, Part IV-A: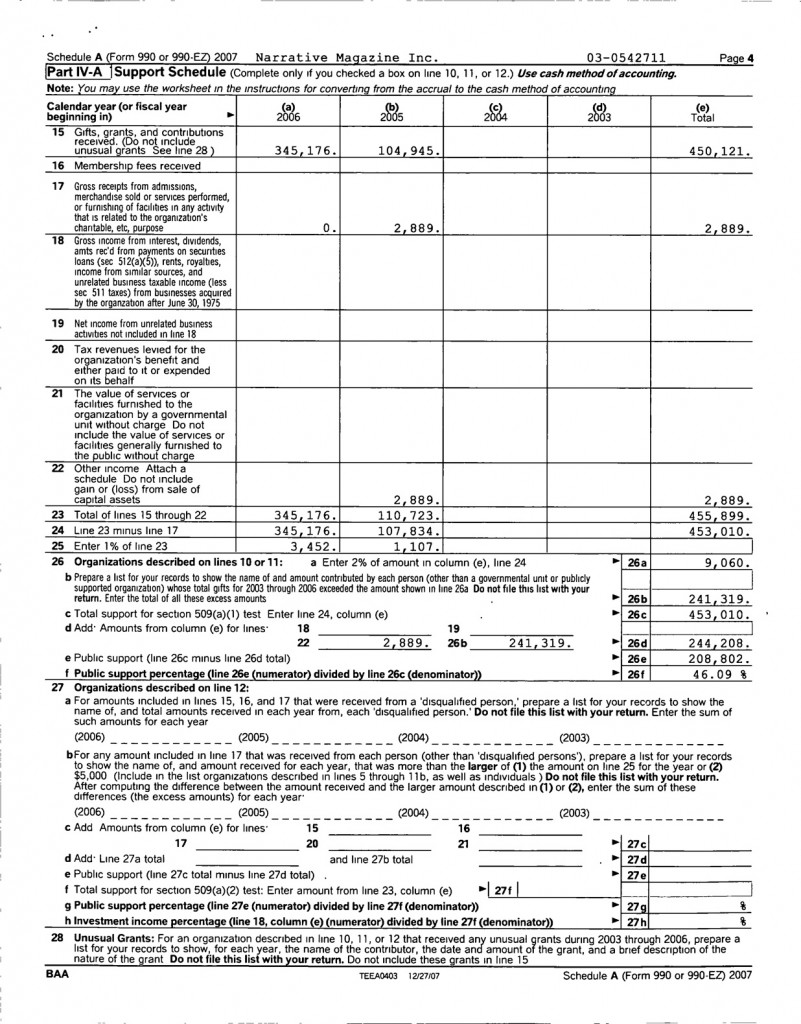 This is cool to look at because of the huge growth between 2005 and 2006. Also interesting is line 26f, which shows the "Public support percentage" to be 46.09%.
Anyhow, as has been said before, this information doesn't really give you anything but an overall sense of the magazine's operations. But it was still fun to look at, for me anyhow. I don't really know much about this sort of thing, and I've already displayed some ignorance of how nonprofits work in a previous thread, but I'm learning.
Tags: form 990, narrative magazine
145 Comments