August 24th, 2010 / 12:09 pm
Random
Jimmy Chen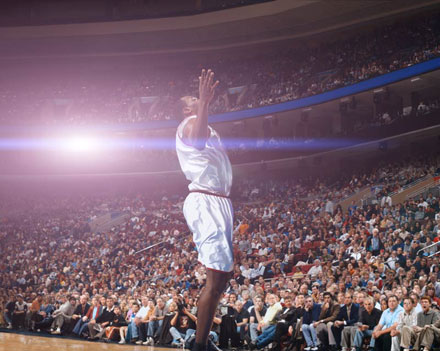 Using the clone stamp in Photoshop, artist Paul Pheiffer, in his digital print and video work, meticulously erases — or more accurately, imposes background space onto — surrounding areas, leaving one sole basketball player suspended in air without any context of ball, net, or other players. The result is uncanny and stunning, and initially brought to mind the Crucifixion, whose main character is also abstracted in front of a spectacle. The jersey design and player number have been removed, perhaps in wishful allegiance to John Lennon's imagining that there were no teams or corporate sponsors. Galleries and sports stadiums function as modern churches, a place of worship [see related post]. Last night looking over this series entitled "Four Horsemen of the Apocalypse" (ongoing, which began ten years ago), I was suddenly reminded of the lynchings against blacks, like a rope photoshopped out of our minds.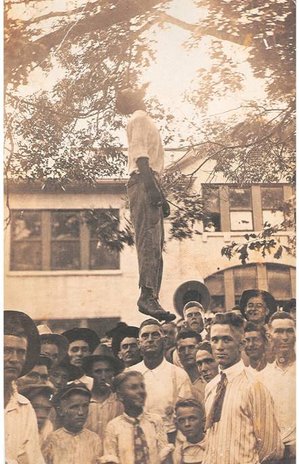 To make this simply about race would be too easy — and unfair to Pheiffer, who I think was more interested in the choreography and "frozen" aesthetics of basketball, among other sports (he also works with boxing) — but I can't help thinking about the mythologies surrounding blacks in America, a kind of subversive one-way obsession whites have been having with "them," from slavery onwards to ostensibly "freer" vocations like sports or rap, a more oblique slavery of economics and perceived opportunity.
In the Bible, "The Four Horsemen" are harbingers of the Last Judgment (and I shall add that the white horse is Conquest; the black horse Famine). The whole point is God is judge, not man — though our friends seen in the crowd have taken on such burden. Modern Christians have a knack for completely shitting on their book.
In Photoshop, there is an action "Erase to History," in which the eraser, constrained from erasing the unified image, only exposes the layer underneath. With commands undo vs. step backwards and delete vs. delete permanently, our actions, impulsive or not, are chronically penultimate, always given another chance, never truly trusted to commit. Perhaps we made some bad decisions in the past, and our collective subconsciousness has us safely on a leash: tied, not hanging, to a tree. To "flatten" an image in Photoshop is to consolidate all the layers into its ultimate image. One can never go back. Most of the lynchings took place from after the Civil War to 1890, though the picture before us was taken as late as 1920. It's too bad we don't have an "Erase History" option. Some photos would look a lot nicer.
[More Phieffer images: here, here, and here]
Tags: Paul Phieffer
48 Comments