July 30th, 2009 / 7:10 pm
Uncategorized
Matthew Simmons
A brief review of a book for dour, depressed kids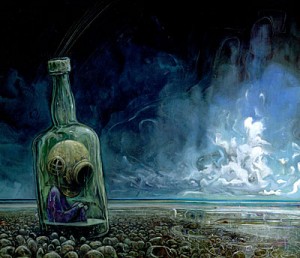 For a short time I worked in the Kids Books section of my bookstore, and I found a few favorites.
If you, like me, have a young relative moving through the picture books stage of their lives, I'd like to suggest you get them a copy of Shaun Tan's book The Red Tree. I've never really seen a picture book like it.
The illustrations (like the one above) are quite beautiful. That's not unique, though. The images are surreal and well-crafted. Nothing unique there. The text is simple and direct. Again, lots of books like that for young people.
What makes the book stand out is that it suggests something you rarely see a book for kids suggest. It suggests that life is hard, and sometimes very dark, and sometimes you—young reader—are going to feel bad. You are going to get depressed. You are going to have a hard time getting over some things. And this, too is not unfamiliar.
But this is what it says about being sad: it's okay. It's okay to feel bad.
Not tomorrow will be a better day. There is always hope. Every cloud has a silver lining. Not it's always darkest just before the dawn.
Just, sometimes its dark. You are allowed to notice that it is dark.
You have no idea how long it took me to learn that. Years. Years and years. That someone was brave enough to put that message in a picture book makes me very happy.
4 Comments