June 7th, 2013 / 12:14 pm
Random
Peter Tieryas Liu
Boss Fight Books!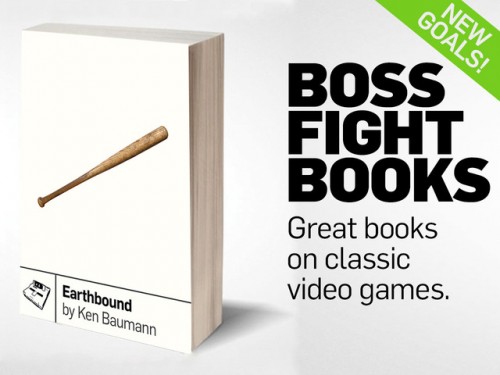 Gabe Durham is starting up an incredibly cool new press called Boss Fight Books that will revolve around creating great books about classic video games. The launch titles will be Earthbound, Galaga, Super Mario Bros. 2, ZZT, and Jagged Alliance 2 with a great lineup of authors from a variety of backgrounds. These include Ken Baumann,  Michael Kimball, Anna Anthropy, Jon Irwin, and Darius Kazemi. I recorded a two minute video short with short clips for each of the games to commemorate and celebrate the news, as well as a reminder of how cool each of the titles were. I got goosebumps just recording/playing Earthbound again! As their Kickstarter surpassed initial expectations, it's happening for sure, though you can still get in on the action and help them reach their stretch goals by clicking the link below. The first of the books is coming out near the end of the year and there's a lot more of the details on the link. The book covers look beautiful and you can check out what the press will be about directly from Gabe Durham and Ken Baumann on the Kickstarter page. And of course, make sure to check out the books when they release, as well as the games themselves!
More info on the Kickstarter Page.
Some info directly from the site:
The Series:
Each of the books will take a critical, creative, historical, and personal look at a single classic video game.Some books will be about the history of the game's creation, some will focus on particular elements like level design, story, and music, some will investigate the subculture that has formed around a game, some will bring in outside art, science, and media, some will have a strong autobiographical element. Many books will be a combination of all these things.
The Format:
All the books will be available in paperback and ebook (all formats), and sold both directly from our site and from other major online bookstores. Each book will be numbered, collectible, and will look great on your shelf together.
Gabe Durham is a writer/editor from Los Angeles, CA. Of Gabe's debut novel, FUN CAMP, comedian Julie Klausner said, "I loved this book and did not want it to end." Gabe served as Editor of Keyhole Magazine and Dark Sky Magazine, and his own writing has appeared in many venues in print and online, including The Rumpus, Daytrotter, The Literary Review, and The Brooklyn Rail. Sometimes he teaches college writing and literature. He loves disc golf, songwriting, smoothies, sushi, The National, There Will Be Blood, Arrested Development, Adventure Time, and dogs. For the first week after Gabe got Super Mario Bros., he played standing up. Whenever he pressed the button to make Mario jump, Gabe would physically jump right along with him. (He figured maybe it would help.)
Bios of the Authors:
Ken Baumann lives in Los Angeles. He's worked as an actor for ten years in film, theater, and television. He starred in The Secret Life of the American Teenager, a series on ABC Family, for five seasons. He's the author of the novels
Solip
and the forthcoming
Say, Cut, Map
. His fiction, poetry and essays have been published at VICE, HTMLGiant, The New York Tyrant and elsewhere. Baumann also runs Sator Press, a nonprofit that publishes innovative literature.
Michael Kimball is the author of six books, including
Big Ray, Dear Everybody,
and
Us
. His work has been on NPR's All Things Considered and in Vice, as well as The Guardian, Bomb, Prairie Schooner, New York Tyrant, etc. His work has been translated into a dozen languages—including Italian, Spanish, German, Chinese, Korean, and Greek. He is also responsible for
Michael Kimball Writes Your Life Story (on a postcard)
, a couple of documentaries, the 510 Readings, and the conceptual pseudonym Andy Devine.
Anna Anthropy is a prolific game developer and critic and is the creator of Calamity Annie, Mighty Jill Off, and Lesbian Spider Queens of Mars among many other games, which are available on her website. She lives in Oakland, California, with her pet girlmonster and two lovely cats.
Jon Irwin is a staff writer at Kill Screen and winner of the PEN New England Discovery Award in Nonfiction. His essays and journalism have appeared in publications such as Billboard, GamePro, and Monkeybicycle. He received an MFA in Creative Writing at Emerson College. He lives and teaches in Boston.
Darius Kazemi develops open web technology at Bocoup in Boston. For ten years he worked in videogames and more recently has created things like Amazon Random Shopper, RapBot, Outslide, and Clickbait. He runs GameLoop, a game development unconference, and co-organizes the Boston HTML5 Game Development Meetup. He also writes open source Twitter bots in JavaScript.
Tags: boss fight books, gabe durham, Peter Tieryas Liu, Video Games
6 Comments